Whether you're a professional photographer, an amateur artist, or simply a design enthusiast, there's always a challenge when enhancing photos.
How do you enhance photos without compromising their authenticity and quality? How do you add life to raw snapshots from your camera roll?
In this digital age, the solution lies within photo enhancers. These are powerful tools that can elevate the striking features of your image by adjusting its tone, color, and lighting. Plus, a few extra magic-enhancing capabilities using AI.
Here's a quick snapshot of the best free photo enhancers we'll explore in this article.
Best Free Photo Enhancers

Platforms

Google Play / App Store Rating

Snapseed

Desktop PC (Windows, Mac, Chromebook) | Mobile (Android, iOS)

4.3★

1.67M reviews

 100M+ Downloads 

Remini

Mobile (Android, iOS)

4.0★

 100M+ Downloads

 3.12M reviews

Imagewith.AI

Web browser

Not available 

Darktable

Desktop PC (Windows, Mac, Linux) 

Not available 

HitPaw AI Photo Enhancer

Web browser | Mobile (Android)

4.7★

500K+ Downloads

 5.45K reviews 

Fotor

Web Browser | Mobile App (Google Play & App Store)

4.2★ 

10M+ Downloads

659K reviews 
We'll go over the unique features of each photo enhancer, with positive and negative reviews, to create a balanced perspective. Then, we'll narrow down which tool is best for certain types of design creative.
Are you ready to transform the ordinary into the extraordinary? Let the adventure begin.
Snapseed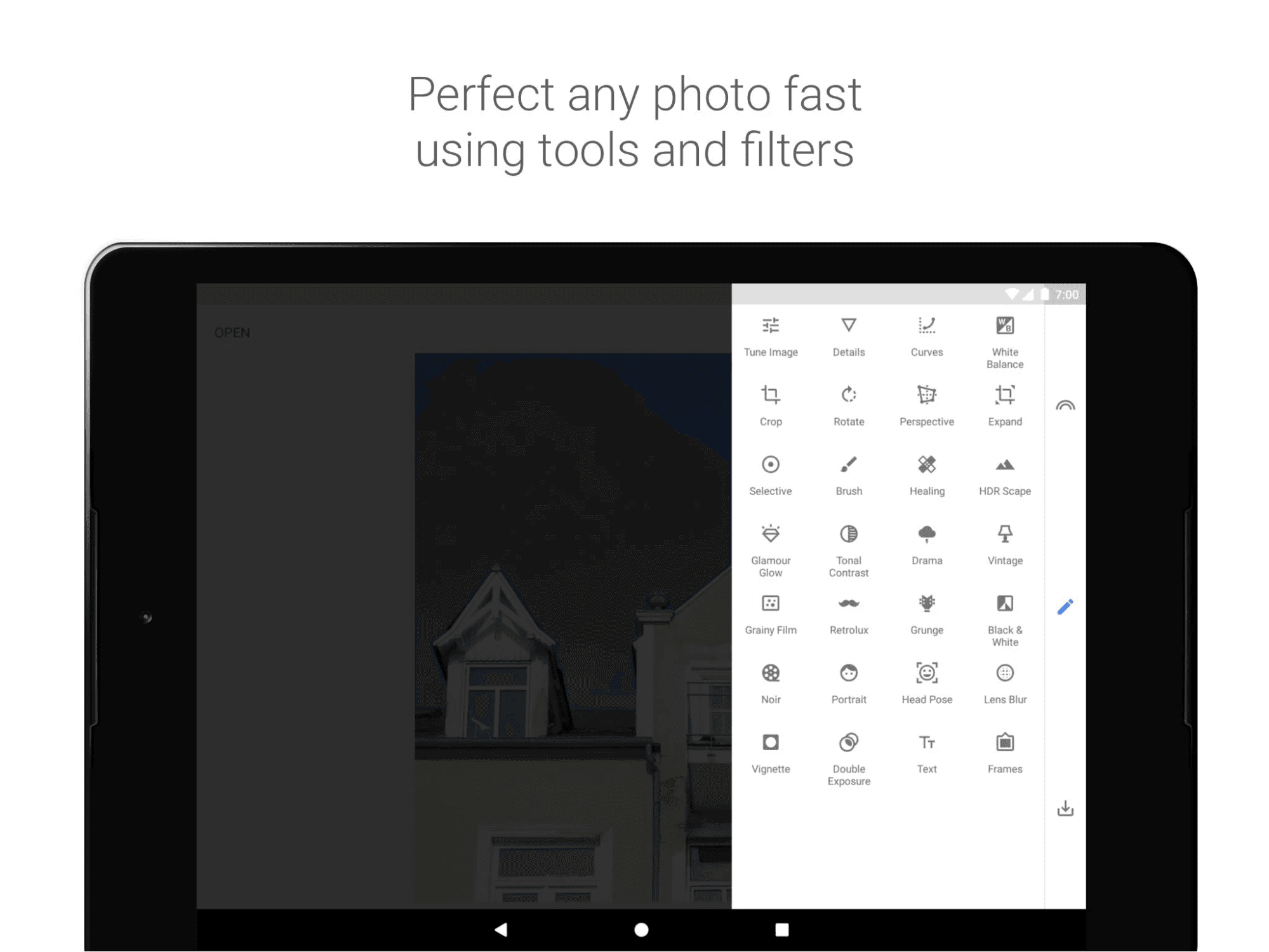 A free photo editing tool developed by Nik Software and was bought later on by Google in 2012. Snapseed is made for photographers who want to enhance their photos on the go anytime, anywhere — like having Photoshop on your phone.
Snapseed has been a fan-favorite in the Google Play Store with over 100 million downloads and a 4.3-star rating among 1.67 million users.
So, how do you enhance photos with Snapseed? You'll see some tools and filters in the guide below and what enhancement they can do in photos.
TOOLS

FILTERS

Tune Image

Automatically adjusts the tone of your image. Manual adjustments on brightness, contrast, saturation, ambiance, shadows, highlights, and warmth are also possible.




Details

Pops out some texture and adds sharpness




White Balance

Automatically adjusts the color settings, but manual adjustments on temperature and tint are also possible




Brush

Selectively enhances the brightness, exposure, tones, and vibrance in certain areas 




Healing

Remove unwanted objects or elements 




Vignette

Enhances the outer and inner brightness along the edges of the photo




OTHER TOOLS:

Text, Selective, Crop, Rotate, Perspective

Lens Blur

Customizable vignette filter




Glamour Glow

Add for a dreamy quality




Tonal Contrast

Enhances fine contrasts across shadows and highlights




HDR Scape

Apply high dynamic range photography in an instant




Vintage

Create a nostalgia effect from back from the 50s




Noir

Cinematic black and white theme





OTHER FILTERS: 

Face, Frames, Black & White, Retrolux, Grainy Film, Grunge, Drama
If you want to explore more of Snapseed's features, you can find the full list in Snapseed Help.
Ready to enhance your photos with Snapseed? Here's a time-lapse video showing the ease of use of the app itself and the amazing quality of the edited photos.
Landscape Editing in Snapseed | SNAPSEED TUTORIAL | Android | iPhone | 2023
Snapseed User Reviews
Snapseed has built a loyal following over the years because of its sophisticated Photoshop-like editing tools on mobile, without requiring any paid subscription.
Users rarely get intimated with Snapseed's interface because of its intuitive features. For example, Snapseed has auto-fix tools like auto-color correction and eye focus to enhance photos in an instant.
Still, they have in-app tutorials in case you need a quick orientation.
That doesn't mean to say that Snapseed is flawless. For instance, there's a recurring issue about saving photos. In the more recent app version, all photos are now saved in the Google Photos app, which takes up cloud storage. Retrieving edited photos in the camera roll takes time instead of saving them in a separate file folder.
Newer updates also show options that aren't working, such as the Expand option and its ability to edit raw camera files.
Verdict:
Snapseed is best for budding designers and experienced photographers who want to enhance their photos on the go on their mobile devices without paying a lot for software.
Remini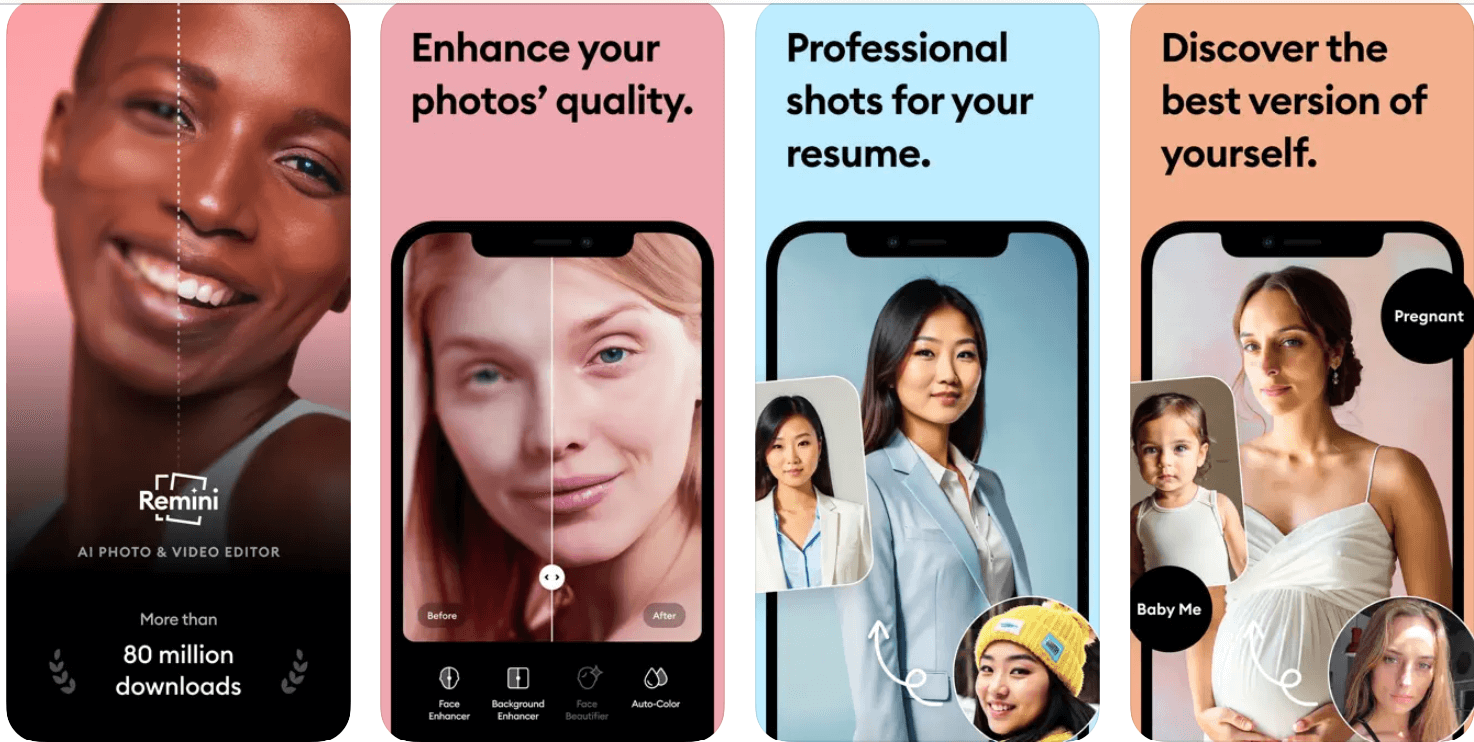 Remini is the leading photo enhancer in the U.S. by revenue as of July 2023, according to Statista Research Department. It garnered over $7.65 million from users in the U.S. alone.
Around the same time, Remini outranked Instagram's Threads as the most downloaded app on July 2023 in Apple's App Store. As of this writing, it has a 4.6-star rating from over 162,000 reviews.
Remini's popularity comes from its powerful AI photo enhancement tools, such as producing professional-looking headshots for LinkedIn. This trend went viral on TikTok, which attracted more users to hop on the bandwagon.
Let's go over Remini's AI tools and what they do to enhance your photos.
Unblur & Sharpener - fixes out-of-focus and blurred photos
Denoiser - produces clean, sharper photos
Old Photos Restorer - enhances vibrance of old and damaged photos
Image Enlarger - upscale up to 2x without compromising image resolution
Color Fixer - enhances image tones
Face Enhancer - enhances facial features
Background Enhancer - enhances background details
Low-Quality Enhancer - convert to high-resolution images
Ready to use Remini on your mobile phone? Here's a quick tutorial and sample on how to use Remini for free:
How to use REMINI app for free | How to generate AI photos on REMINI for free
Remini Reviews
Remini's core strengths are its cool and quirky AI tools that can enhance photos quickly.
The top favorites are:
AI avatars where you can create professional-looking photos for your LinkedIn profile.
It's also possible now with Remini to restore old photos, enhancing their quality so you can reminisce about the past through a clearer lens.
Remini is also quick to fix blurry photos and re-focus distorted images.
It can upscale and convert low-quality photos into high-definition ones.
Leveraging AI technology, Remini can produce enhanced photos in just a few taps on your mobile phone.
On the negative side, users complain about the excessive ads that can distract workflow. There's also a limit on how often you use their AI tools in the free version. Now and then, they offer a free trial version and then upsell a paid subscription where you gain access to the rest of their AI tool arsenal.
Overall:
Remini is best for creative beginners and amateurs who want to skip all the professional tools and use one-tap AI image enhancement tools instead. If you want to stay on top of the online trends, Remini would be your go-to AI photo enhancer app.
Imagewith.AI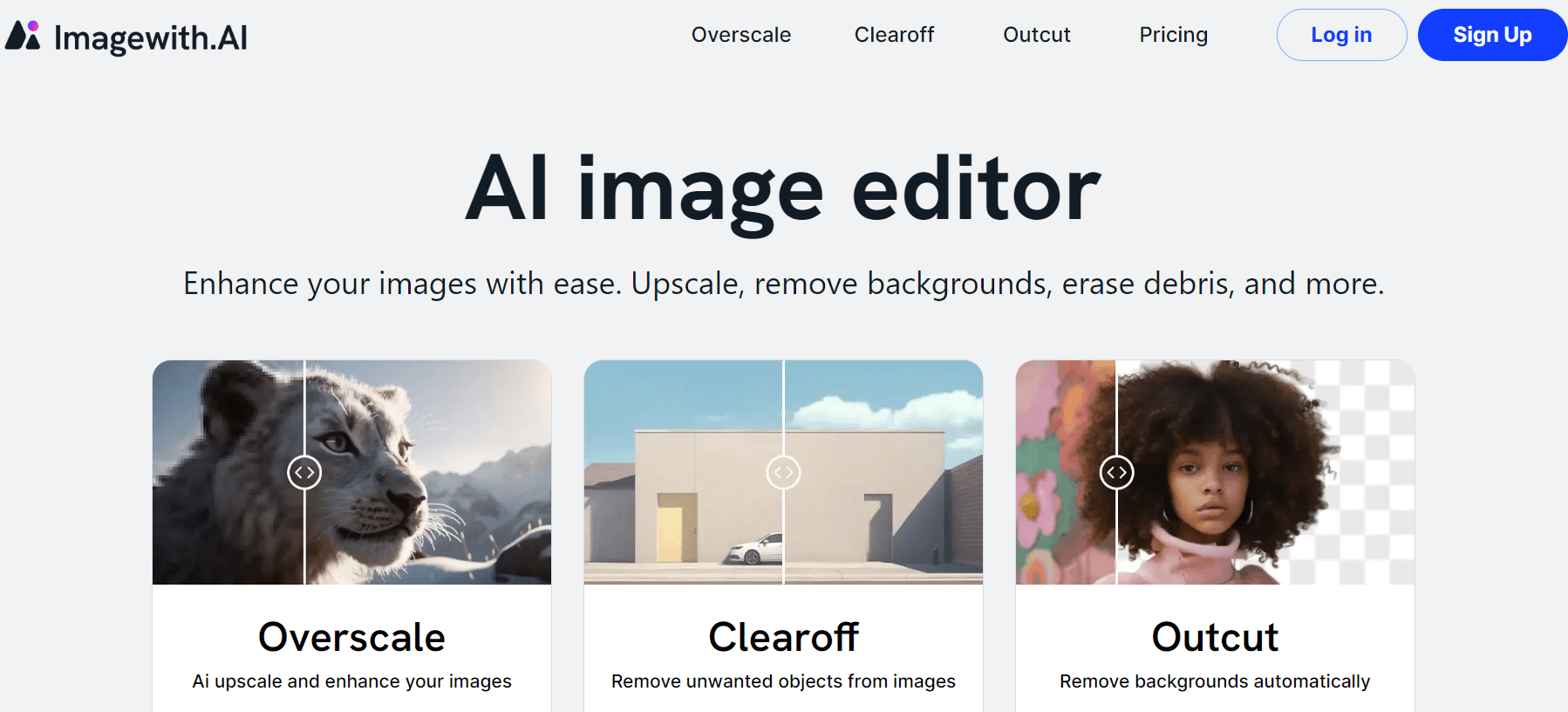 Imagewith.AI is a free photo enhancer tool anyone can access on a web browser. No need to download, register, and fill out your details.
It has 3 AI photo enhancer tools: Overcale**,** Clearoff**, and** Outcut**.**
Imagewith.AI Reviews
Users love Imagewith.AI because it is simple and effective. And that's because this tool positions itself as a reliable assistant that'll help photographers and designers finish their project timeline quickly.
All it takes is one upload and one click. It saves time without compromising quality.
You don't have to be an expert to use Imagwith.AI, but the results are comparable with a professional's work. All because of the power of AI technology.
On the negative side, you may have to get a paid subscription plan once you use up the limited daily credits on the free version. Also, once you have more credits, they don't last forever, either. Unused credits expire after one month.
Overall:
Imagewith.AI is best for photographers and creative designers looking for a no-fuss, free web browser tool with specific AI-powered enhancements.
Darktable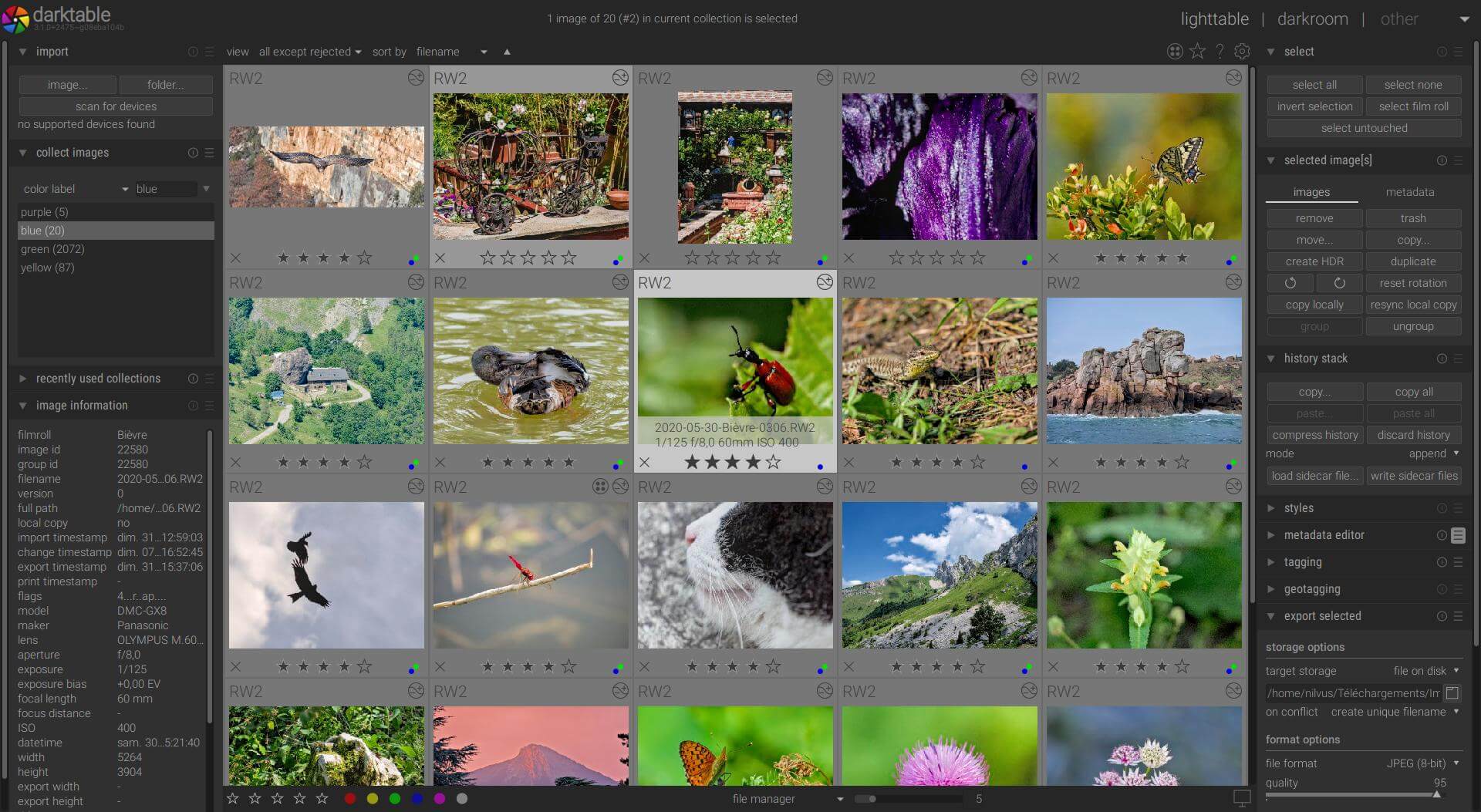 Darktable is a powerful open-source photo editing software, especially for photographers, with many tools for enhancing their photos. It is created for photographers, by photographers.
You'll see many comparison reviews between Darktable and Lightroom Adobe because both have similar looks and photo editing tools. Whereas Lightroom Adobe has a paid subscription plan for advanced photo enhancement tools, Darktable is free on Windows, Mac, and Linux.
That's why Darktable is popular in social communities like YouTube and Reddit as one of the best free alternatives to Lightroom.
There's no shortage of tutorials, tips and hacks, and recent version updates on YouTube. Just like this video below of a tutorial that'll teach you how to get started with Darktable and a sneak peek at how to use its tools.
The FREE Lightroom Alternative | Darktable Tutorial for Beginners
The darktable user manual holds a long, detailed list of all its tools and workflow processes. But in this article, we'll only go over some highlight features:
Raw image editing - can import and edit over 400 types of raw camera files to preserve photo quality
Non-destructive editing - tweak or remove edits anytime without altering the original image
Tone mapping and exposure control - fine-tune contrast levels with Tone Curve and Base Curve
Color correction and grading - precise control over color adjustments
Noise reduction - smoothen out the image while maintaining sharpness of finer details
Lens correction - corrects lens distortions, chromatic aberrations, and vignetting for optically corrected images
Filters - experiment with modules like Bloom, Bilateral Filter, and Grain to add artistic effects to your photos
Darktable Reviews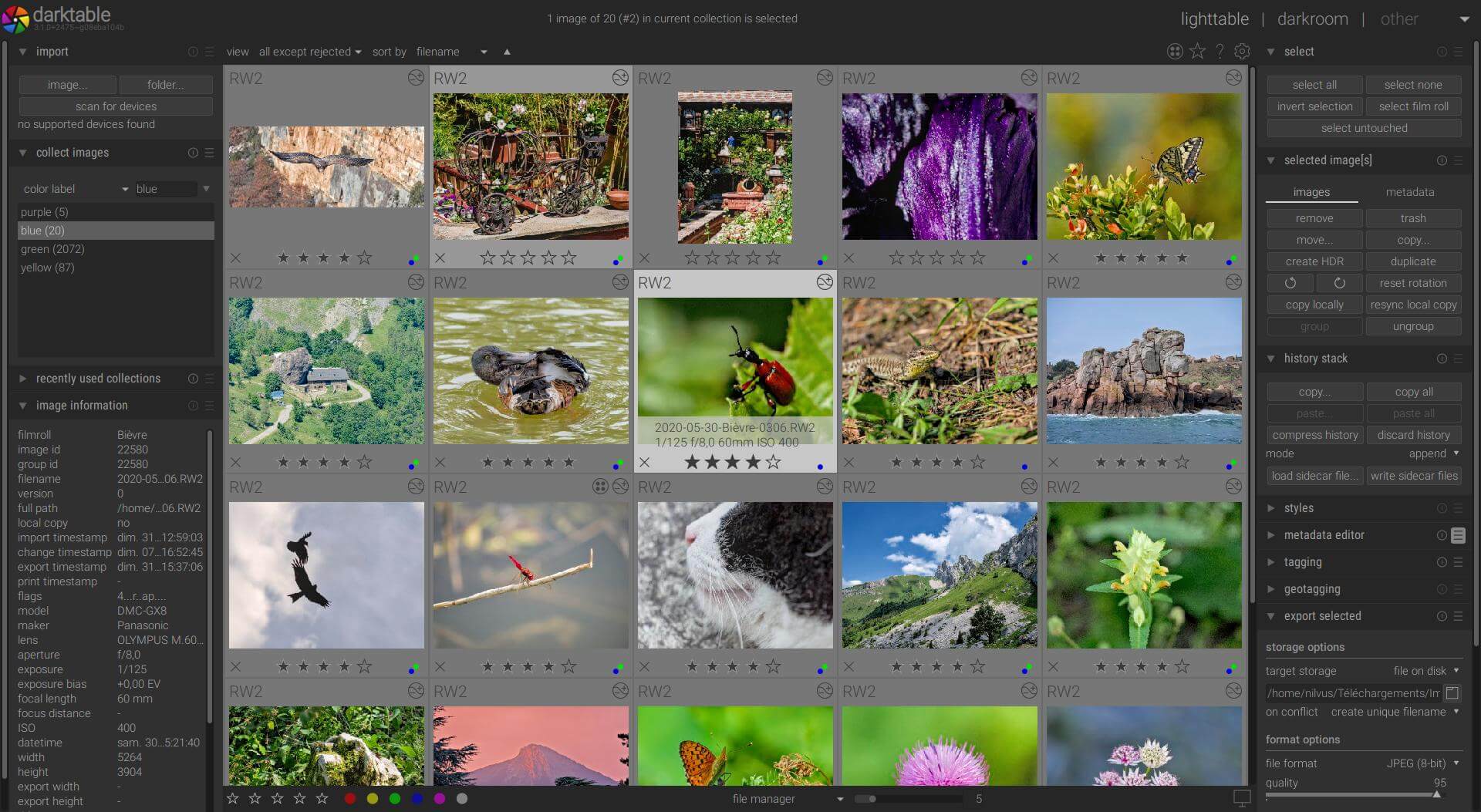 Darktable is a fan-favorite among photographers because it's a free alternative to the otherwise paid photo enhancement tools in Lightroom. That means if you're already loving Lightroom, you'll love Darktable because it'll save you monthly fees.
Another amazing feature in Darktable is the ability to automate tasks for more global editing. Another feature is the ability to find saved photos quickly thanks to search filters based on parameters (e.g. tags, ratings, keywords). Also, Darktable has an active community of users and developers, leading to regular updates.
On the negative side, you cannot use Darktable with just a few swipes because it's only available on desktop platforms. You need to have a proper sit down to familiarize yourself with its modules as they could be overwhelming for a beginner.
Overall:
Darktable is best for beginner photographers looking for a photo editing software with a limited budget. This would suit well with photographers who are regularly using and loving the Lightroom user interface.
HitPaw AI Photo Enhancer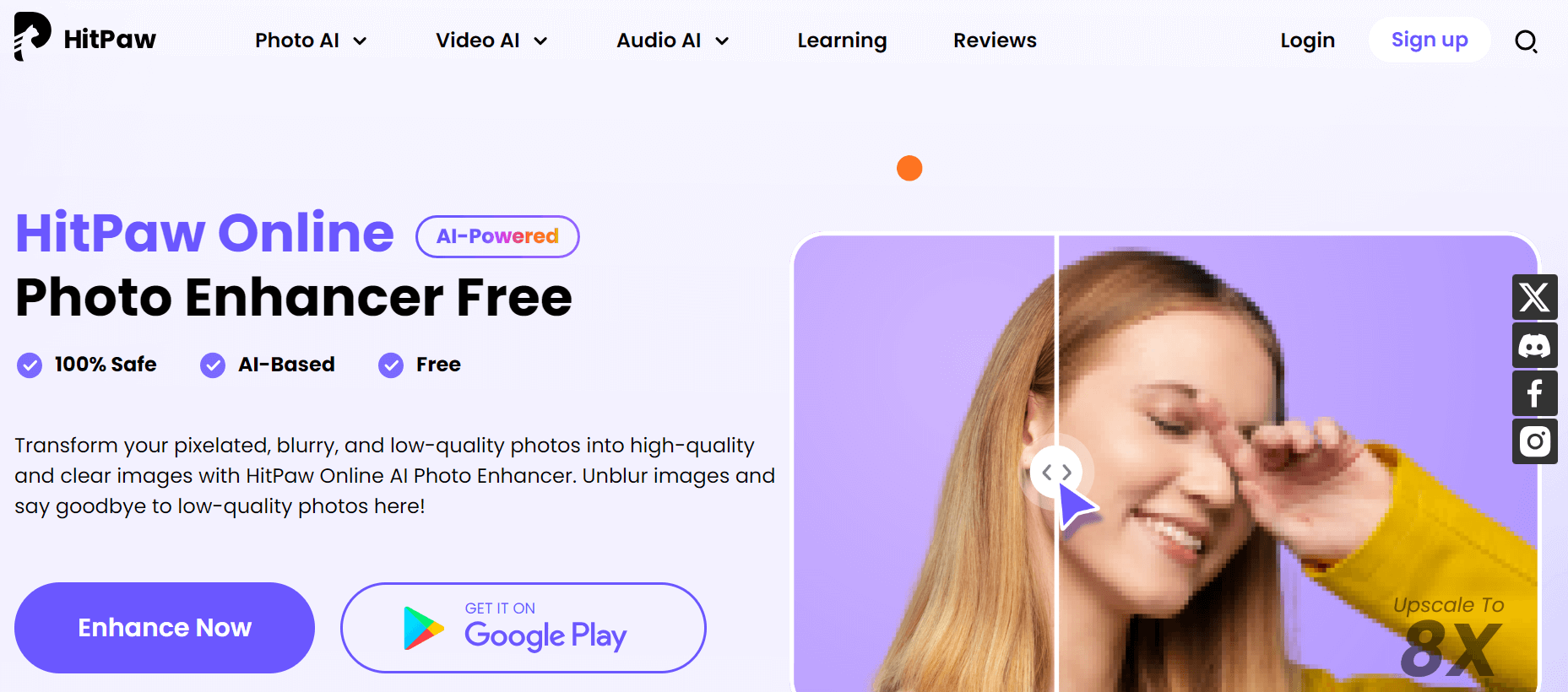 HitPaw develops a wide range of multimedia editing tools — the AI photo enhancer being one of them. It is available on Android mobile devices with over 500,000 downloads on Google Playstore with a 4.7-star rating from more than 5,000 reviews.
For non-Android users, the good news is that there's an online web version of HitPaw's AI photo enhancer. So you can enhance photos using AI on your laptop all the same.
These are some of the best tools that you can use to enhance photos with HitPaw. Note that some more advanced features may not be available on the free version.
Enhance photo quality - enhances facial details, fixes blurry photos, and restores old photos
Automatic beauty - auto-retouch selfies, removing pimples, acne, wrinkles, and dark circles
Colorize - adds vibrance to old, black-and-white photos
Cartoonize - animate your portraits into sketches, comic styles, hand paintings, and the like
Remove objects - remove unwanted elements on your photo like watermarks, logos, text, creases, etc.
HitPaw's user interface is intuitive, perfect for beginner photographers and designers. Even better, they have curated a YouTube playlist of tutorials in their channel to make it easier for their users.
Online Old Photo Restoration Using AI in One Click for FREE [100% WORKING]
HitPaw Reviews
People love the overall natural quality of the processed photo despite the AI enhancements. The effect looks best on portrait selfies, producing stunning photos with just one tap.
There are also raving reviews on the vibrant quality of the restored photos. Another favorite tool is the ability to make cool cartoon avatars from your image upload. People love it when they get a lot of engagement online when they share their enhanced photos.
Still, there are some downsides, such as the limited number of daily uses. Ads could also pop up now and then, which could disrupt your workflow. However, there's always an option to pay for a subscription plan if you want to do away with that.
Overall:
HitPaw is best for photographers and designers looking for quick enhancements without a steep learning curve.
Fotor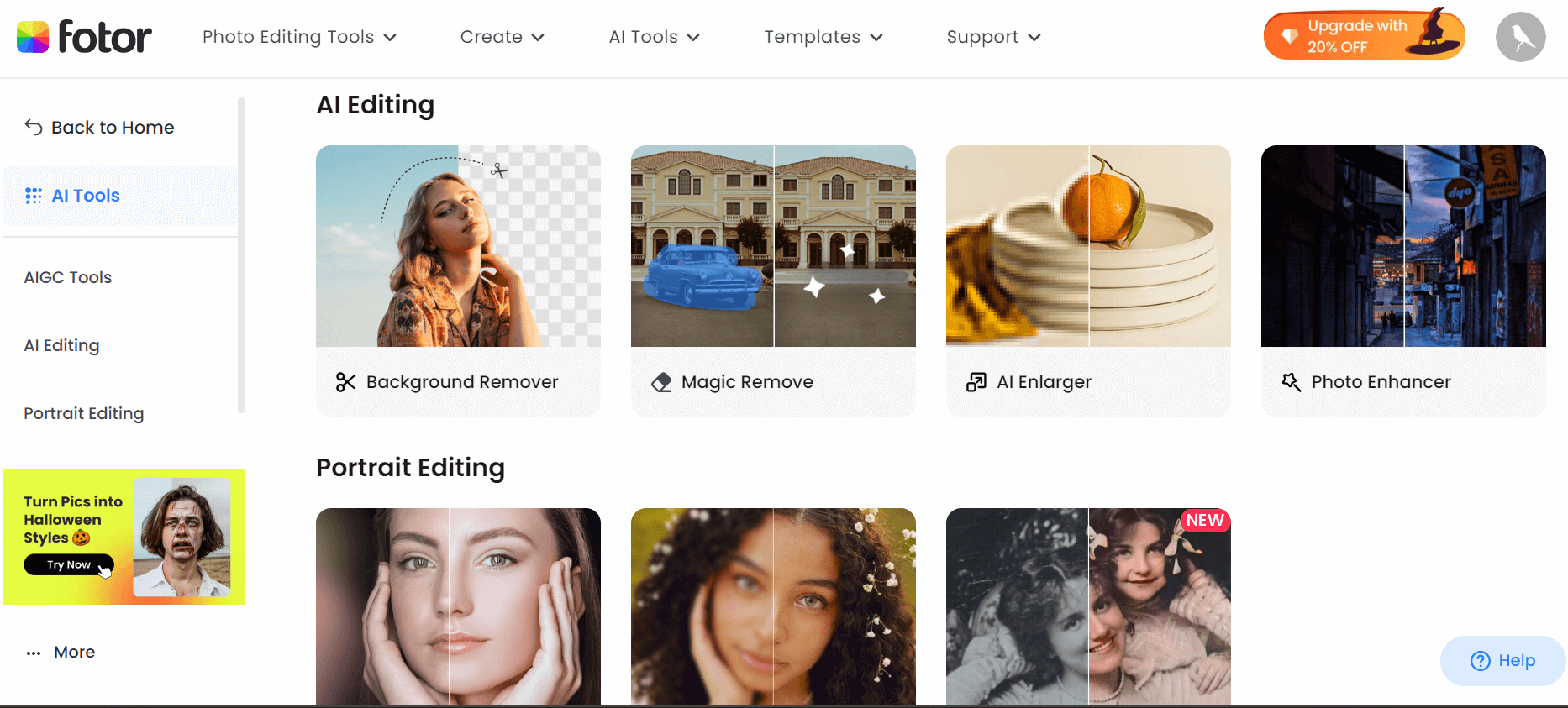 Fotor is an all-in-one photo editor available on the web and as a mobile app for Android and iPhone devices. Generating beautiful artwork out of text prompts, creating avatars from your image uploads, removing background instantly, retouching facial details, unblurring photos, restoring old photos, and upscaling high-resolution images are all made possible using AI techniques.
Take a look at Fotor's AI tools and how they can enhance your photos:
One-tap enhance - automatically adjusts the image's tone, light, and colors
Magic remove - removes unwanted pictures out of the picture
AI retouch - achieve a flawless look on portraits
Background remover - create a transparent background behind the subject
AI enlarger - upscale photos
AI filters - adds pre-set styles to your photos with different themes
Fotor also has a free YouTube playlist for beginner tutorials on how to use their AI tools. Use this as a guide if you don't know where to start.
How to play with fotor ai image generator
Fotor Reviews
If you're a fan of AI photo enhancers and photo editors, you'll love Fotor because it has a wide range of applications. Whereas other AI tools can enhance photos, Fotor also generates images from text prompts and designs advertising creatives.
Because Fotor was made for all skill levels, beginners won't have a hard time navigating its user-friendly interface — both in the web and mobile app versions.
But since they are offering a free version, it's inevitable to come across intrusive ads when you're in the editing process already. They also give limited daily uses and access to other tools, like any freemium model. If you have loads of work with enhancing photos, you can do away by subscribing to their paid plans.
Overall:
Fotor is best for photographers and designers looking for a versatile set of photo enhancement tools on a single platform.
Let's Recap
We've explored some of the best photo enhancers, each catering to different needs and preferences.
✅Snapseed delivers professional-grade edits directly from your mobile device with an intuitive interface — making it a go-to choice for photographers on the move.
✅Remini is a trendsetter who can revive old photos and create flawless portraits. It has earned a reputation among social media enthusiasts and creative minds.
✅ Imagewith.AI simplifies complex enhancements with its streamlined process. From upscaling to object removal, it's a reliable ally for photographers and designers seeking quick yet impactful improvements.
✅ Darktable caters to budget-conscious photographers with a robust set of features akin to Lightroom Adobe.
✅ HitPaw AI Photo Enhancer effortlessly enhances photos without sacrificing natural aesthetics. Its user-friendly interface makes it an ideal choice for beginners keen on refining their photography skills.
✅ Fotor stands tall with its diverse AI toolset. From background removal to text prompt image generation, it empowers users to explore many creative avenues, all within a single platform.
Final Thoughts
Finding the right photo enhancer can be a game-changer. So whether you're a budding photographer or a seasoned pro, experiment, explore, and watch your creative visions come to life with these handy companions in visual storytelling.