In this digital era, the visual representation of your brand has become an essential part, especially in terms of marketing perspective. Therefore, you must be vigilant when working on the images and the editing tools you select specifically. Although AI has taken over and made photo editing way easier, you have to rely on the single best AI image resizer and editor.
Image resizing, specifically, plays a significant role across various contexts, especially when it is for your website. Hence, you need an AI image resizer such as Imagewith.ai to optimize your images and offer the best user experience without compromising the website loading speed.
Still trying to figure it out? Here is a guide for you to clear out all of your queries. So, let's get started.
AI image resizer or an AI-powered image rescaling is a software application that works with machine learning algorithms and uses artificial intelligence to resize the image. The AI photo editing software works carefully and without degrading the image quality. They are capable of generating additional pixels, making them appear naturally.
In a nutshell, it analyzes the image that you want to resize and detects which part of the image needs to be protected while processing. This way, it ensures that the image details are retained.
Significance of Using an AI Image Resizer
Artificial Intelligence is conquering and giving the best possible solutions for almost every field. Similarly, for photo editing, AI holds the ability to process images of any kind, size, and format in a matter of seconds. Hence, speaking of it in a nutshell, it has simplified complex tasks, making image resizing and editing efficient.
The advanced algorithm and machine learning ability make it read and understand the image carefully and resize it according to your requirements without deteriorating the quality. Furthermore, it is easy to use and allows the user to perform more features such as batch processing, format conversions, etc.
Advantages of an AI Image Resizer
The AI image resizers upscale the image and prevent the quality by adding pixels to make it look more realistic.
You can resize different dimensions to make it more adaptive for various screen sizes, such as mobile, tablets, etc.
AI image resizer is a time-efficient software. It saves a lot of time as compared to the traditional manual photo editors.
Saves your server and device storage as it compresses the image size.
An AI image software can also restore old pictures by adding colors and enlarging them. These tools can also fix damaged photographs.
A few reported disadvantages of using an AI image resizer are Disadvantages of using an AI Image Resizer
With a lot of advantages of using AI technology to process your images, a few reported drawbacks are,
Some AI image resizer tools require a subscription or pre-image cost, making it difficult for occasional users.
It sometimes may overprocess the image by adding artifacts.
In some tools, privacy is a concern as they do not offer the security of your data.
Factors to Consider When Selecting an AI Image Resizer
When selecting the best AI image resizer, it is essential to consider different factors to ensure that the software you are looking for is worth it. This includes
1.Image quality You need to look for smart AI software that can edit your image without compromising the quality. It is recommended to look for a unit that can upscale and downscale the image while retaining the quality and sharp pixels.
2.It must be flexible The image resizer must not have fixed dimensions and aspect ratio. Hence, the best software for image resizing must be versatile and flexible to edit the image with different ratios. Apart from that, the image upscale software must also offer some customization. This includes features like noise reduction, texture preservation, image sharpness, etc.
3.User-friendly The software must not be complex; it must be easily accessible and easy to use. It must have a user-friendly interface so that any inexperienced users can edit their images too.
4.Efficiency Speed and efficiency are the key factor that has made photo editing easy. Some of these AI image resizers take less than a few seconds. This is important when editing large-size images as they take a little more time than usual.
5.Image formats and compatibility Many AI software are not compatible with all the image formats. You need to look for free or paid software that offers compatibility with multiple image formats like JEPG, PNG, TIFF, JFIF, etc. Other than the image formats, the preferred software can handle images of various sizes and resolutions.
Note: Some AI image resizer tools offer limited image sizing for free; you have to pay a subscription fee based on your requirements.
6.Privacy and Security Privacy is the key. Whenever or whichever photo editing tool you use, make sure to go through its privacy policy. Most of us need to check and accept the terms before knowing what we are signing for. It is recommended to go through the privacy first and see if your image and data are protected.
The best reputable AI image resizer offers encryption and data protection. Be sure to go through it thoroughly.
7.Community and support Ensure that the software you use has an active user community and support resources. In case you encounter any issues, this will help you to get it sorted on time.
8.Cost Before using an AI image resizer, go through the pricing first. Some are free entirely, and some allow a few to process per day with limited features.
The paid ones may require a subscription or charge on a per-image basis with different price brackets. Make sure to go through the list and select the subscription package that suits your requirements the most.
9.Output Formats Check if the AI image resizer supports various output formats, especially if you have specific image requirements, such as transparency or color profiles.
10.Additional Features You always have a choice to select an AI image resizer that offers additional features such as object and watermark remover, batch processing, retaining image quality, color correction, cloud storage, comparison, etc. Some software allows these features for free, while some are available with paid versions only.
With all the necessary information. Here are a few AI image resizers that we have tested. The list includes
1.Imagewith.ai – Best AI Image Resizer https://www.imagewith.ai/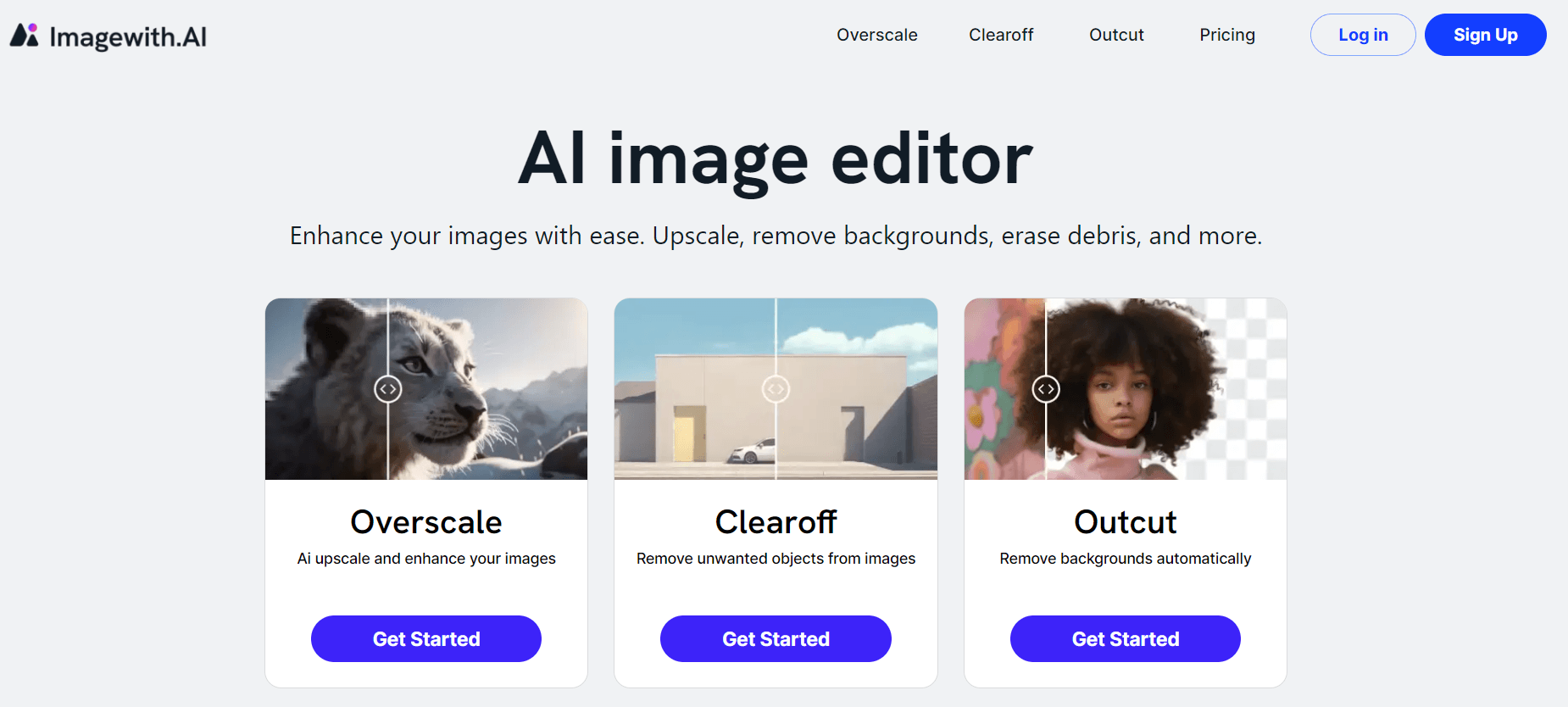 Imagewith.ai is a popular tool that is used and recommended by many photo editors. This has been marked as the best AI image resizer because of the features that it offers as free software.
It works with smart artificial intelligence that portrays a remarkable image upscaling in just a few seconds—adds more value to your pictures, understanding every single detail of the image.
This offers a user-friendly interface and simple image processing as it allows three methods: upload, drag and paste, and through URL for fetching the image to resize it. You can also remove blur, add value to an old picture, and sharpen the photos. Once it is done, you can compare the process version with the original image.
Key Features of Imagewith.ai
This software is free
Removes blur and edits quickly
Adds value to old images
Resizes the image and retains its quality
Allows to upscale in two sizes, 2x and 4x
All-in-one image resizer that also removes unwanted objects and background
2.Icon8 Smart Image Resizer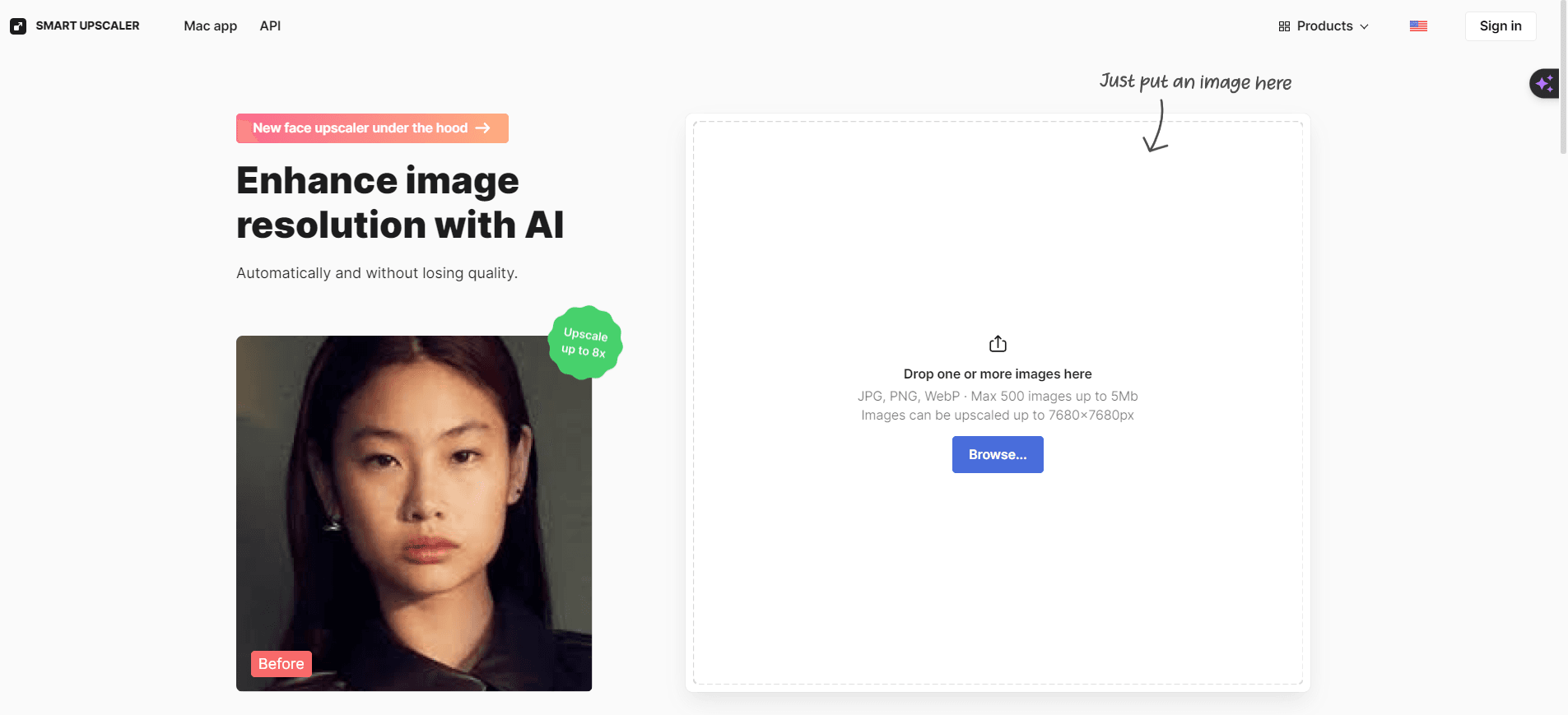 This AI image resizer is available in free and paid versions, which you can avail of at a minimal price starting from $9 only.
Working with this software is efficient as it uses good algorithms, and the machine learning capabilities allow it to process your image by retaining originality and enhancing clarity.
You can resize your picture in any format, including JPG, PNG, WebP file, etc. The simple interface makes it an easy-to-use software that also allows you to preview your AI-optimized image. If you are a professional and looking for bulk resizing simultaneously, you can get its paid version.
The drawback of using it for free is that it will leave an unremovable watermark. Key Features of Icon8.
This software is easy to use
It auto-corrects the imperfections
Works with simple drop and drag method for photo editing
You can download the processed image for free
Resizes the image quickly
3.Gigapixel-ai Topaz Labs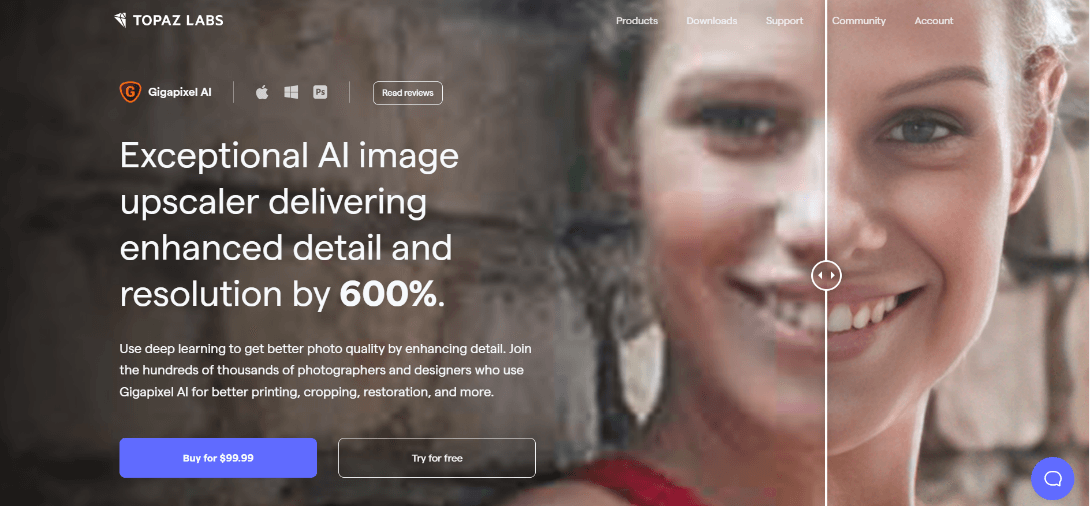 Gigapixel is an AI image resizer powered by Topaz Labs, which uses deep learning and highly trained neural networks that efficiently understand the original photo and details to process it.
It is compatible with PCs and Mac operating systems, making it accessible to the majority. This tool allows image resizing up to 600% for various photos and retains its quality. Other than that, it enhances the aspects of the image ratio to turn your picture into a viable asset with high resolution and crisp color.
This tool can further use your data to upscale, resize your image, and fill in the missing details to improve quality. To start processing your image, you need to sign up for the tool, which is free.
However, if you are a Linux user, then this software will not support your operating system. Furthermore, this software is comparatively costly; its starting price is $99.
Key factors of Gigapixel:
Allows image resizing for portraits, wildlife, landscapes, architecture, etc.
It can work with different image types except for DSLR
This software is capable of resizing and processing low-quality images
It sharpens hair, feathers, and fur textures
Turns low pixelated images resizing and fixes them like a pro
4.HitPaw Photo Resizer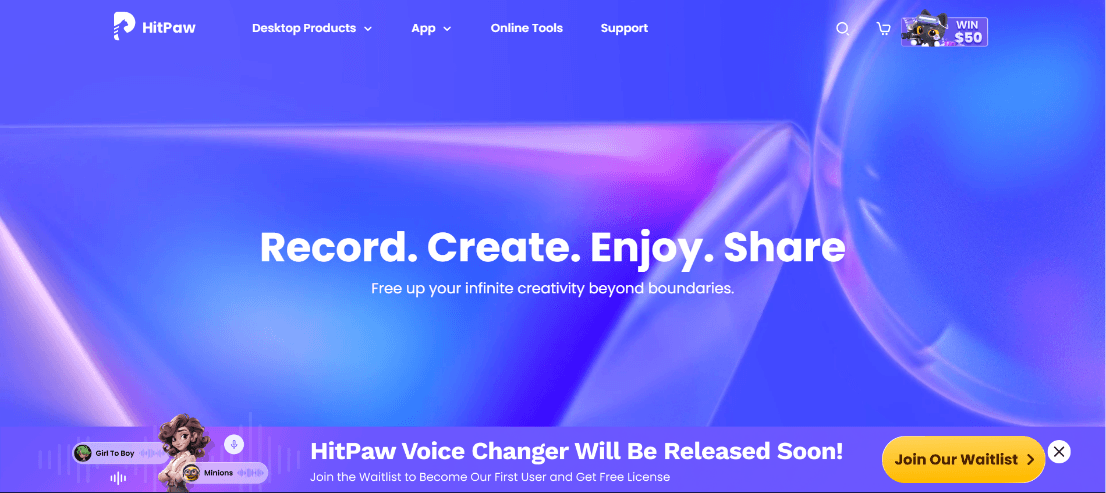 Another best AI image resizer is Hitpaw, a computer program compatible with MAC and PCs to make resizing easy. It upscales the image with ease and keeps the quality similar to or better than the original.
This allows you to work with multiple images simultaneously and works with a majority of image types, including landscape, buildings, animations, nature, etc.
It can also turn the vintage B&W photo into a colorized version, allowing you to save both. With this, you can have a variety of AI model that refines your images more significantly—removes blur, and reduces noise from high ISO, resulting in a high-quality picture.
Most of the features it offers are free; the paid version is available at $35.99. You can also get seasonal discounts.
Key Features of HitPaw
Edits image and turns it into high-quality
Sharpens and enlarges the image
Retains the image quality while resizing
Fixes lightening issues without damaging the pixels
Allows batch processing for heavy images
You can upscale your image with HD, 2K, 4K, and 8K
5.AVC Labs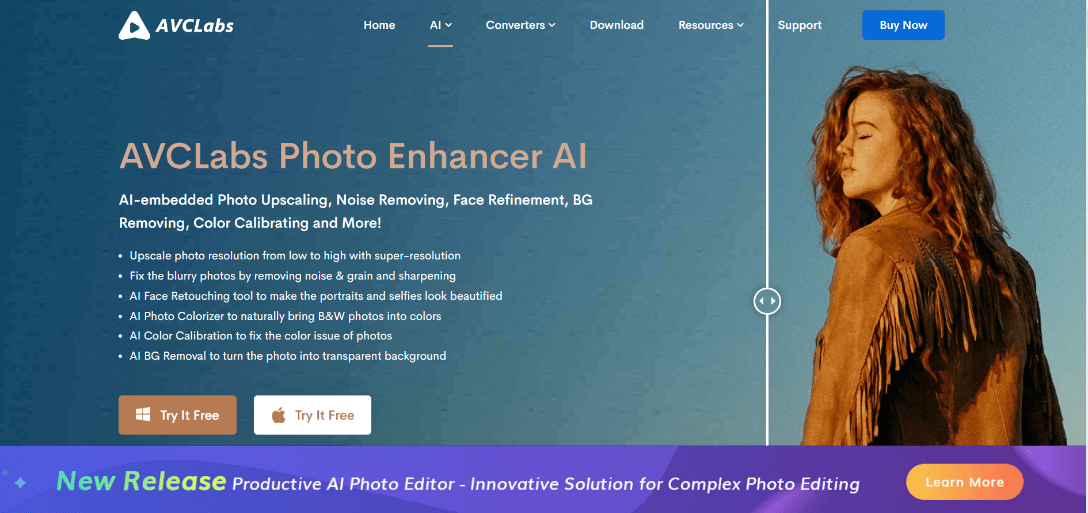 AVC Photo Enhancer is an advanced AI image upscaler that harnesses the power of machine learning to enhance image resolution by up to 400%.
This AI model has undergone extensive training on diverse subjects, including wildlife, landscapes, portraits, animes, and architecture. With this tool, you can effortlessly upscale the resolution of various image types while maintaining all the intricate details. Its user-friendly AI photo resizer makes it easy for beginners and eliminates the need for complex editing processes.
One standout feature we love is its intelligent noise and grain remover, which significantly enhances image quality with just a single click.
You can explore the flexible pricing options, including monthly, annual, and continuous plans, starting at a discounted price of just $39.95
Key Features of AVC Labs.com
Improves the image and video quality
It colorizes black and white pictures and keeps the quality
AI color Calibration sorts the color issues in the images
Removes noise and grains from the images
Allows the user to turn the background into a transparent
6.StockPhotos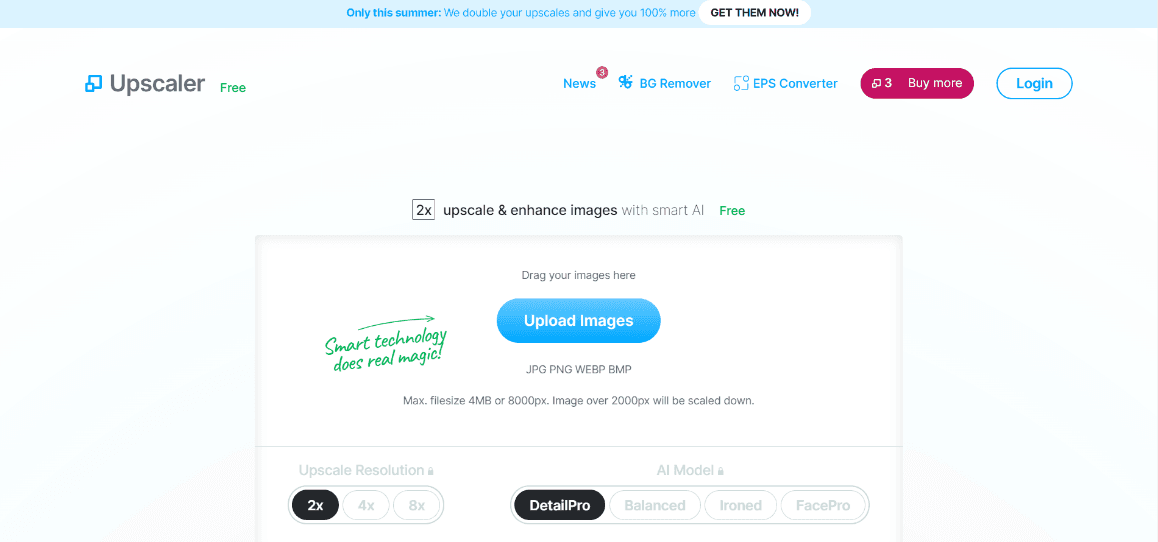 Stockphotos is a popular name in the list of the best AI Image Resizers that can edit images and keep their quality. This one is available in paid and free versions, offering different features. However, the features will be limited in the free versions.
This tool allows you to turn your low-resolution pictures into high-quality images. Other than restoring your image, you can also remove the background easily.
Stockphotos is more suitable and suggested for e-commerce websites where you can sweep the images and turn them into new compositions. In the free version, you can only upscale three images, while the paid versions give you more options and allow up to 100 images.
Key Features of StockPhotos
Enhance the image quality easily with 8x
Sharpens, removes blurs and restores images
Allows background removal from the free version
Best AI image resizer for e-commerce
You can get the paid version at a one-time payment
7.Deep Image AI Photo enhancer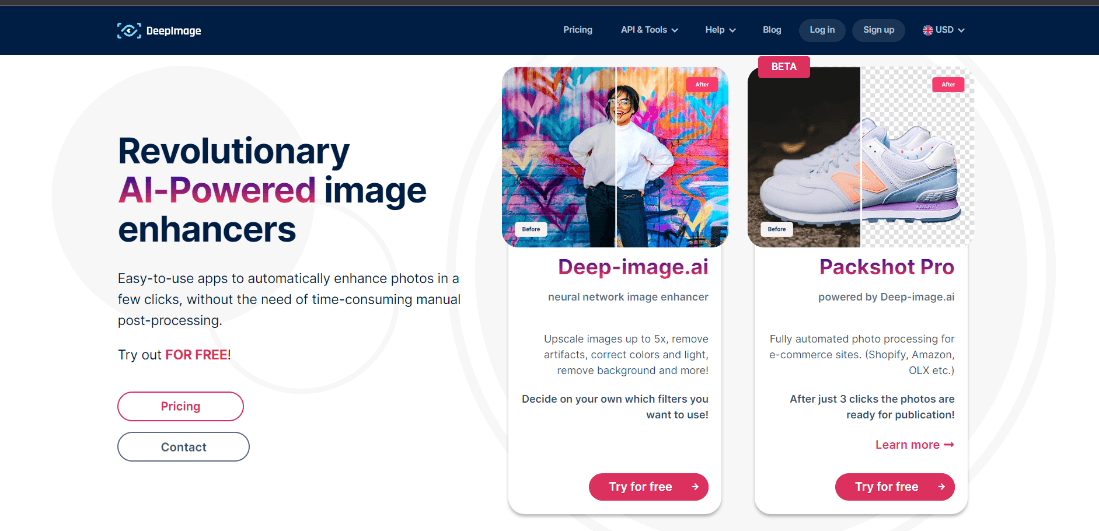 The final tool for the best AI image Resizer is a Deep image AI photo enhancer, which is smart enough to edit the image, sharpen low-resolutions, and keep the originality of the photo.
This is a software-based tool that is compatible with Windows and Mac iOS. It possesses an efficient AI technology that is smart enough to fix lighting, remove noise, and color-correct the image.
It is integrated with Google Drive to maintain the workflow and allows you to edit and resize your image in batch uploads.
The paid version allows 100 images upscaling for $7.50 only. However, you can also get 5000 credits if you are using it at the professional level.
Key features for Depp Image AI Photo Enhancer
Easy to use AI Image Resizer
Removes noise from the image
Edits the image and balance the lighting
It color corrects your dull images by fixing blemishes
Allows streamlined workflow with its smart integration with Google Drive
Why do we need an Image Resizer?
Image resizing plays a crucial role when it comes to content, digital media marketing, printing, etc. If you are running an online business, you need a professional website; that is where an AI image resizer is required. An AI image resizer helps you in Improving the website speed and making your website more adaptive with different screen sizes.
Helps in creating more responsive designs
An AI image resizer helps in creating social media posts by fulfilling the requirements and making them mobile-optimized When printing a banner or something on a large scale, image resizing is essential to ensure that it fits properly in the dimensions without affecting the image quality Using an image resizer also allows storage management and saves space on the servers and your devices.
For content creators, image resizing allows them to create content with different dimensions.
Now, here is what you should know about the AI image resizer.
How do you choose the right AI Image Resizers? Tips and Step-by-Step Guide It is crucial to select the best AI image resizers; however, for your ease, here I am sharing a few tips and tricks that will make your decision-making easy.
1.Define your Requirements: Always select the tool that meets your requirements. For that, evaluating your needs is suggested first, and then exploring the best AI image resizer through the features it offers, like processing, image quality, speed, cost, etc.
2.Explore the options: With all the options available in paid and free versions, explore them thoroughly before finalizing one.
3.Assess the Image quality: Ensure the processing tool you have selected can uplift the image quality. When processing the picture, the AI image resizer must focus more on noise reduction, motion blur, and sharpness.
4.Compatibility with different formats: Consider an image resizer that allows more than one processing format, such as JPEG, PNG, BMP, etc.
5.User Experience: Before you get in, always check for the user experience to get an idea of its effectiveness. Other than that, the software must be easy and simple to use.
6.Evaluation of free trial & subscription: If you are planning to get a subscription, the best way is to get through the free trial.
7.Features it offers: This will give you an idea of image processing speed, upscale quality, and uplift the quality of old pictures. The image resizer must have a batch-processing feature for professionals. Pay more attention to pixel compression when looking for an AI image Resizer.
8.Speed & Efficiency: Many image resizers are speed-efficient and upscale the image in a few seconds. However, heavy image file processing may take a while, so don't worry about it.
9.Privacy & Security: It is important to go through privacy and security along with the terms and conditions your software is offering. This will ensure that your data is secured from every kind of cyber threat.
10.Customer Reviews: Go through the customer reviews and know the positives and negatives of the tool you are getting.
No matter what tool you get, remember that no tool adds 100% value to your picture as the original one. Some of them may give you unrealistic results or overly originality, so be sure what you are getting before signing up for a paid subscription.
Presently, many image resizers are available in free and Paid versions, allowing different features. However, Imagewith.ai has been reported as the best AI image Resizer by many professionals and beginners. The reason is because of its fast process, noise reduction, high-quality image upscaling ability, and many more.
This AI image upscale software has smart algorithms and machine learning abilities that process the image and allow users to compare it with the original and upscale versions.
For instance, here is an image with blur pixels which has been processed by using Imagewith.ai

It has enhanced the image, and you can easily compare the before and after results with this scroller in the middle.
Conclusion | Best AI Image Resizer
The best AI image resizer stands out as an indispensable tool for anyone working on images, whether a professional or a beginner. This technology has helped many professionals and newcomers to perform photo editing efficiently and save time. For ease of users who are new to this or looking for an alternative to traditional photo editing tools, we have formulated a list of the best AI image resizers and upscale that process the image seamlessly.
However, the best image resizer professionals recommend and have many positive ratings is Imagewith.ai. So, give it a try and share your feedback.