Have you ever found yourself in a situation where you discovered your digital art is taken without your permission? Your precious photo you made last winter is spread all over the vast internet.
You can't help but wonder: What can you do to stop that in the future?
The time has come to protect your digital creations, and trust us when we say free watermark apps are your solution! Get comfortable because today, we will introduce you to the 6 top free watermark apps you can find!
But first, let us tell you what free watermark apps are and how they can help your work.
The Significance of Top Free Watermark Apps in 2023
Watermark apps act like digital signatures, leaving a mark on your photos or videos by imprinting a desired logo or stamp.
You can choose and make whatever design you want to make sure your digital goods are safe. You've got to make sure your hard work is protected and isn't taken for granted.
Basically, watermark apps are a way of saying, "Hands off, this is mine."
In 2023, it's pretty quick and painless to watermark your assets, so let's look at our top options for iPhone, Android, PC, videos, and online tools:
Top Free Watermark Apps for iPhone
Watermark X (iPhone)
Watermark Photo (iPhone)
My Watermarks (iPhone)
Top Free Watermark Apps for Android
Add Watermark on Photos (Android)
Photo Watermark (Android)
Add Watermark Free (Android)
Top Free Watermark Apps for PC
Visual Watermark (Windows)
Format Factory (Windows)
uMark (Windows & Mac)
Top Free Watermark Apps for Videos
Video Watermark Software (Videos)
Watermark.ws (Videos)
VEED.io (Videos)
Top Free Watermark Online Tools
Watermarkly (Online)
Water Marquee (Online)
Pixlr (Online)
Top Free Watermark Apps for Both iPhone & Android
Canva (iPhone & Android)
eZy (iPhone & Android)
Logolicious (iPhone & Android)
Top Free Watermark Remover - Online Tool
AI Image Editor - Clearoff option
Top Free Watermark Apps for iPhone in 2023
Your iPhone has a lot of choices regarding watermarking your design, but we will name our top 3. Here they are:
1. Watermark X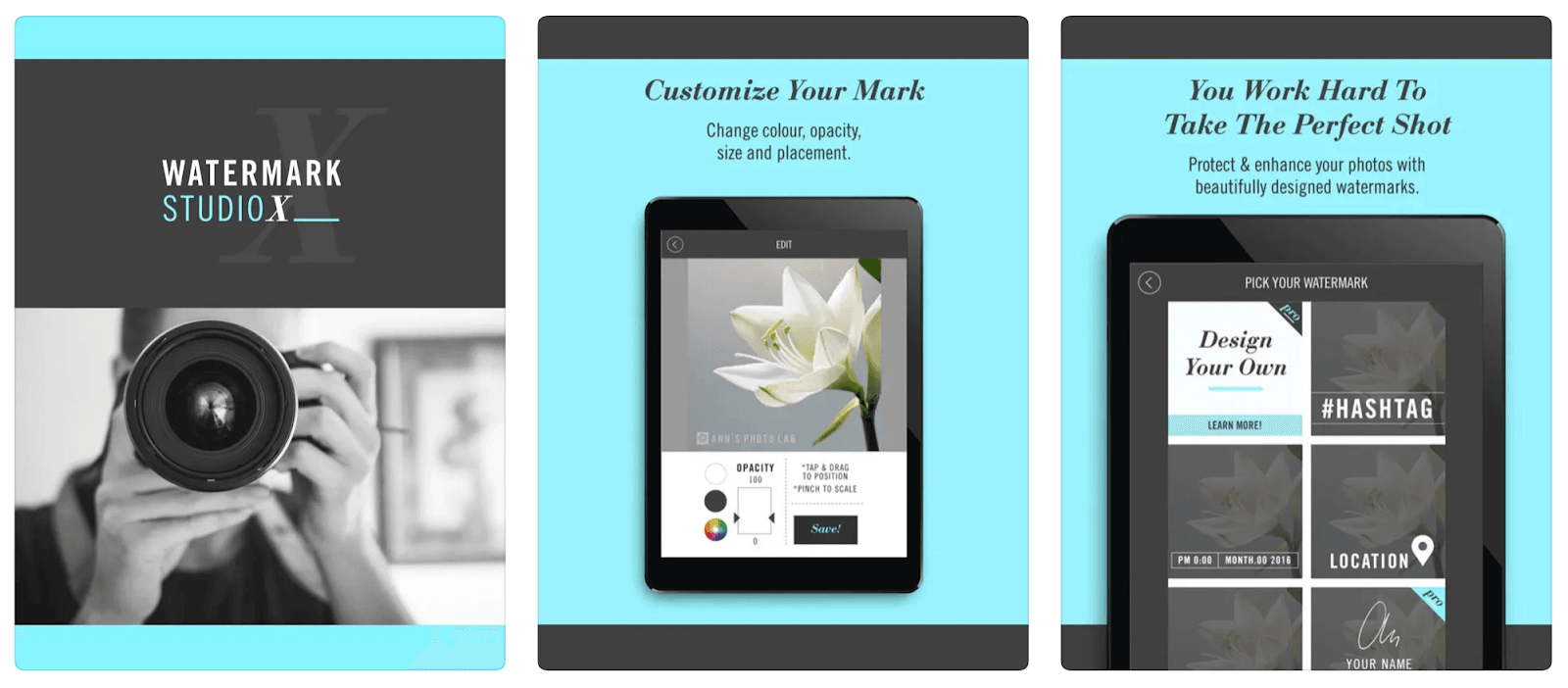 Watermark X is one of the solutions you've been searching for for your iPhone. It makes the process of watermarking your digital content easier.
It became popular among content creators searching for effective ways to secure digital products.
With a 4.3 rating on the app store, let's dive into the Pros and Cons of this app.
PROS:
Batch Processing: Watermark X enables you to add watermarks to more than one file simultaneously, which saves your effort and time.
Simple Interface: This app gives you a simple interface, allowing you to add watermarks quickly and making it easy for you to navigate through the whole process.
Customization: Watermark X offers many customization options that allow you to personalize your watermark with different fonts, colors, and sizes.
CONS:
Limited Features: Like Canva, this app has limited advanced features regarding watermarking.
Advertisement Interruption: The free version of Watermark X includes advertisements that may interrupt your experience during your work on watermarking.
2. Watermark Photo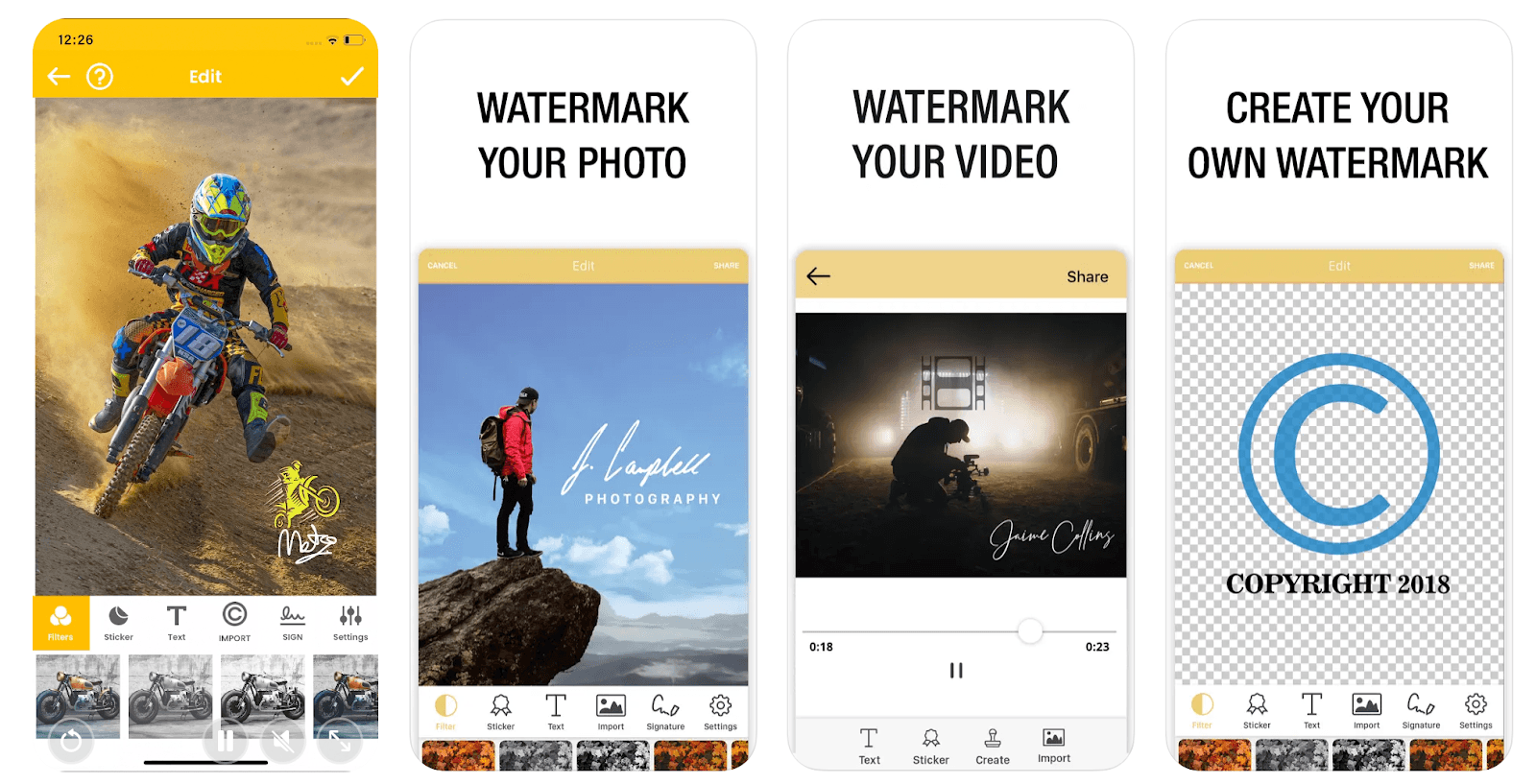 If you're an iPhone user looking to protect your digital designs, you should consider testing the Watermark Photo app. It's a user-friendly tool that allows you to add watermarks to your photos effortlessly.
You can choose from preset watermarks and logos or create your own. You can even customize the presets.
PROS:
It offers a simple interface for easy watermarking.
You can customize your watermarks to suit your style.
It seamlessly integrates with your iPhone's camera roll for quick access to your images.
You can share your photos on all major social media platforms.
CONS:
There are some restrictions to more intricate watermark designs.
You could experience occasional glitches during usage.
This watermark app offers you a free trial period. If you want to continue to use the app, you'll need to pay a subscription fee.
3. My Watermarks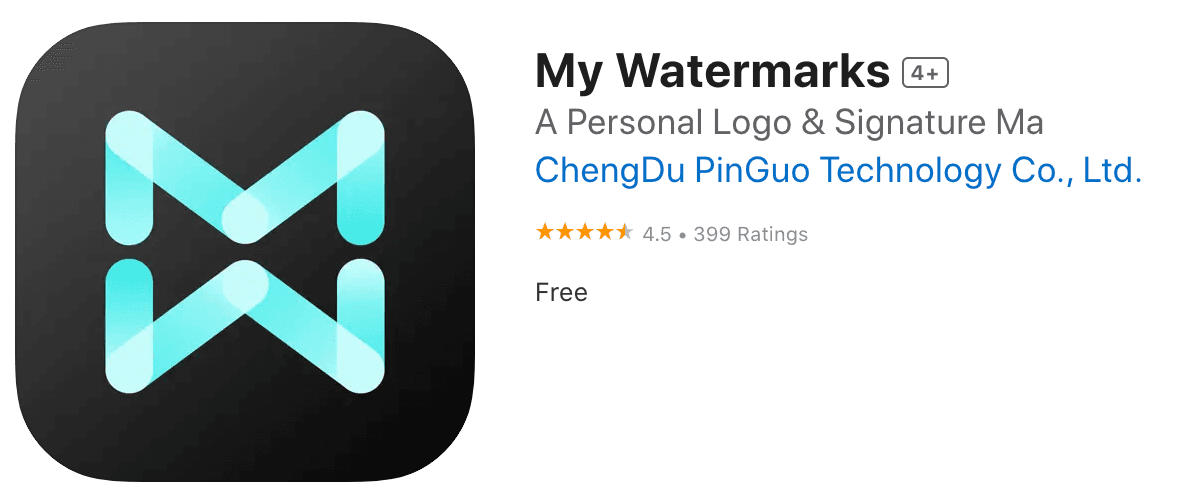 With the My Watermarks app, you can use an image of anything as your watermark or logo for your iPhone.
PROS:
You can customize graphics, text, and imported images with its editing tools.
You can import your signature from a piece of paper.
You can reuse your templates with ease.
CONS:
It doesn't have the option of adding watermarks in bulk.
The My Watermarks app is free. This makes it a great option for both professional and casual use.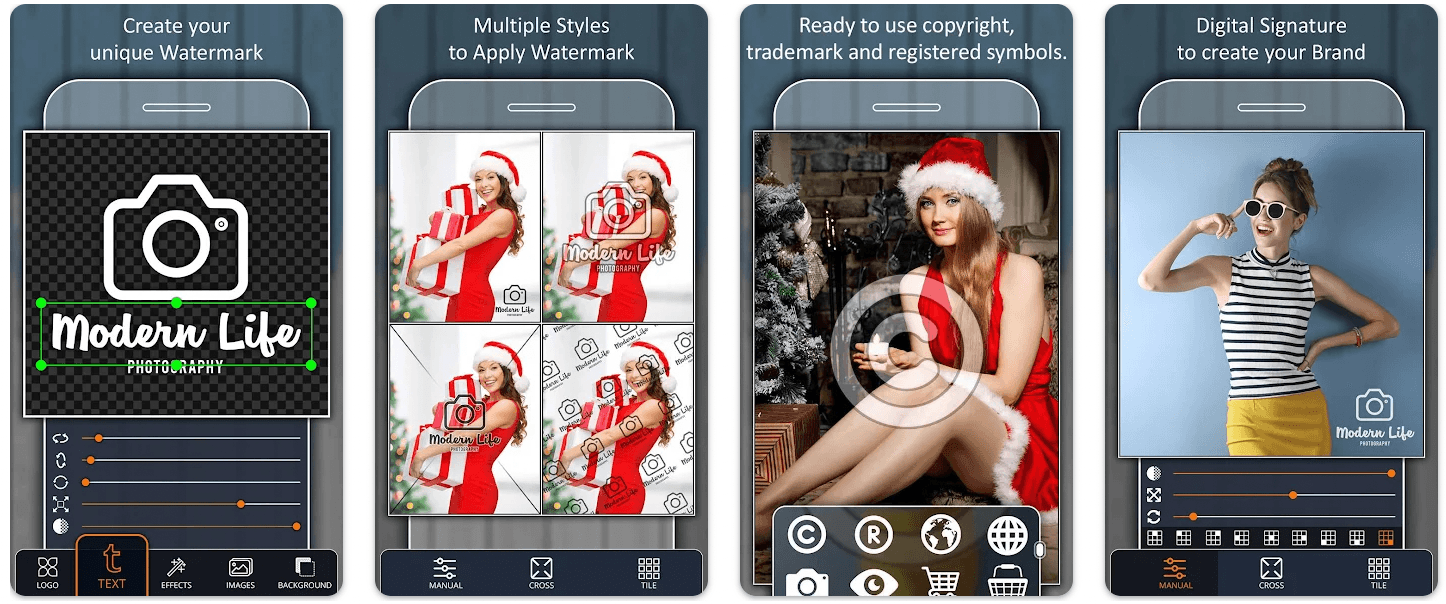 Top Free Watermark Apps for Android in 2023
Don't worry, Android user. We listed the top 3 watermarking apps for you, too. You'll be able to put your free watermark whenever you want on your image files. Just keep reading.
1. Add Watermark on Photos
This app provides a straightforward way to add watermarks to your photos, ensuring that your designs remain secure. With its easy-to-use design and simple editing tools, Add Watermark on Photos allows you to protect your images without any hassle.
PROS:
The app offers a straightforward interface for easy watermarking.
You can protect multiple images efficiently with its quick batch processing.
It provides simple sharing options for distributing your watermarked photos.
CONS:
Some advanced editing features might be missing for intricate designs.
You may encounter occasional lags or delays in the app's performance.
2. Photo Watermark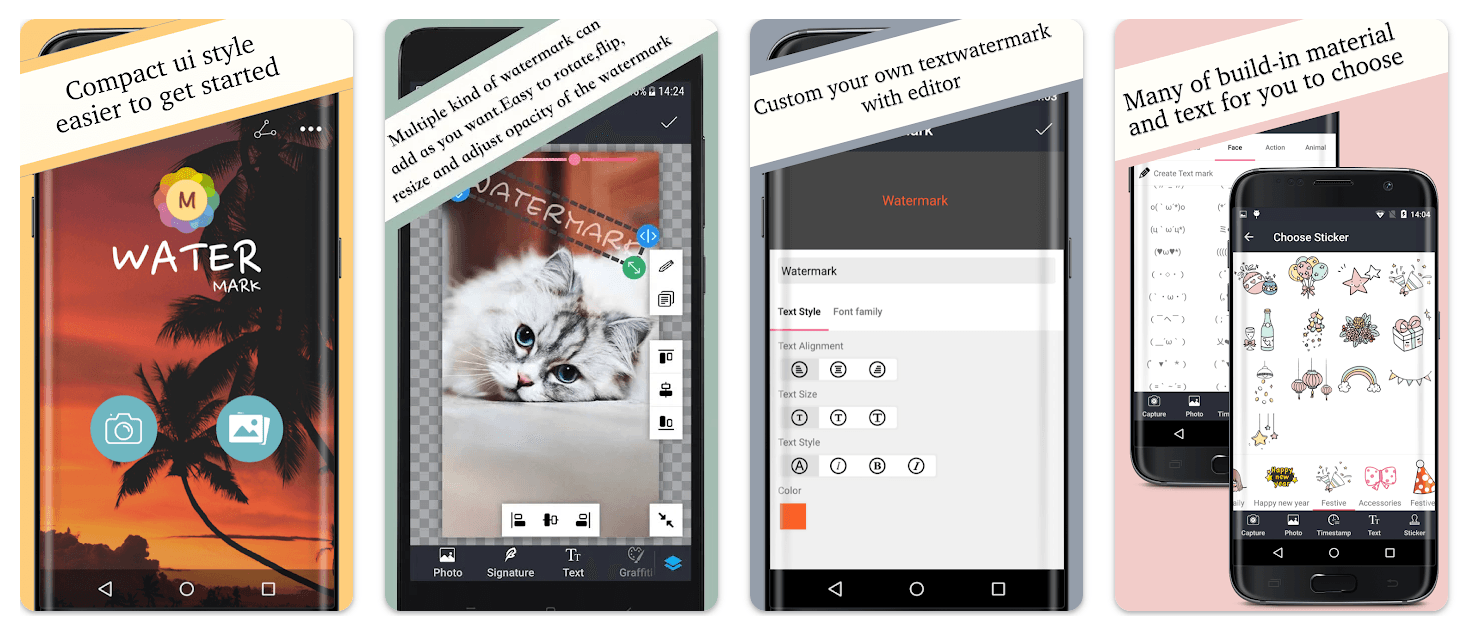 Photo Watermark is an app that allows you to add digital watermarks to images, photos, and drawings. You can choose the transparency level that you want. You can create your own watermarks with this application.
PROS:
You can take photos with your camera, change font color, or add other effects to the text mode.
Watermarks can be used to include hundreds of text and notes in PNG format. It is easy to rotate, flip, flip, or change the transparency of the watermark as you wish.
Watermarks can be edited or cloned, and you can reuse watermark text.
CONS:
The photo quality is not the same after downloading it with a watermark.
Limited only for Android.
3. Add Watermark Free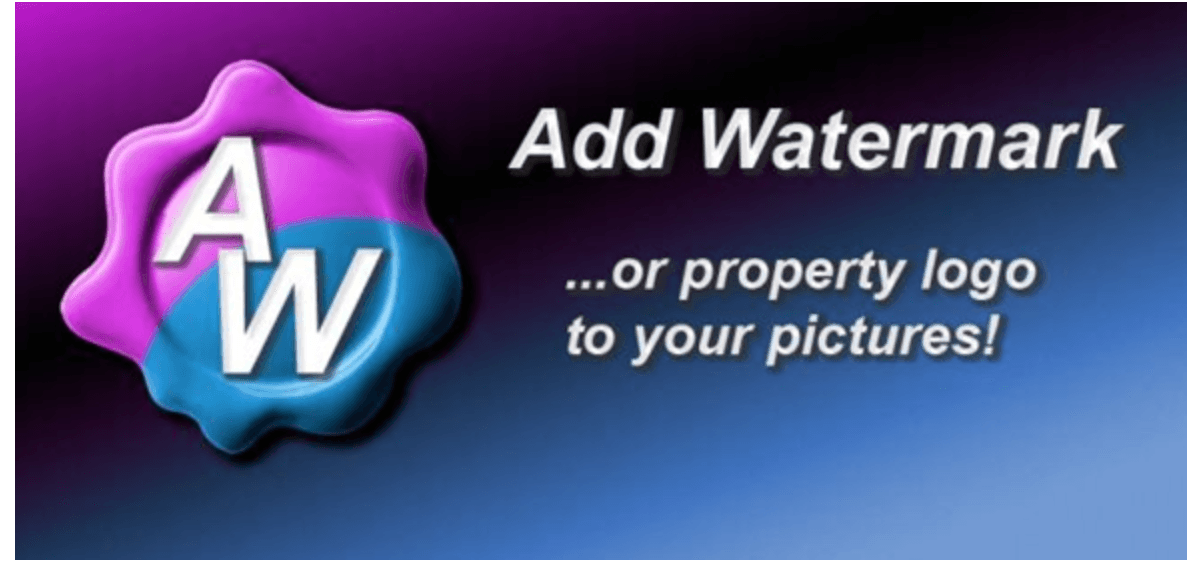 Users give this app a solid 4.3 grade and say the standout features of Add Watermark are ease of use and no data collection.
PROS:
This app offers you bulk watermarking.
It is easy to use.
Pictures will be saved in a single folder on your device
CONS:
It might not support every image format
You can't export the watermark, just the image
If you want to use your own logo and just adjust it, you will have to buy the app.
Top Free Watermark Apps for PC in 2023
Have you been doing all your editing jobs on the phone? Maybe it's time to switch to a PC. That's why we dug deep to find you the top free watermark apps for PCs.
Here they are:
1. Visual Watermark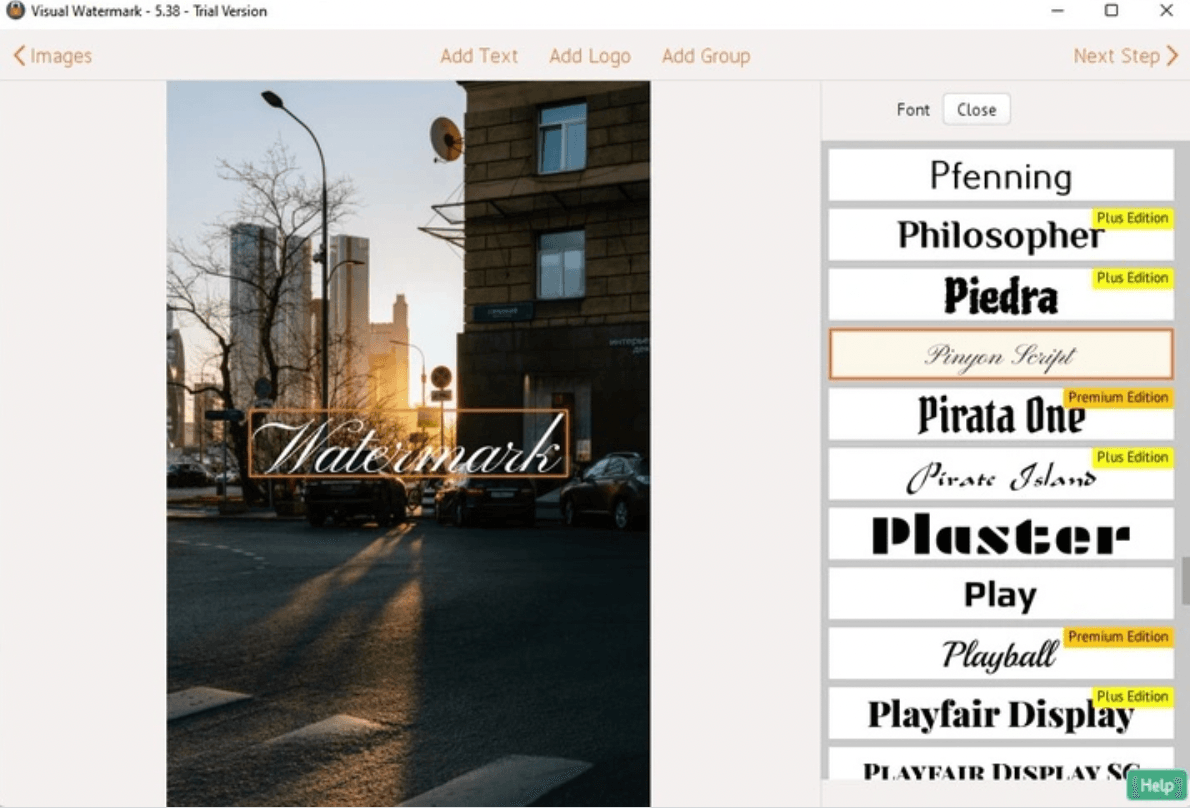 Visual Watermark works without the Internet. You just need your computer. So wherever and whenever you want to work on your photos, just bring your PC with you, and you are ready to process your photos.
PROS:
Great for everyone: beginners, amateurs, or professionals.
Extremely fast due to the fact it only works offline.
Nobody can access your data. It's completely private.
CONS:
You get only ten images per day in the free version.
You can't upload your own signature to it.
2. Format Factory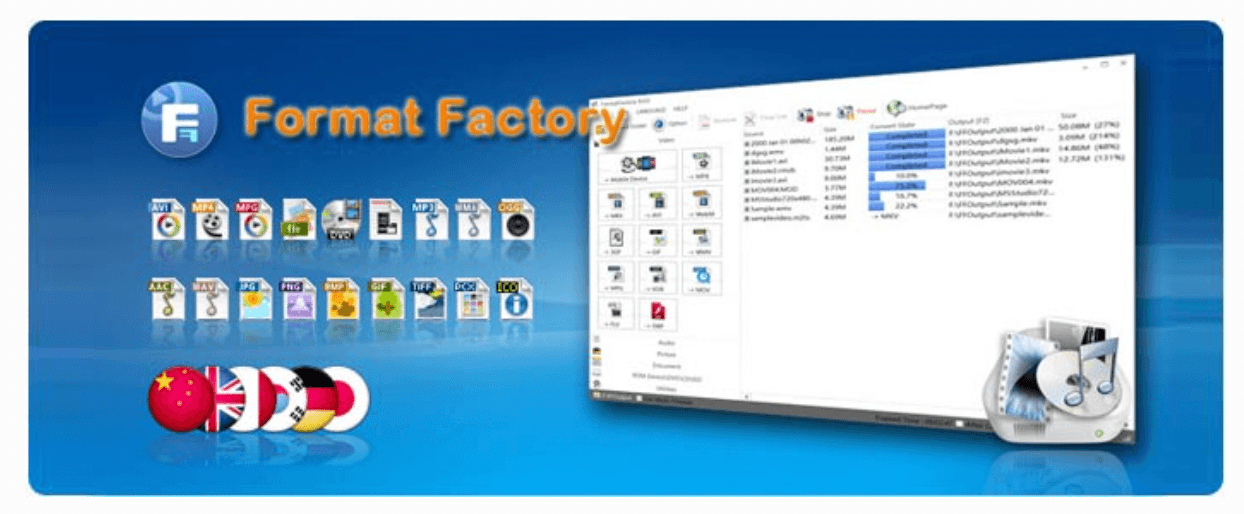 There's no need to download multiple programs to convert files or rely on slow online tools. Format Factory is powerful, customizable, and completely free, and it is just what you need for watermarking your designs on the PC.
PROS:
It can convert every file format.
It has a batch option.
CONS:
Not really an easy interface.
A little harder to install since it offers other free tools constantly.
3. uMark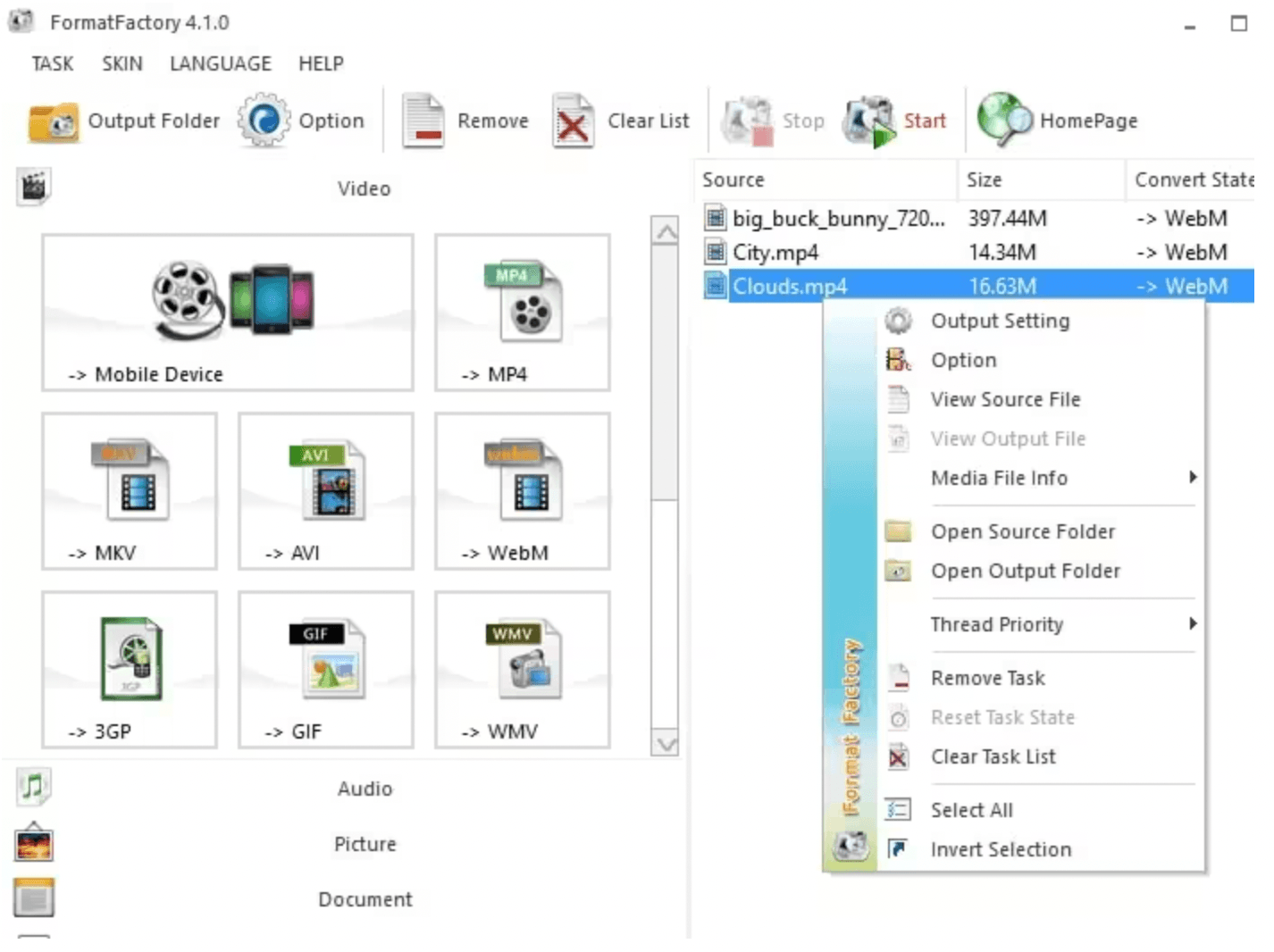 uMark is a watermarking tool that can easily manage mass picture processing. Stamp your name, barcodes, or QR codes onto images to let viewers get back to the original designer.
It's also available in eight different languages, making it more accessible than other picture watermarking tools.
PROS:
Always free for PC.
It saves your watermark setting, so you don't have to begin from scratch every time you want to use it.
It saves the marked images in a new folder so that the original images remain unchanged.
CONS:
Some advanced features will be disabled after 15 days of free usage.
It adds the uMark logo in the free version.
Top Free Watermark Apps for Videos in 2023
You're great at watermarking your photos, but now you want more; you want to watermark your videos. We got you!
1. Video Watermark Software

If you're a creator looking to protect your videos, Video Watermark Software can be a valuable solution. This complete tool allows you to add watermarks to your videos easily, ensuring that your content remains secure.
Video Watermark Software enables you to protect multiple videos simultaneously.
PROS:
The app has a user-friendly interface for easy video watermarking.
It allows for efficient batch processing of multiple videos.
You can customize your video watermarks to your liking.
CONS:
Access to advanced video editing features may be limited in the free version.
You may experience occasional delays or lags during video processing.
2. Watermark.ws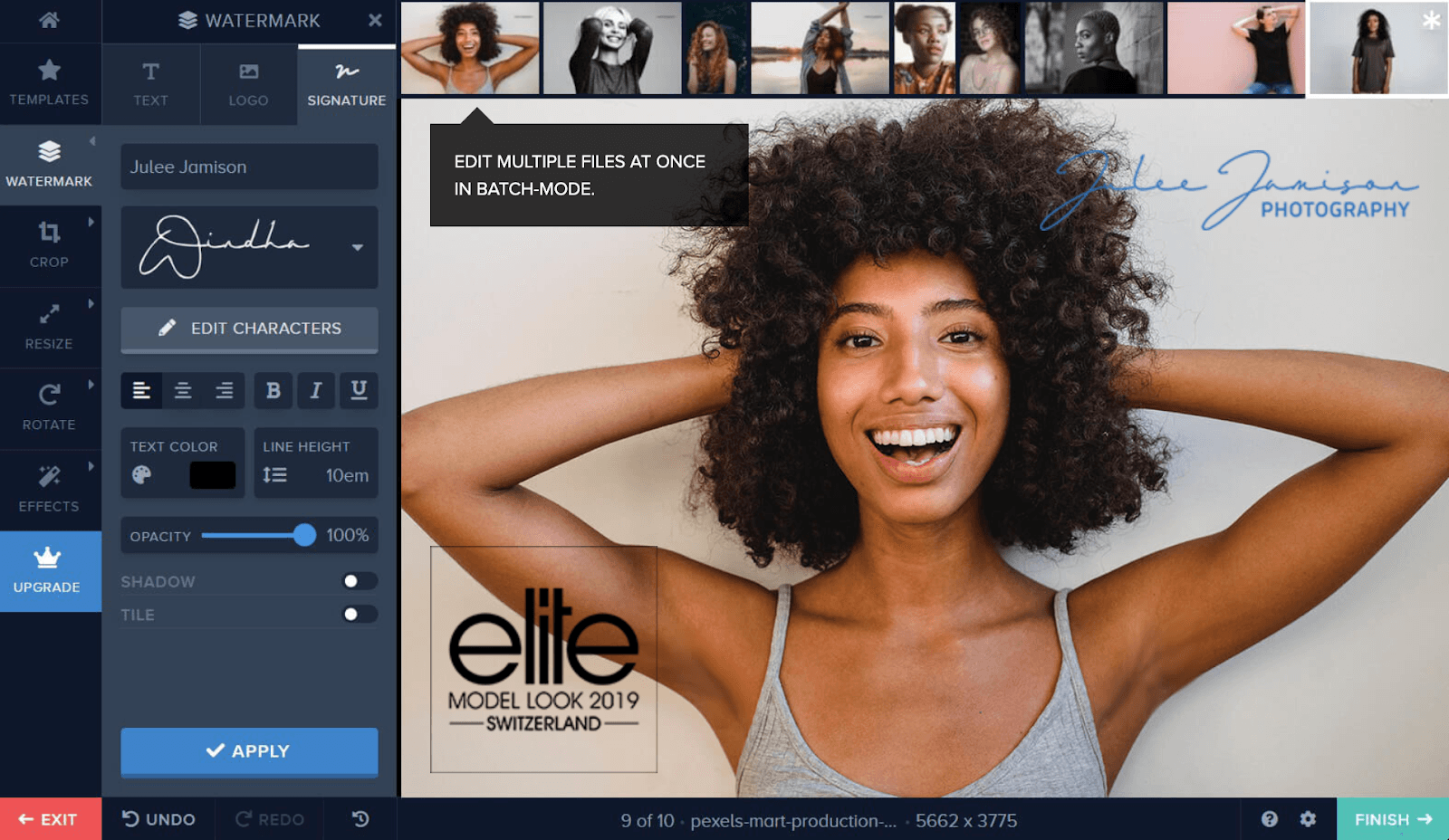 Watermark.ws is a free watermark tool that works by hooking watermarks to image files and video recordings, but it takes it a step further.
Watermark GIFs (useful for content makers developing material from scratch), RAW picture files (useful for professional photographers), and even PDFs for office work or educational books.
PROS:
It is entirely online software; you just need a good Internet connection.
It is always free.
A batch watermarking option is included.
CONS:
3. VEED.io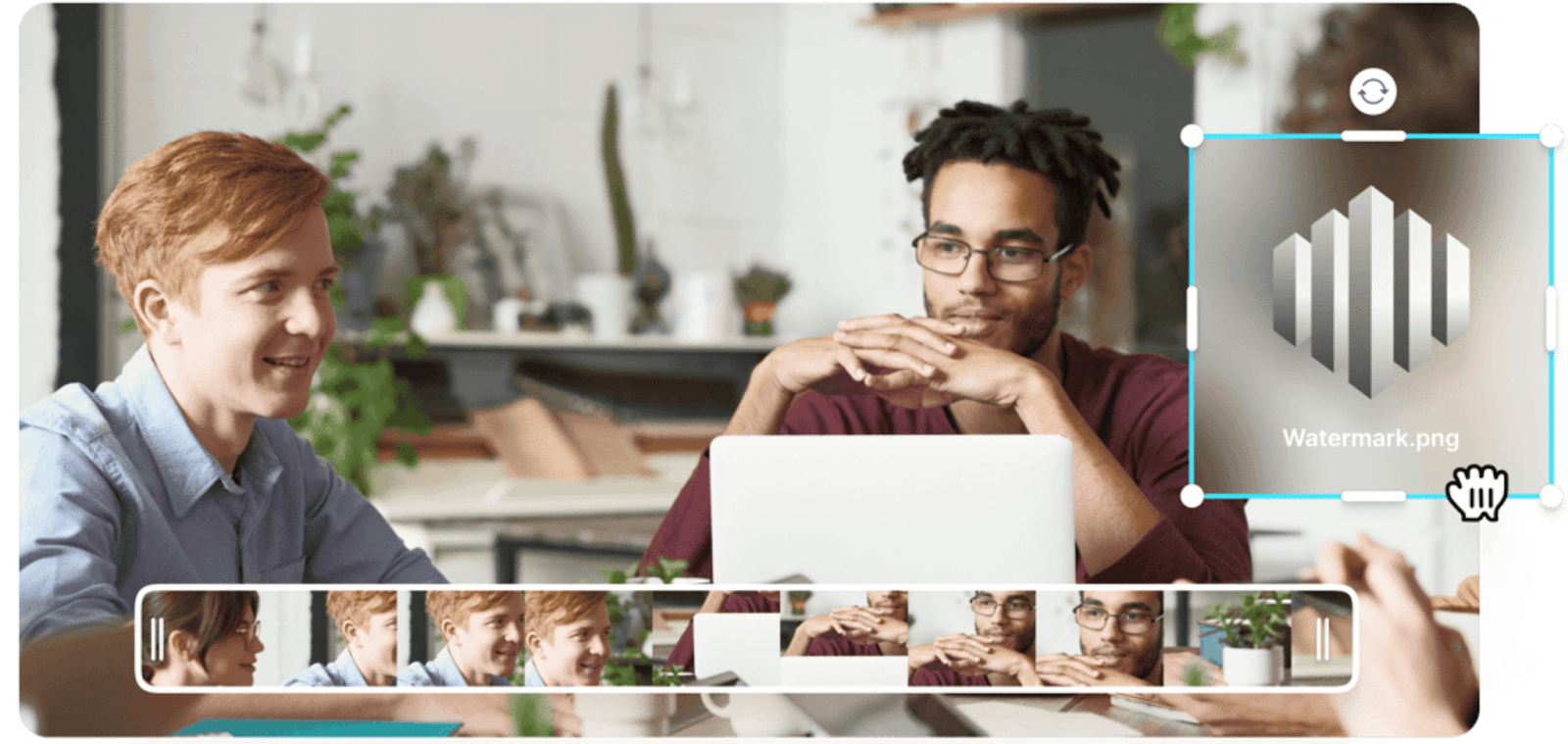 VEED is a simple video editing software to add watermarks to your videos online. Simply upload your video, upload your watermark photo, and place it anywhere on the video frame!
You don't need to create an account, but you have an option for the Pro version if you want to use advanced features. This will allow you to save your watermark for future use, so you don't have to upload it each time.
PROS:
No need to install any app.
Simple interface. It's quite user-friendly.
CONS:
You'll need to upgrade to the Pro version if you want some advanced features.
Top Free Watermark Online Tools in 2023
There are vast options for watermarking your images and videos online, but it is easier when you have the top 3 free watermark online tools listed in the same place.
Well, we are glad to help!
1. Watermarkly.com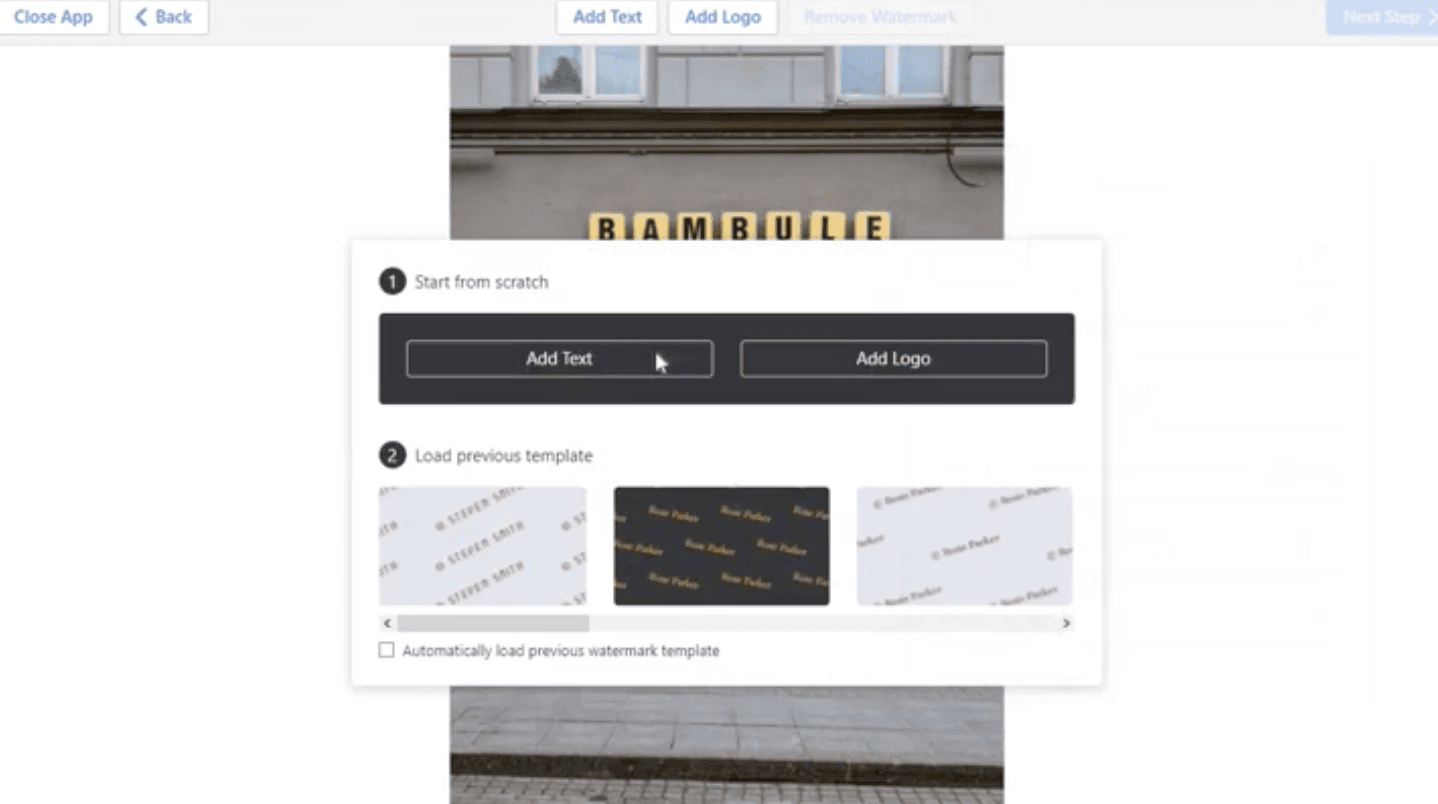 You can batch watermark photos right in your browser and add custom watermarks with your logo and text. You can even make multi-part watermarks and add transparent and opaque watermarks.
PROS:
Uploads and downloads are instant even if you have a bad Internet connection
It can handle up to 50,000 images with ease
No need for registration. Just hop on and do your job.
CONS:
It only works online, obviously.
This website offers file-sharing services which is not totally safe for your data.
2. Water Marquee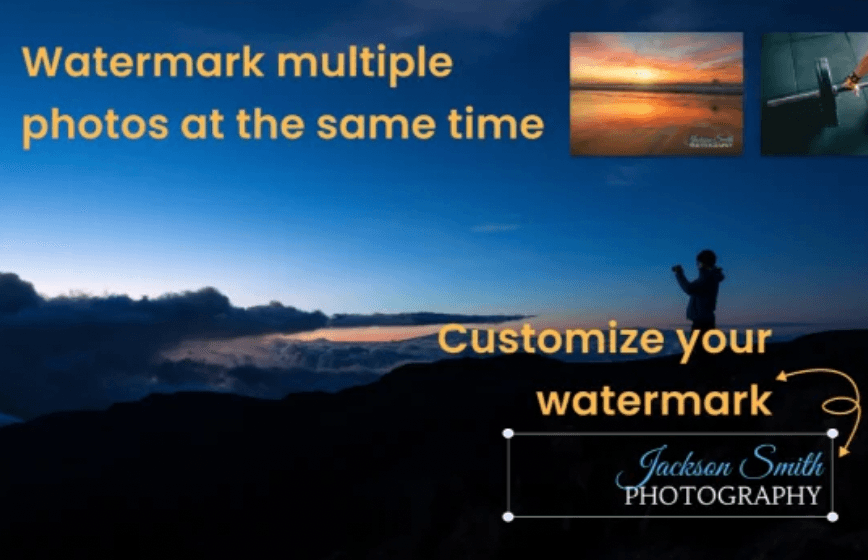 What can you do with Watermarquee? With this powerful online tool, you can add custom watermarks to your text and logo. You can also make multi-part watermarks and adjust the opacity and transparency of your watermarks.
PROS:
You can watermark your photos right in your internet browser, and it works on any operating system.
Easy to use.
Totally customizable.
CONS:
Like every SaaS, this is available only as a website you get to visit if you need watermarking.
Needs Internet
3. Pixlr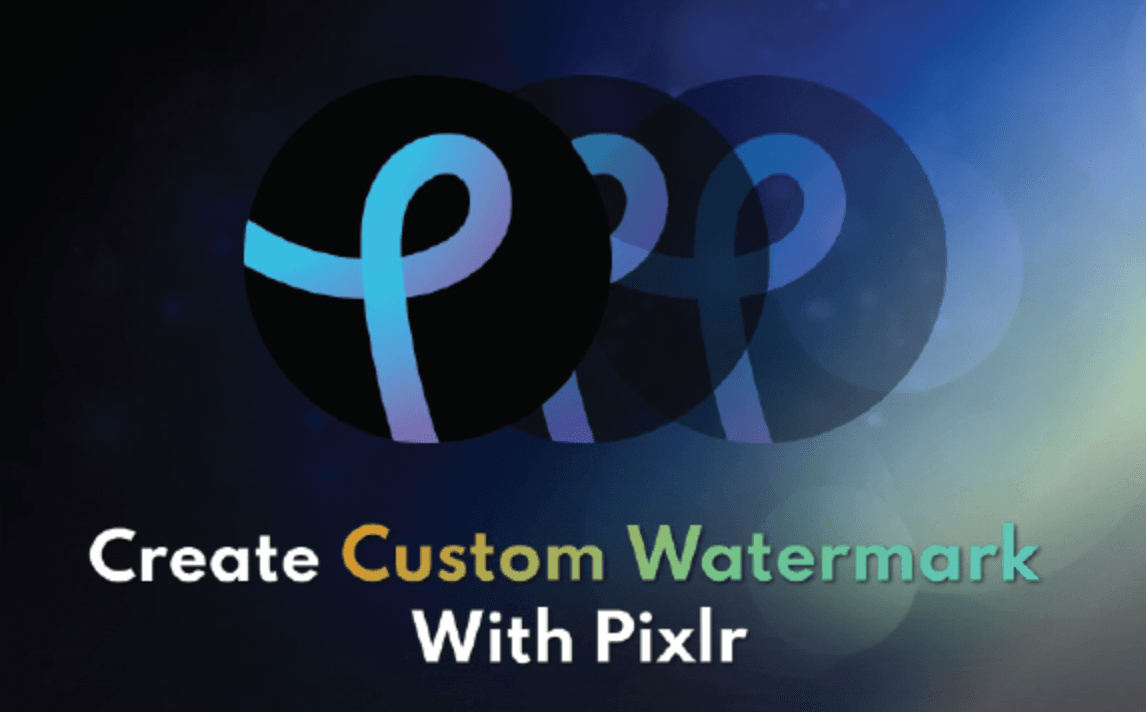 Pixlr has all the tools you need to create your very own watermark. You can choose from a wide range of shapes, fonts, and colors to create a custom design that reflects your brand and protects your images.
PROS:
Completely customizable.
An endless variety of shapes and fonts.
Easy-to-use interface.
CONS:
Not great for complex editing
From 2023, It allows you only two saves a day in the free version.
Top Free Watermark Apps Both for iPhone & Android
Isn't it neat when you have a free watermark app you can use both on your iPhone for work and Android for personal and business stuff?
Here are our top 3 free watermark apps for iPhone and Android:
1. Canva
Canva is mainly known for its versatile design capabilities, also offering a convenient way to add watermarks to your digital creations both on iPhone and Android.
Now, let's see what the advantages and disadvantages of this app are.
PROS:
Versatility: Besides watermarking, Canva is a platform used for various designs you want to make.
User-Friendly: Canva makes it easy to handle and accessible even for beginners, but it is also an excellent tool for professionals.
Many Design Options: This app gives you a wide range of elements, graphics, and fonts, which allows you to create a fully personally designed watermark.
CONS:
Internet Dependant: Canva primarily relies on an Internet connection, which makes it difficult for users who work mostly offline.
Limited Advanced Features: The Watermark feature in Canva is less advanced than other specialized watermark apps, which may result in a lack of complex options for customization.
Export Limitations: Advanced options are often required to be purchased.
As you can tell, Canva is an excellent tool for designing your digital creations but is somewhat less advanced for watermarking.
Let's continue with the other top free watermark apps that we recommend.
2. eZy Watermark Photos Lite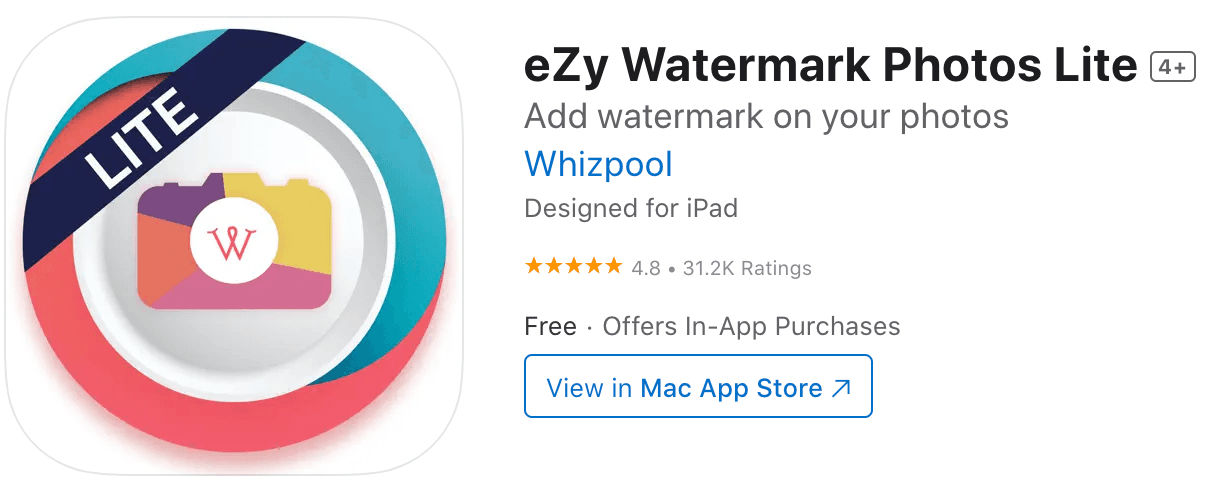 eZy Watermark Lite is also a user-friendly application designed to ease the procedure of adding watermarks to digital designs.
With its clear setup and editing tools, this app offers a suitable solution for you who are looking to establish ownership and prevent unauthorized use of your visual content.
With a 4.8 grade, this app serves as a reliable tool aiming to guard your digital assets and maintain control over the distribution and usage of your work.
PROS:
Easy Setup: eZy Watermark lite gets you started without any fuss, helping you protect your pics hassle-free.
Simple Editing: You can tweak your watermark just how you like it, giving your photos that personal touch effortlessly.
Batch Processing Support: Save time by adding your watermark to many pics simultaneously - it's like a shortcut for busy bees.
Sharing Made Simple: eZy Watermark lite makes it easy to share your watermarked pics, getting your art out there while keeping it safe.
CONS:
Limited Customization: If you're into super fancy stuff, eZy Watermark lite might feel basic, limiting how much you can play around with your watermarks.
Ad Interruptions: Watch out for occasional ads using the free version - they might pop up and interrupt your workflow occasionally.
Basic Features: For more advanced editing, eZy Watermark lite doesn't have all the high-tech features you're looking for.
3. Logolicious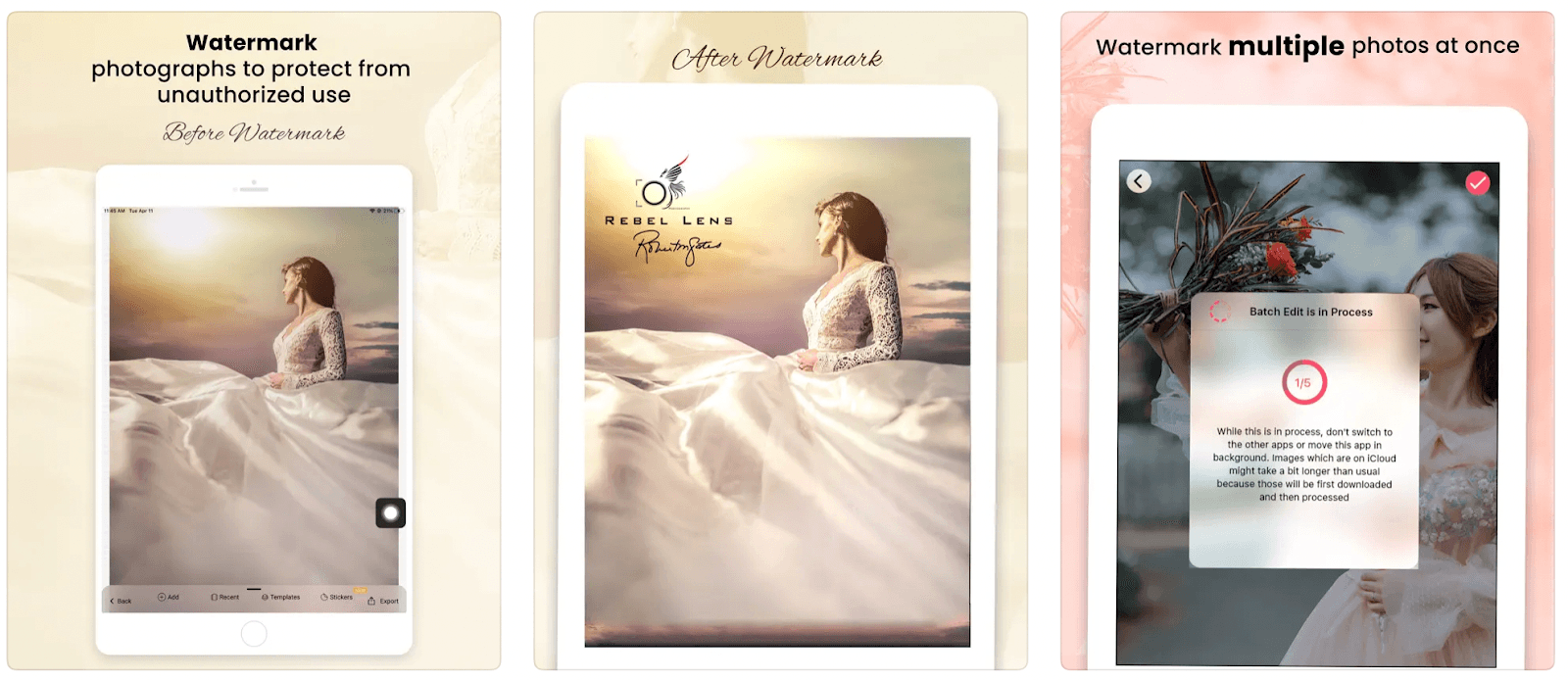 Users claim this app is also quite versatile regarding watermarks. Not only does it give you an opportunity to create a perfect logo for your business, but it also has an integrated watermark option. 

It gives you a strong visual identity without the need for complex design skills on your Android or iPhone.
As with every top free watermark app, this one also has cons and pros.
PROS:
User-Friendly Interface: It seems like every watermark app offers an easy-to-navigate interface, making it accessible for users with experience and those without experience.
Variety of Templates: Logolicious gives you a wide array of templates, enabling you to create a professional logo or watermark with no hustle.
CONS:
Limited Advanced Features: Some users claim that this app has limited access to advanced design features, making it hard to customize your design exactly the way you want it to be.
Compatibility: Many users have problems with compatibility regarding this app due to the restrainment with some operating systems or file formats. Be sure to check that out before you decide to use it.
Top Free Watermark Remover - Online Tool
It's time to discover Imagewith.AI, your go-to platform for creating stunning watermarks.
With three key features—Overscale for image enhancement, Clearoff for watermark & object removal, and Outcut for background editing—you can unleash your creativity without any bounds.
Enhance your resolution, remove unwanted objects effortlessly, and experiment with diverse backgrounds in just a few clicks.
Enjoy the efficiency, speed, user-friendly interface, cloud-based access, and complete creative freedom with Imagewith.AI.
The one feature you need to hear about is clearoff. It can help you remove the watermark. Just in case you made a mistake while watermarking.
Before that, you should read some of our blogs or FAQs to get the answer.
Final Thoughts
Now that you learned more about our top free watermark apps, be sure to check them out and find the one best suitable for your work and protecting your work.
You didn't spend all that precious time and effort creating beautiful designs to someone just practically steal it from you. Be one step ahead of those people, and watermark your digital design.
If you have any questions regarding our AI Image Editor, especially the Clearoff feature, feel free to contact us, and we will be glad to help!
Frequently Asked Questions
What is a watermark, and why is it important?
A watermark is a digital signature or logo overlaid on an image or video to signify ownership or copyright. It serves as a means of protecting digital content from unauthorized use and helps to promote brand recognition and authenticity.
How do I choose the best watermark app for my needs?
Consider factors such as user-friendliness, customization options, batch processing capabilities, and integration with your device's operating system. Look for an app that aligns with your specific requirements for watermarking digital content.
Can I remove watermarks from images or videos using these apps?
While some apps may offer basic editing features, most watermark apps are designed to add watermarks to protect content, not remove them. For advanced watermark removal, specialized software or tools like Clearoff may be more suitable.
Are there any recommended practices for creating effective watermarks?
Keep your watermark simple, but make sure it's visible and difficult to remove. Place it strategically to cover essential parts of the image, and consider using transparent or semi-transparent text or logos to maintain the image's overall appeal.
Can I customize the appearance of my watermark using these apps?
Yes, most watermark apps offer various customization options, including font styles, sizes, transparency levels, and positioning. You can personalize your watermark to align with your brand or personal aesthetic preferences.
Do watermark apps affect the quality of my images or videos?
The impact on an image or video quality can vary depending on the app and the settings used. Opt for apps that preserve the original quality of your content to ensure that your images or videos maintain their integrity even after adding a watermark.
Can I use these apps offline, or do I need an internet connection?
Some apps may require an internet connection for initial setup, updates, or certain features. However, many watermark apps offer offline functionality once the necessary resources are downloaded and installed on your device.