Upscalepics is an online image editing platform that uses the latest AI technology to enhance the user's image.
Drag and drop or upload a photo into this tool, and, through its artificial intelligence technology, takes the low-resolution image, adds accurate corresponding info, and creates a high-resolution version of the image.
Not only does the platform improve an image texture, but it also changes its tone and makes it look more professional.
Moreover, Upscalepics features an updated neural network that automatically detects and removes JPEG compressions.
The platform speedily changes the tone and texture of a photo, even if the image dimension is large and requires upscaling. And it is only accessible on its paid version. Here are 12 top Upscalepics alternatives.
#1. AI Enlarge

AI Enlarge enables a swift conversion of low-resolution to high-resolution image, or an upscale while keeping quality intact.
This platform uses artificial intelligence technology to create sharp images with fine details. It uses deep neural networks to fill up the pixels of an image.
The platform's AI technology continues to train millions of images to master the ability to predict and upscale to a better resolution accurately.
The tool can also increase an Image's size by up to 400% while keeping visible details to users.
If you want to print your photo, AI Enlarge allows you to convert your low-resolution to high-resolution image and increase the image quality. Lastly, the bulk upload feature is available in its paid version.
Pros
Quick conversion of low-resolution to high-resolution images.
AI technology ensures sharp images with fine details.
Utilizes deep neural networks for pixel filling, enhancing image quality.
Cons
The bulk upload feature is only available on the paid version.
#2. Image Upscaler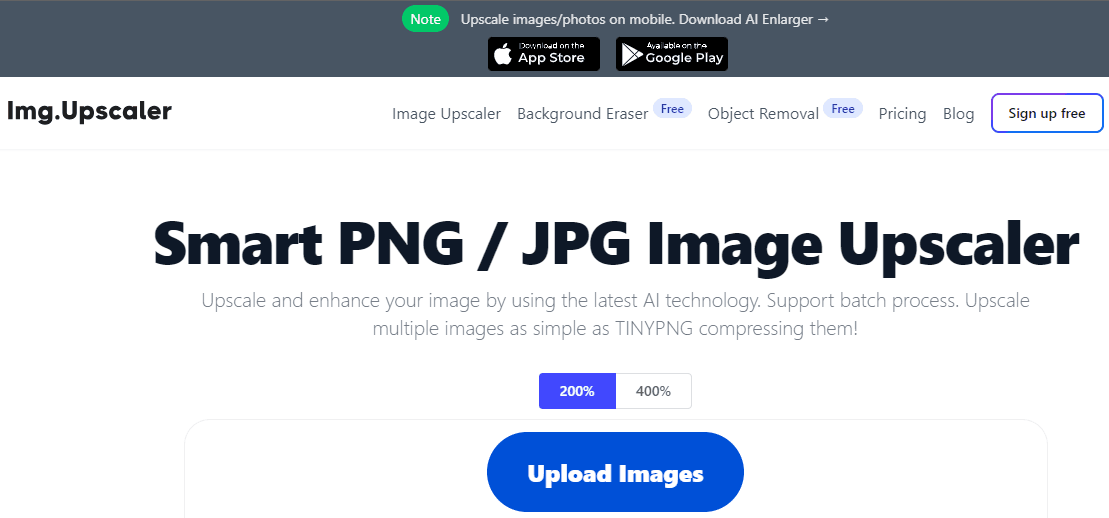 Image Upscaler uses artificial intelligence to ensure you upscale your image without losing its quality.
The platform is helpful in enhancing images for social media platforms like Facebook, Twitter, Instagram, etc, and it's an excellent tool for managers and scientists.
This platform draws missing pixels in the place of large ones.
When you upload a photo, the software scans it and draws the required pixels. It supports JPG, JPEG, and PNG formats.
Image Upscaler also allows you to resize your photo four times and up to 5MB.
It takes the platform between 10-60 seconds to convert your image. Plus, it is free to use on a limited number of images per day.
Pros
Specifically suitable for enhancing images for popular social media platforms.
Efficient pixel drawing, replacing missing pixels with accuracy.
Supports widely used image formats: JPG, JPEG, and PNG.
Cons
Not much details on the platform's privacy and data handling policies.
Potential limitations in the free version.
#3. ImageWith.AI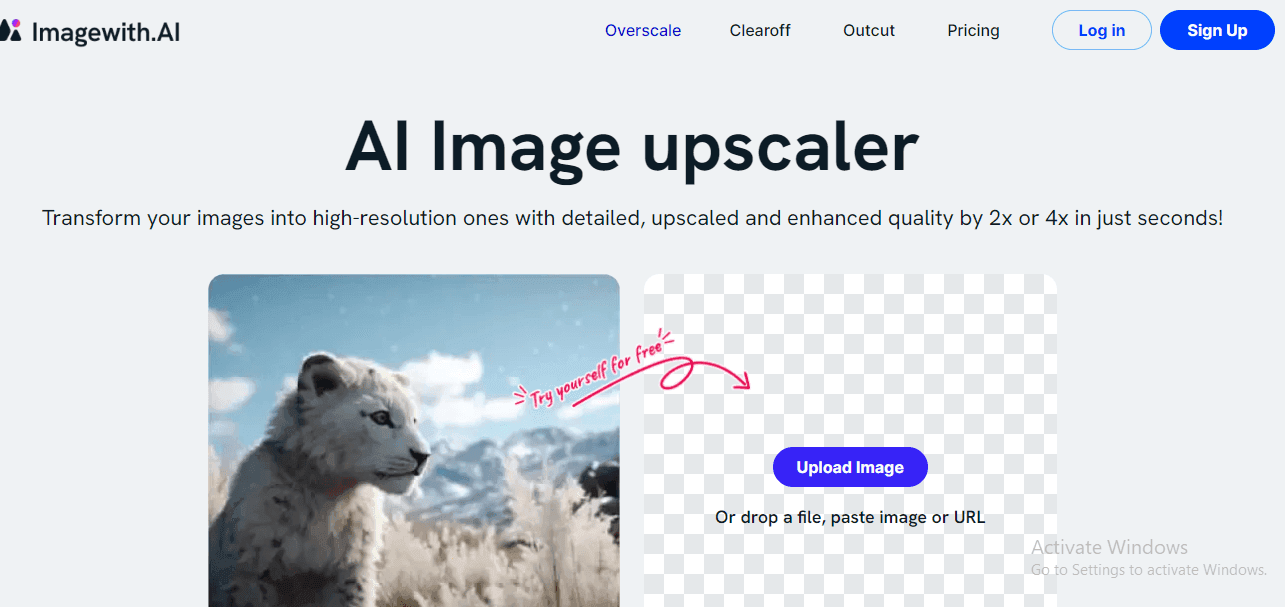 Upscaler feature in ImageWith creates uniquely large photography using its integrated millions of pixels to produce high-quality images.
This platform is designed to help you compress unique pixels while maintaining quality.
Distortions can be inevitable during image enlargement, and Upscaler feature puts everything in place to remove this distortion. This platform features several tools to resize the photo and the flexibility to set your resizing profile, comprising the tools used.
This feature is also useful for printing and on-screen use, and this is available in its paid version.
Pros
Upscaler feature creates uniquely large photographs by integrating millions of pixels.
Focus on compressing unique pixels while preserving image quality.
Addresses distortions that can occur during image enlargement.
Offers various tools for resizing photos, providing flexibility in customization.
Cons
#4. ESRGAN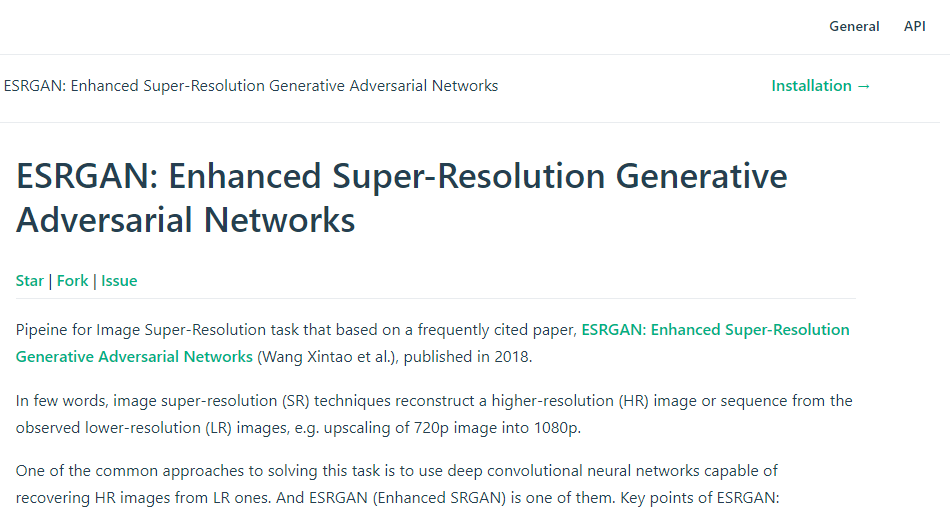 ESRGAN is a super smart way to make pictures look amazing. It uses a fancy method called Enhanced Super-Resolution Generative Adversarial Network, but you don't need to worry about that.
Just know that it takes your pictures and makes them bigger while keeping all the little details super clear.
People love ESRGAN because it's not picky – it can improve any picture, not just one type. It can turn your small, not-so-clear pictures into big, beautiful ones. ESRGAN is good at learning and getting even better over time. It is available for download on Windows and Mac.
Pros
Utilizes the Enhanced Super-Resolution Generative Adversarial Network (ESRGAN) for image enhancement.
Enlarges pictures while preserving small details.
Versatile and not limited to a specific type of picture, making it widely applicable.
Cons
The statement "it can improve any picture" may not hold true in all cases.
#5. Topaz Gigapixel AI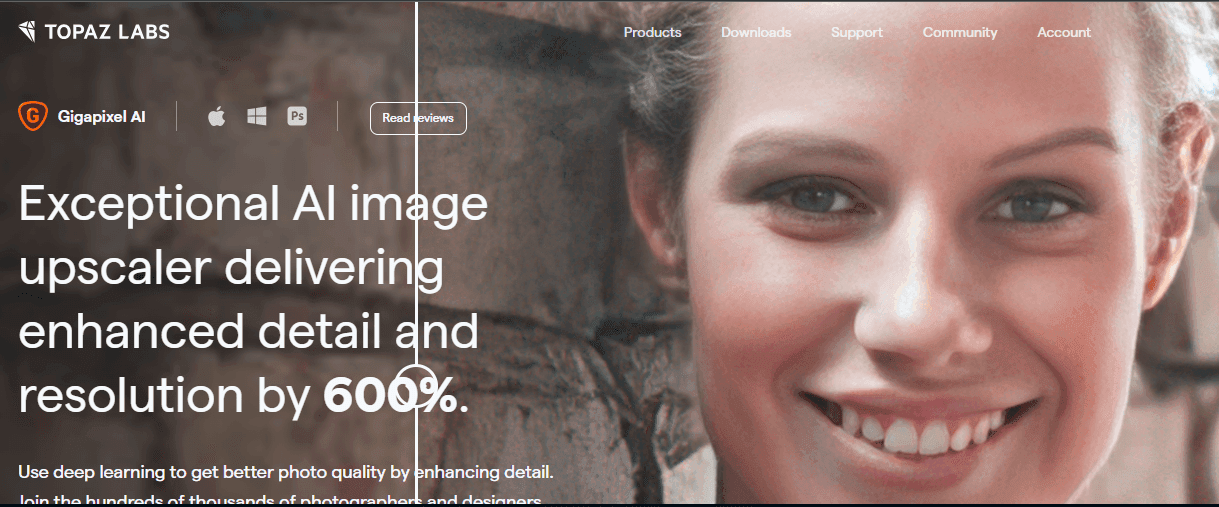 Topaz Gigapixel AI is a photo enhancement platform that uses artificial intelligence to enlarge an image without losing its quality while upscaling the image up to 600%.
The platform offers sharp prints and high-resolution cropping to get you the best photos.
It ensures special face refinement and provides sharp and precise results in an unmatched quality.
Its face refinement feature ensures that even the smallest face in a photo is captured and refined through machine learning technology.
The platform is helpful for various purposes, including upscaling low-resolution photos and compressed images. The software delivers the real details in the picture by recovering its sharpness.
Topaz Gigapixel AI automatically detects the areas of the photo with actual details and those with noise and makes changes accordingly. The platform offers both a free trial and a paid version.
Pros
High quality image enlargement, upscaling up to 600%.
Provides sharp prints and high-resolution cropping for optimal photo quality.
Special face refinement feature ensures precision in capturing and enhancing faces.
Cons
The improvement in image quality may depend on the characteristics of the original image.
#6. Waifu2x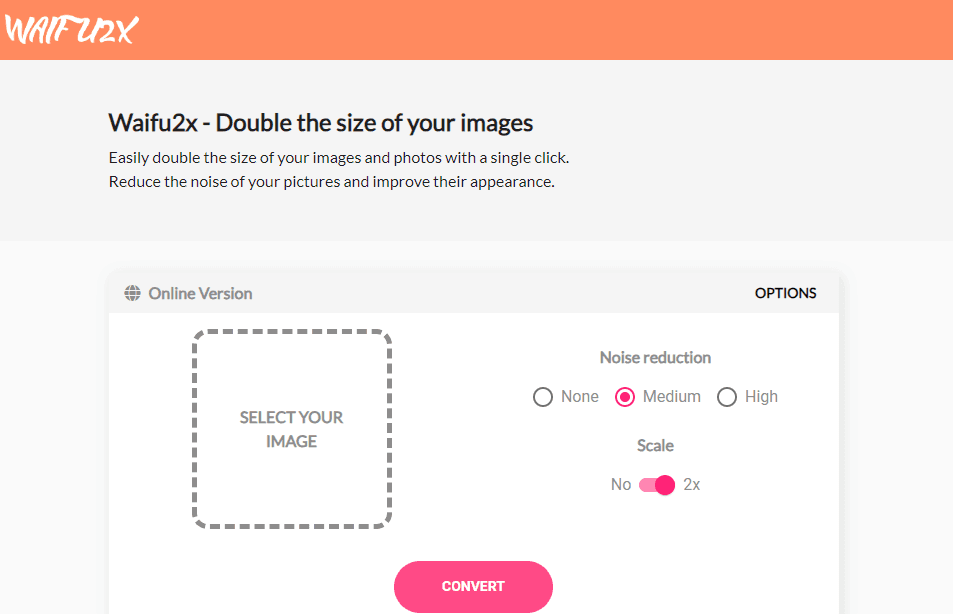 Waifu2x is a simple, easy-to-use tool that makes pictures look better. Whether you're into anime or have small images that need to be bigger, Waifu2x is your friend. You can use it on the web or as a program on your computer – whatever works best for you.
Users love Waifu2x because it's simple. It takes small pictures and turns them into big ones without hassle. It's great for artists, photographers, or anyone who wants their photos to be bigger and likable. Waifu2x is for everyone who loves simple solutions for better-looking pictures.
Pros
Instant, AI powered enhancement
Lacks editing option
Simple interface
Watermark free images
Cons
Supports a limited format
#7. SCAPIX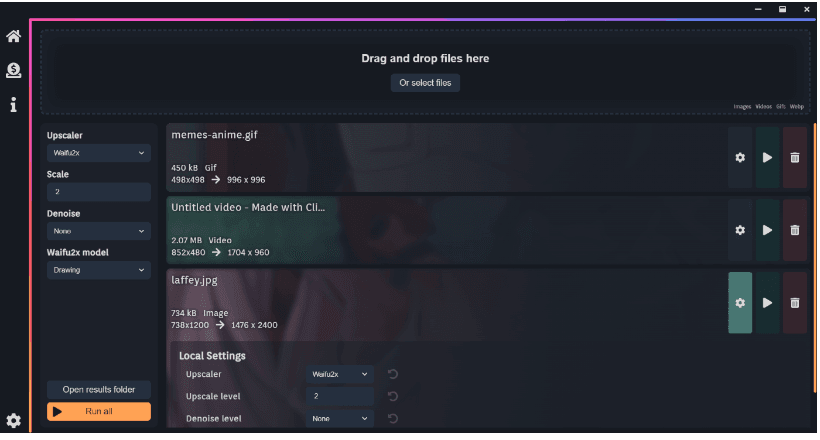 Scapix uses machine learning and AI technology to help you enlarge your image without reducing quality.
With an image limit of 5MB, you must drop the image you want to enlarge and choose the number of times you want it enlarged.
This software removes the photo's background and uses AI technology to enlarge low-resolution images.
You can only upload images in the JPG and PNG format. Once converted, you can download the Enlarged/Upscaled photos for use.
Scapix converts your images into fuzzy-free photos through its latest machine learning, adding extra details to your photo during the process.
The platform is free to use, and your images are safe and are not saved.
Pros
Use AI technology and machine learning
Supports popular format
Upscale photos up to 8x
Bulk image processing
Cons
#8. Fotophire Maximizer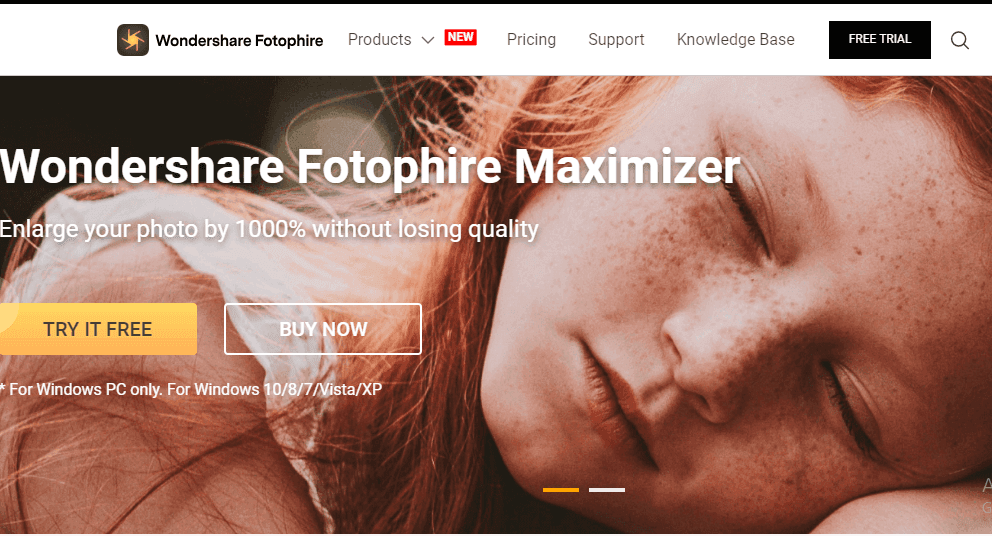 Fotophire Maximizer is a friendly tool for making your pictures bigger without making them blurry. It's great for anyone wanting to make photos larger without losing clarity.
This tool has excellent features, like working on many pictures at once and being accessible to everyone.
It's like having a helper that takes small photos and makes them look outstanding, especially if you're into photography or making excellent graphics. Fotophire Maximizer is made for regular folks who want their pictures to look fantastic without needing to be experts.
Pros
Intuitive platform design suitable for beginners
Bulk image processing option
Supports multiple formats
Cons
Best options available on paid version
#9. Let's Enhance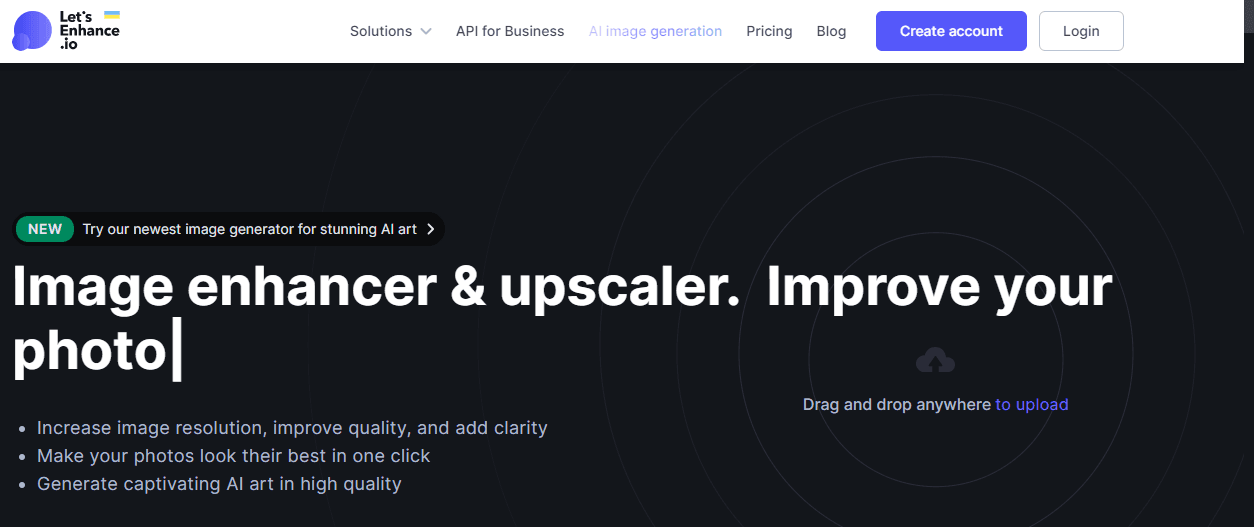 As the name implies, Let's Enhance helps users enhance their image resolution without affecting quality.
This platform allows you to upscale your image up to sixteen times, and the process is fully automated.
Moreover, it features automated face recognition, offering more accurate facial reconstruction on the enhancement.
The platform delivers one of the most accurate printing results in a wide format with better image quality.
In addition, it produces clear and clean images with all the product details visible enough for users to see.
It helps businesses create high-quality images to entice interest and boost sales.
The key benefit of enhancing photos from this platform is that you can print your results at your desired scale without reducing the photo quality.
Moreover, you can resize the image according to specific devices for improved performance, increasing conversion.
Pros
Printable results within desired scale
Image Upscale up to 16 times
Image output supports multiple device
Cons
#10. Waifu2x Caffe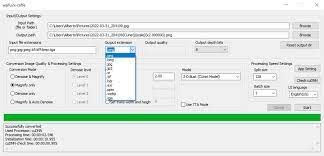 Waifu2x Caffe is a magic tool for making pictures bigger and clearer. It's super good at editing small images, like from anime or manga, and making them look much better without losing any details. Imagine turning a small, fuzzy picture into a big, clear one – that's what Waifu2x Caffe does.
The trick behind it is the convolutional neural networks, like smart computer brains. People love using Waifu2x Caffe because it's free for everyone, and many people constantly work together to improve it. It is available for download on Windows and Mac.
Pros
Mobile app also available in Window and Mac
Paid subscription
Great for editing small images
Cons
#11. Bigjpg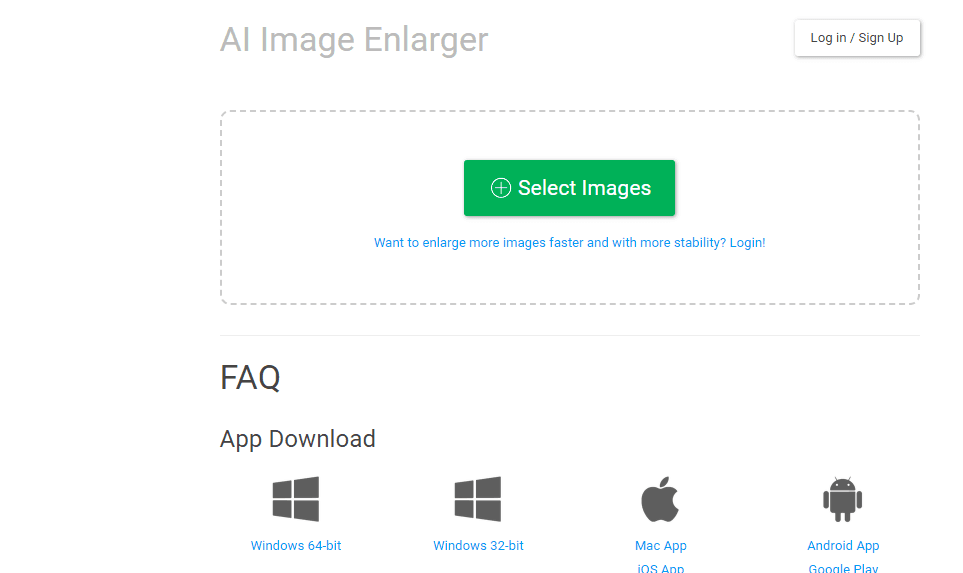 Bigjpg is an online photo enlarging software platform that allows users to decorate their picture's measurements and remove negative quality.
This platform uses incredible convolutional neural networks, which reduce image noise and serration.
Bigjpg uses a unique algorithm to design colors and pictures, professionally impacting the enlargement.
This platform greatly ensures the expansion of illustrations and anime photographs.
In addition, it also helps typical images with importing restrictions up to 10 MB.
Moreover, this software displays the time it takes from the start of processing to the end of the evolved image.
The paid version of this platform allows you to upload and extend pictures in bulk. In addition, Bigjpg encrypts the images so others can only see them if you permit it.
Pros
Incredible AI upscaling
Image enlargement up to 4x
Amazing neural network for image noise reduction
Cons
#12.iResize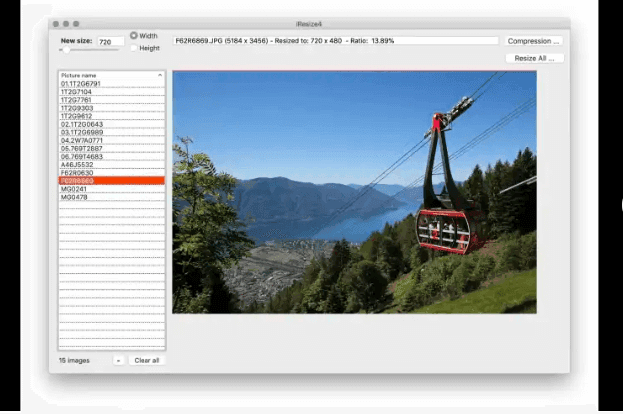 If you want to resize, compress, and save images in multiple formats, iResize is the right platform.
The platform is designed with a simple yet intuitive interface to make the software easy to navigate, even for beginners. You can either upload your files or drag and drop them in the upload box.
In addition to single image processing, the platform can batch-process your images to save time.
The platform displays the source path and each dimension of the image uploaded, and you can choose your desired new dimension and continue with the conversation task.
You can also flip or change the image position and the preview before downloading the images.
You can also change the picture format anytime without disrupting the quality of an image.
Pros
Mobile app
Batch processing images
Free and Paid subscription
File protection
Cons
Only available as a mobile app
Conclusion
If your priority is a low-cost but high-quality Upscalepics alternative, we recommend using Imagewith. The UpScaler feature in ImageWith is designed to help you compress unique pixels while maintaining quality.
Overall, choose a tool that works for your individual needs and save you time to focus on more creative works.