You must admit when we say that sometimes we miss having a physical representation of our memories. What do we mean by saying that?
The digital age made us have our photos stored on devices, and we usually do not remember to print them out. And that is actually sad.
Remember all the time when your mother pulled out those dusty old photo albums with all your pictures representing your young age? You gathered around the dining room table and laughed, smiled at you in silly clothes, taking silly poses.
Let's be clear: there is nothing wrong with the digital era. It brought us so many great things, including a thing related to this problem we mentioned a moment before.
**The development of the digital world brought us some of the tools capable of turning photos into coloring pages.**As a matter of fact, in this article, you will find out everything you need to know about top tools to turn photos into coloring pages. You read it right! Your family picture or any capture of your favorite moment in life can be transformed into a coloring page.
We will guide you through some of the top tools that can turn photos into coloring pages, both printable and free.
Regardless of whether you are a parent trying to find some fun activities for your children or a creative persona finding a new way to express yourself, these tools will cater to your needs.
10 Top Tools to Turn Your Photos Into Coloring Pages
Transforming your pictures into coloring pages is a creative way to relive your memories and create personalized coloring books. Here, we will discuss some of the top tools that can turn photos into coloring pages printable and free.
So, let's start!
1. Fotor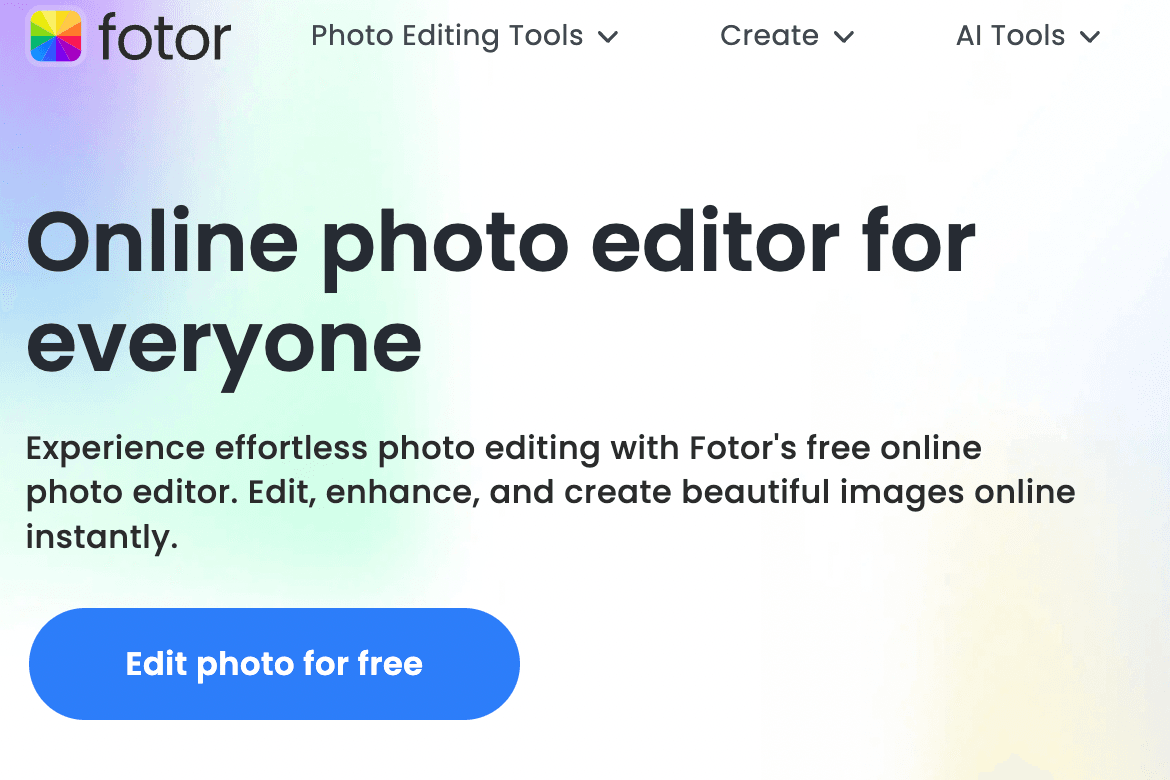 Fotor offers a feature to turn photos into coloring pages for free. It supports various types of photos, including portraits, photos of animals, plants, and even animated creatures. It's a great online platform to turn photos into coloring pages printable.
Pros:
AI-powered
Free to use
Support different photo formats
Cons:
Works only online
Registration is a must
Limited features in the free version
How to turn a photo into a coloring page in Fotor: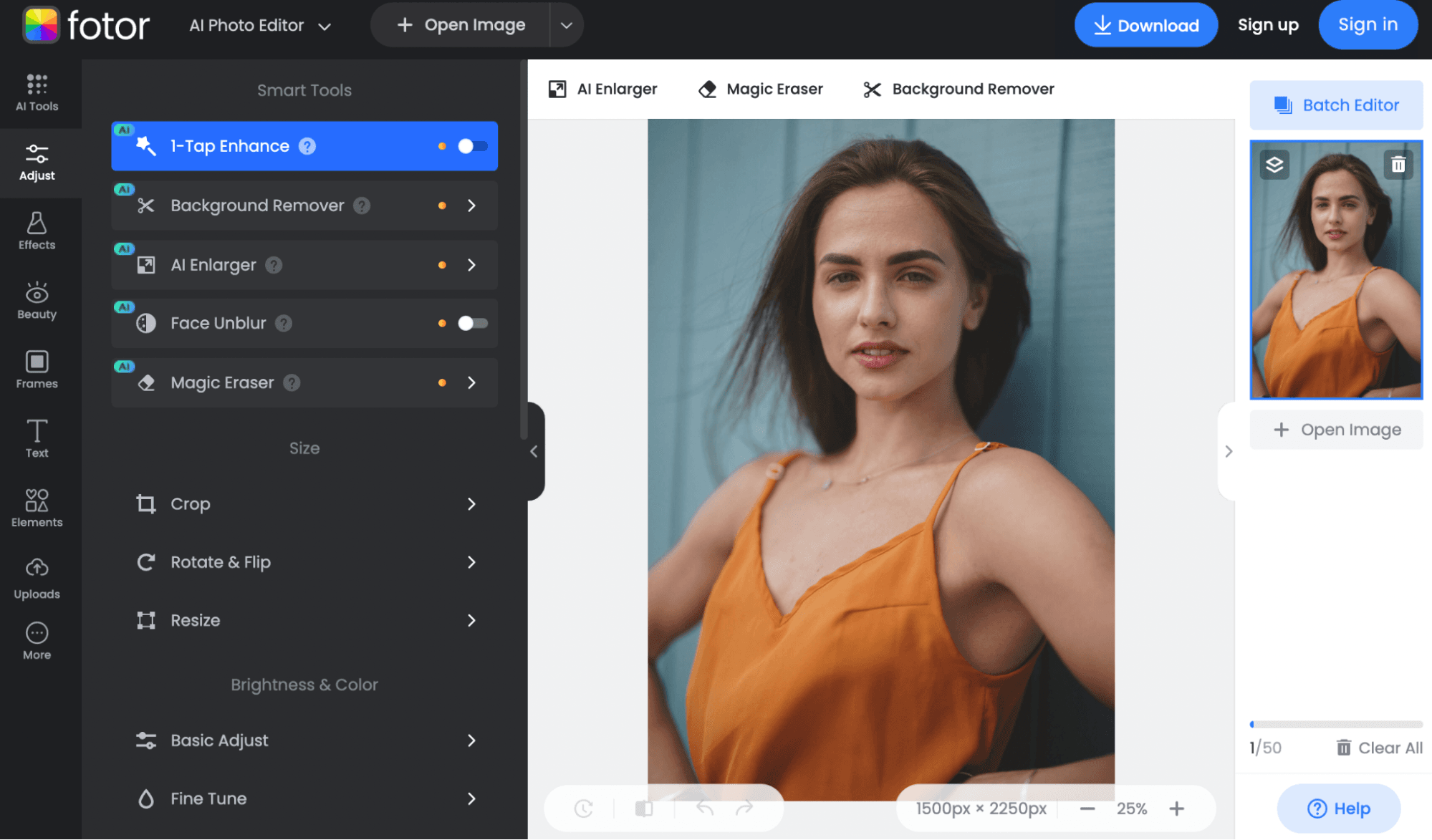 Go to the Fotor website.

Sign up for a free account.

Click on "Open" and select the photo you wish to turn into a coloring page.

Use the feature "Effects" and select "Color Splash."

Click to save or share your new coloring page.
2. Mimi Panda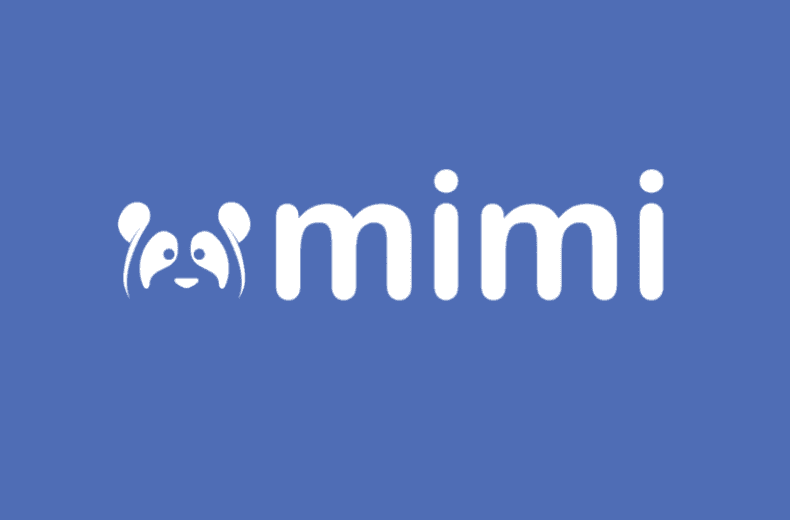 This online tool allows you to convert any photo into a coloring page for kids and adults alike. Simply upload a photo, and the website will transform it into a printable coloring page. Not only is it free, but it also offers a unique way to convert photos to coloring book pages.
Pros:
Easy to use
It's free
Great for kids and adults
Cons:
Online-only tool
Limited customization options
Files must not be bigger than 10 MB
How to turn a photo into a coloring page in Mimi Panda: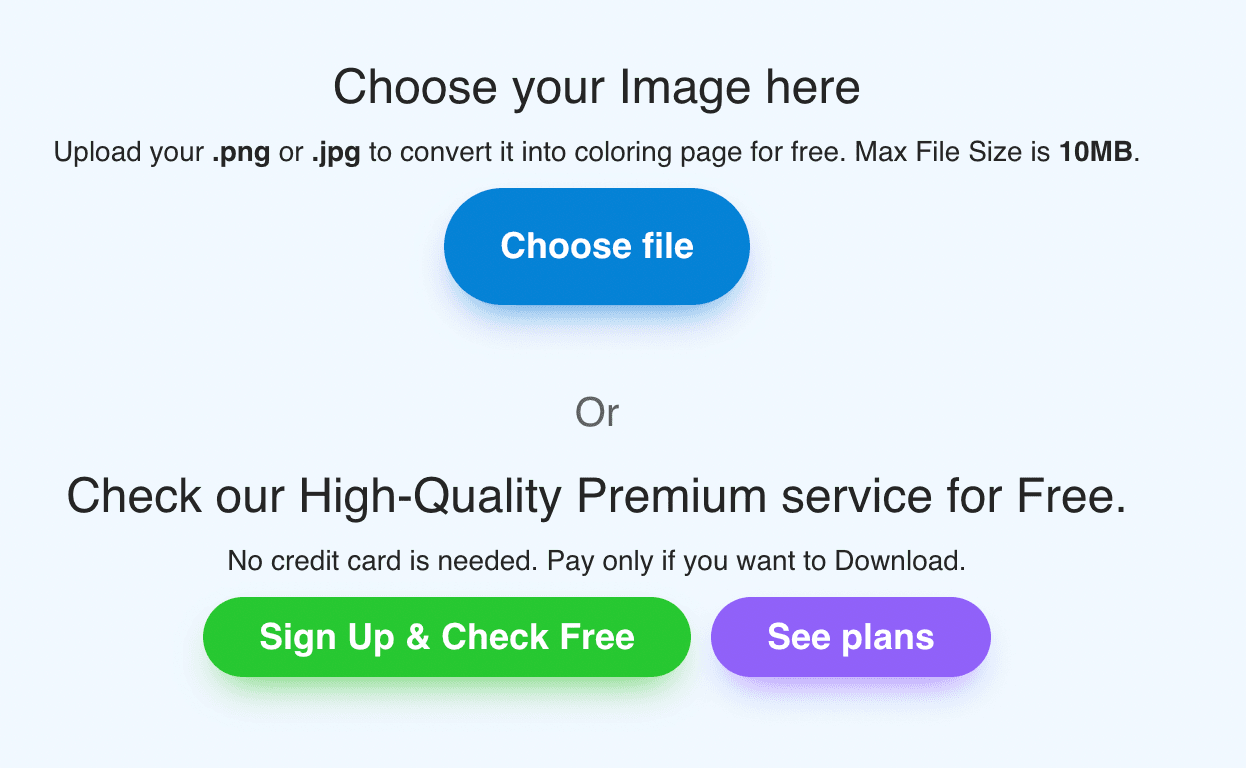 Go to the Mimi Panda website.

Click on "Upload."

Choose the photo or picture you want to turn into a coloring page.

Wait for the tool to process the image.

Click "Download."
3. Crayola Color Camera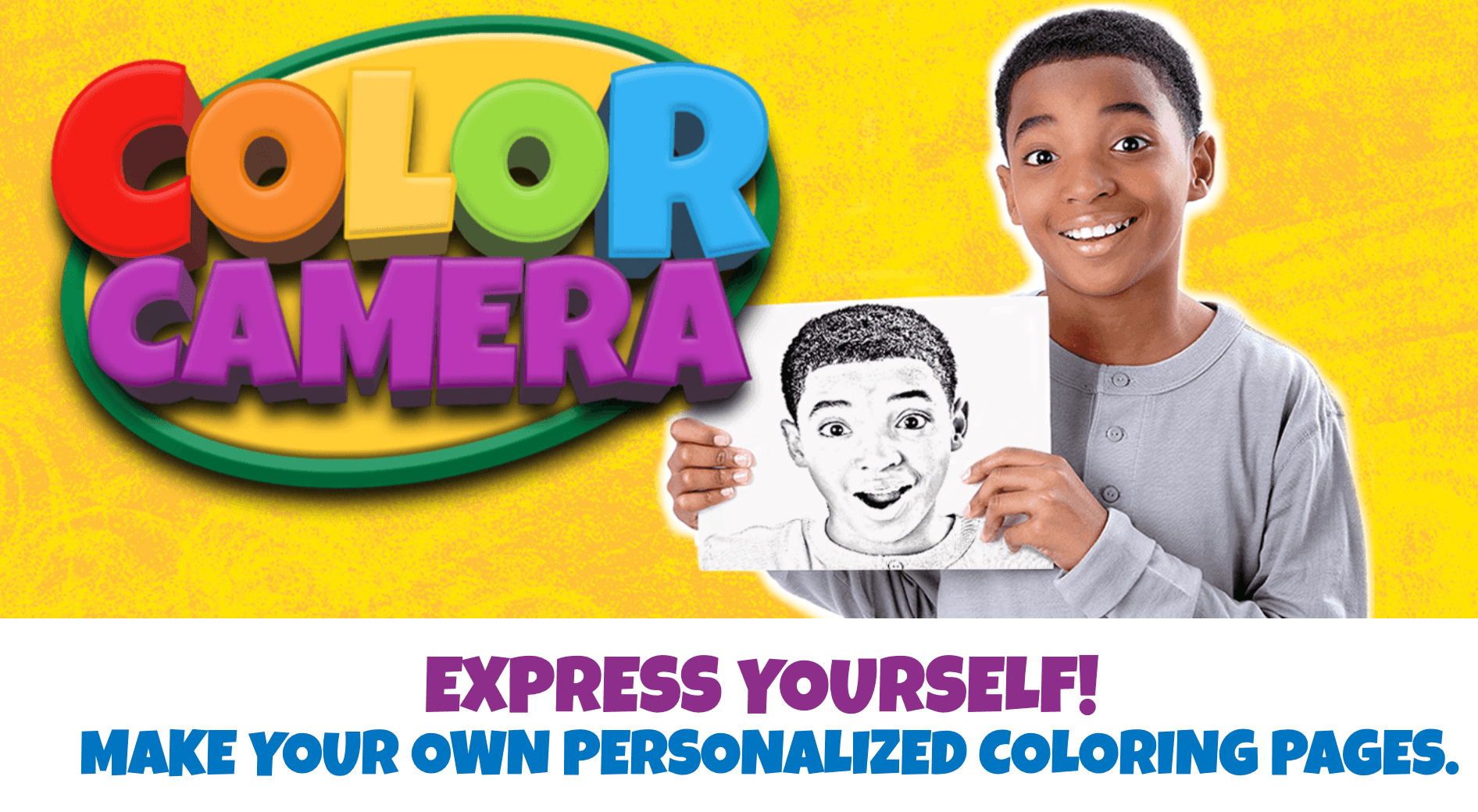 This app allows you to create coloring pages quickly and easily using any photo on your device. You can take a new photo or use an existing one. Once your photo is uploaded, the app takes away the color, leaving you with a blank canvas to color as you want.
Read some of the user reviews:
Tanya Bourassa, January 4, 2023
"Not sure why others insist on rating this app poorly because they don't read the description or they have system compatibility issues. It makes it hard for the developer to get an honest opinion and turns others off to the app. This is a great app. I opened it, chose the paw, imported a picture of my dog and they turned out exactly as the screenshots showed in the app description. I had no trouble printing, but again, I know how to use it. Agree or not, this app does exactly what it says & shows."
Latoya Millege, January 28, 2023
"This game is perfect for any child no adds or nothing perfect."
Pros:
Fun user experience
Uses device camera
Quick and easy to use
Cons:
Online-only tool
Limited features
Available only on iOS
How to turn a photo into a coloring page in Crayola Color Camera: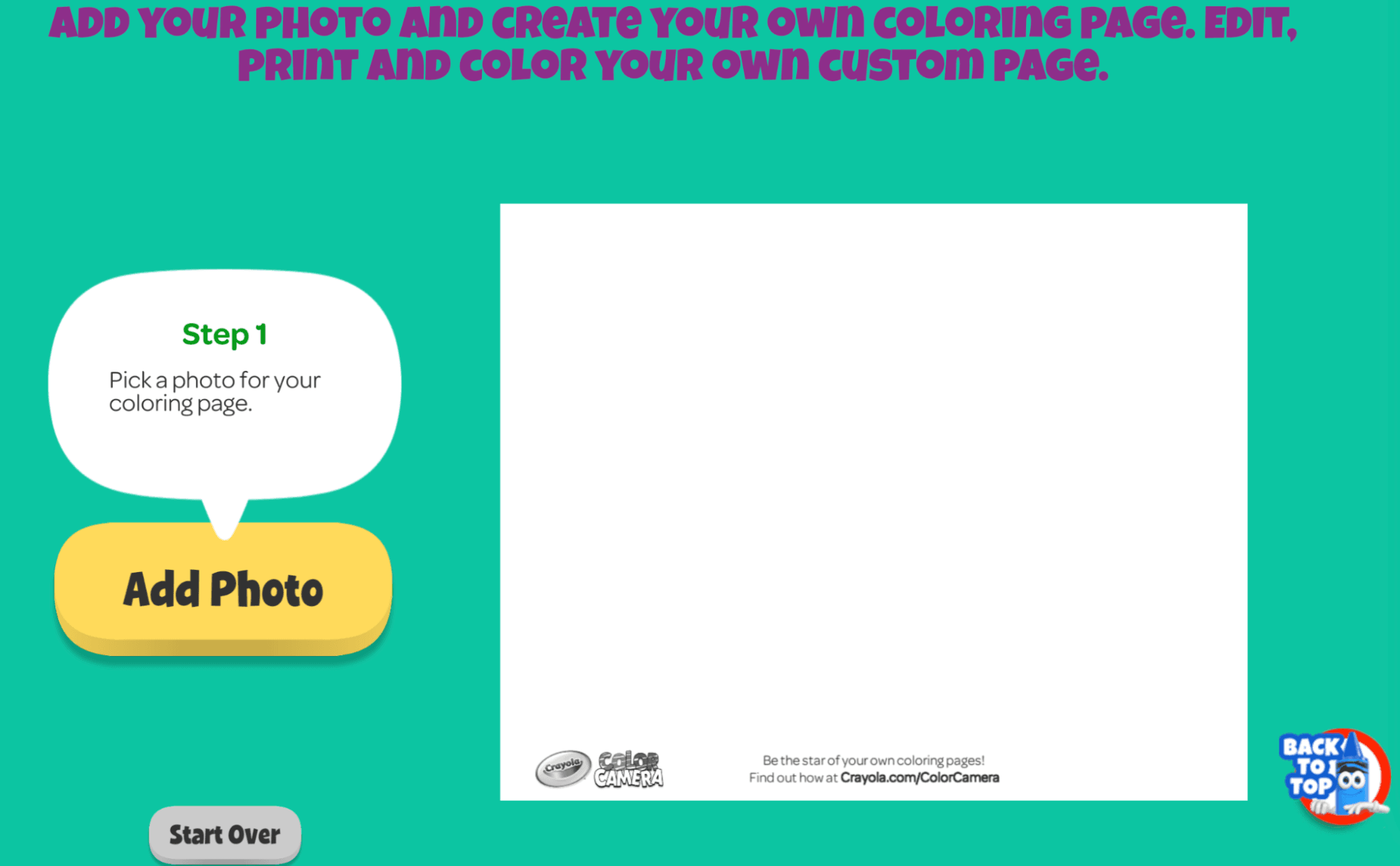 Go to the App Store and download this app

Choose from taking a new photo or choosing an existing one from your camera roll

Crayola Color Camera will automatically transform your photo into a coloring page.

Save or share your finished product
4. ColorMe

This is another top tool to turn your photos into coloring pages, and reviews are excellent. One of them, Leandra DeLeon, says:
Leandra DeLeon, October 3, 2023
"By far one of the best coloring apps I've ever downloaded. I've been coloring on it daily since downloading it. I really enjoy the fact that you can upload your own pictures to color, it's probably the most used feature for me. I also enjoy the way the coloring works on the app, it makes it easy to use and feels pretty realistic. The only thing I would improve would be making it easier to create a wider range of colors in a custom pallet. I feel restricted with the amount of colors given."
Zack has a slightly different opinion:
Zack Maddox, July 2, 2023
"Awesome that it lets you color it whatever you want but I color some of the picture and it pops up a video from sponsor and won't play the video and kicks me off then when I get back on it, it won't let me continue my picture, it kicks me off everytime. Has the potential to be a great coloring app, but until the bugs are fixed, I wouldn't recommend it."
Pros:
Friendly interface
Free
Allows creativity to blossom
Cons:
Registration is needed
It works only online
There are limitations regarding advanced features in the free version
How to turn a photo into a coloring page in ColorMe: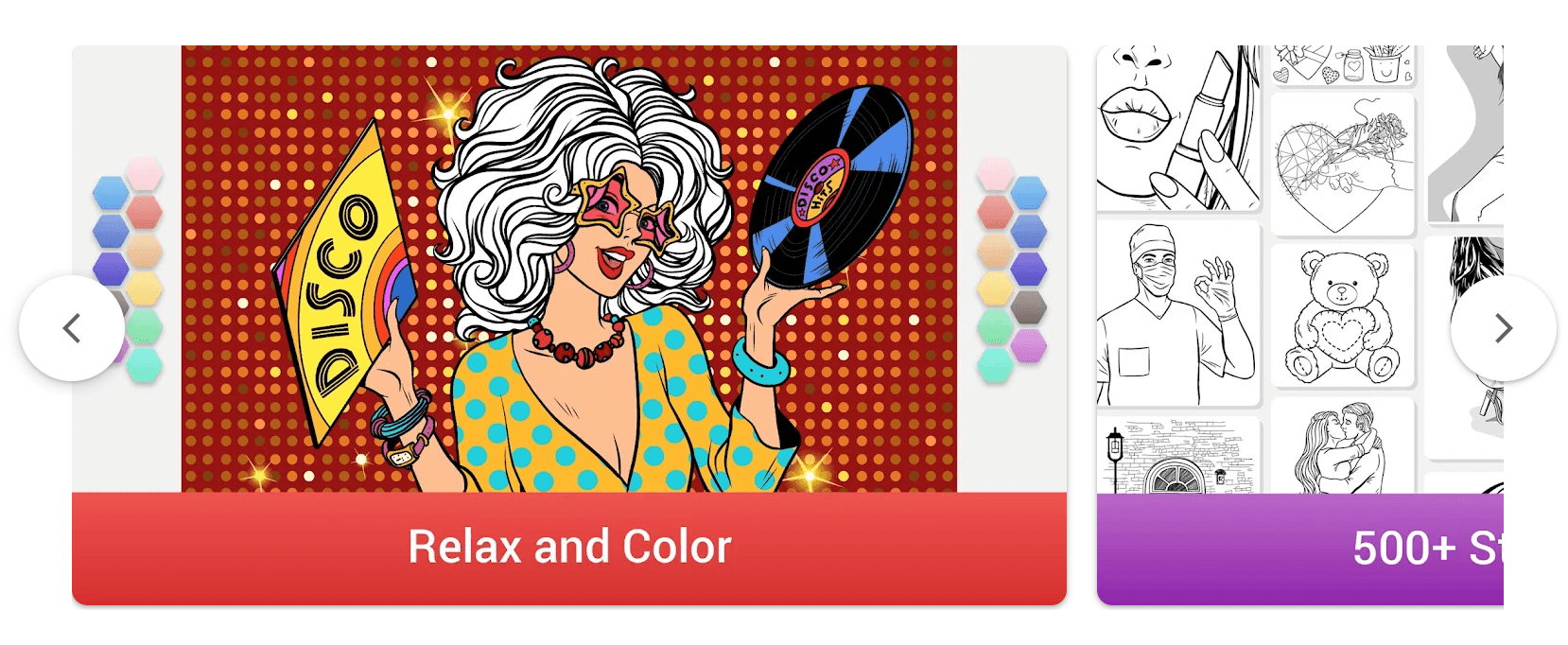 Open the ColorMe app.

Choose the "Create" option and select the photo you want to convert.

Wait for the app to process and create the coloring page.

Save the page
5. Colorscape

Colorscape takes any image and creates an outline that you can color in – on your screen, on paper, or both.
This app lets you make your own coloring pages. Take a picture of anything, anyone, or anywhere, and instantly, you get a page to color! You can add any color or shade you want.
Here are some user reviews:
"Great idea and execution. Would love to see the app updated."
C Labass, October 3, 2023
"This app has kept me buzy and interested for 3 hours. It's fun. Any drawbacks or things i think are wrong with this app are only my limited artistic abilities shining through. Best coloring book available. Thanks developers, you rock!"
Pros:
Free
User-friendly
High-quality outlines
Cons:
Works only online
You need to pay for more advanced features
You must fill out a registration before you can start using it
How to turn a photo into a coloring page in Colorscape: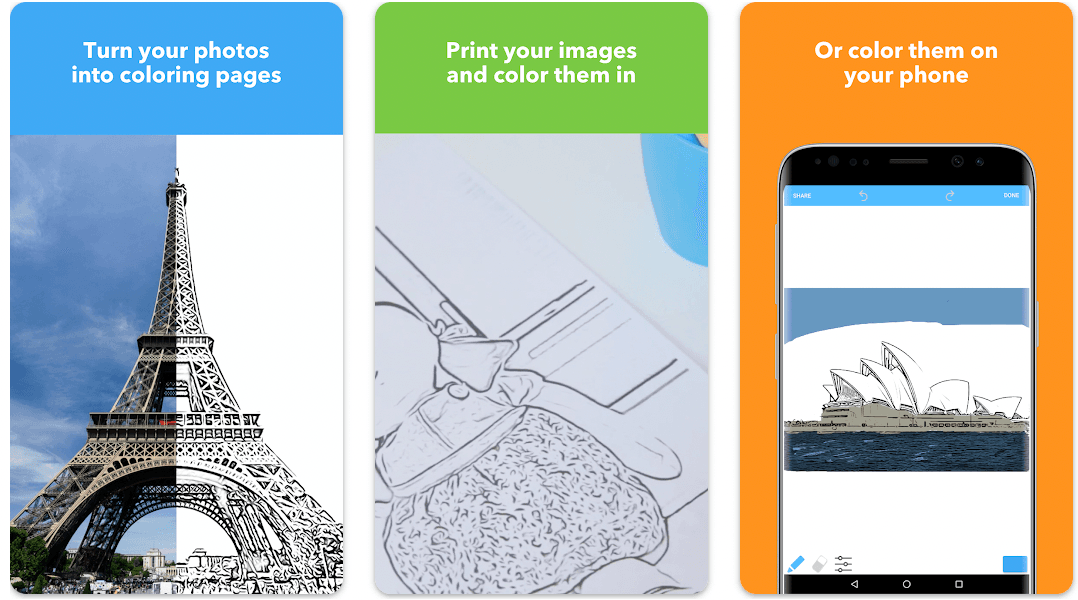 Download and open the Colorscape app.

Take a new photo or choose an existing one from your library.

The app will automatically convert the photo into a coloring page.

Save or print your new coloring page.
At this point, you might be wondering how to create your custom coloring page or how to turn a picture into a coloring page using these tools. Let's dive into these questions in the following sections and also learn why are the turn photos into coloring page tools is beneficial.
How Do I Create a Custom Coloring Page?
Creating a custom coloring page is a simple process. All you have to do is choose a photo that you would like to convert into a coloring page, upload it to one of the tools we mentioned, and let the tool do the rest.
Once the process is complete, you'll have a printable coloring page ready to be colored. It's a fantastic way to convert photos to coloring book pages.
Why Do I Need Tools to Turn Photos Into Coloring Books?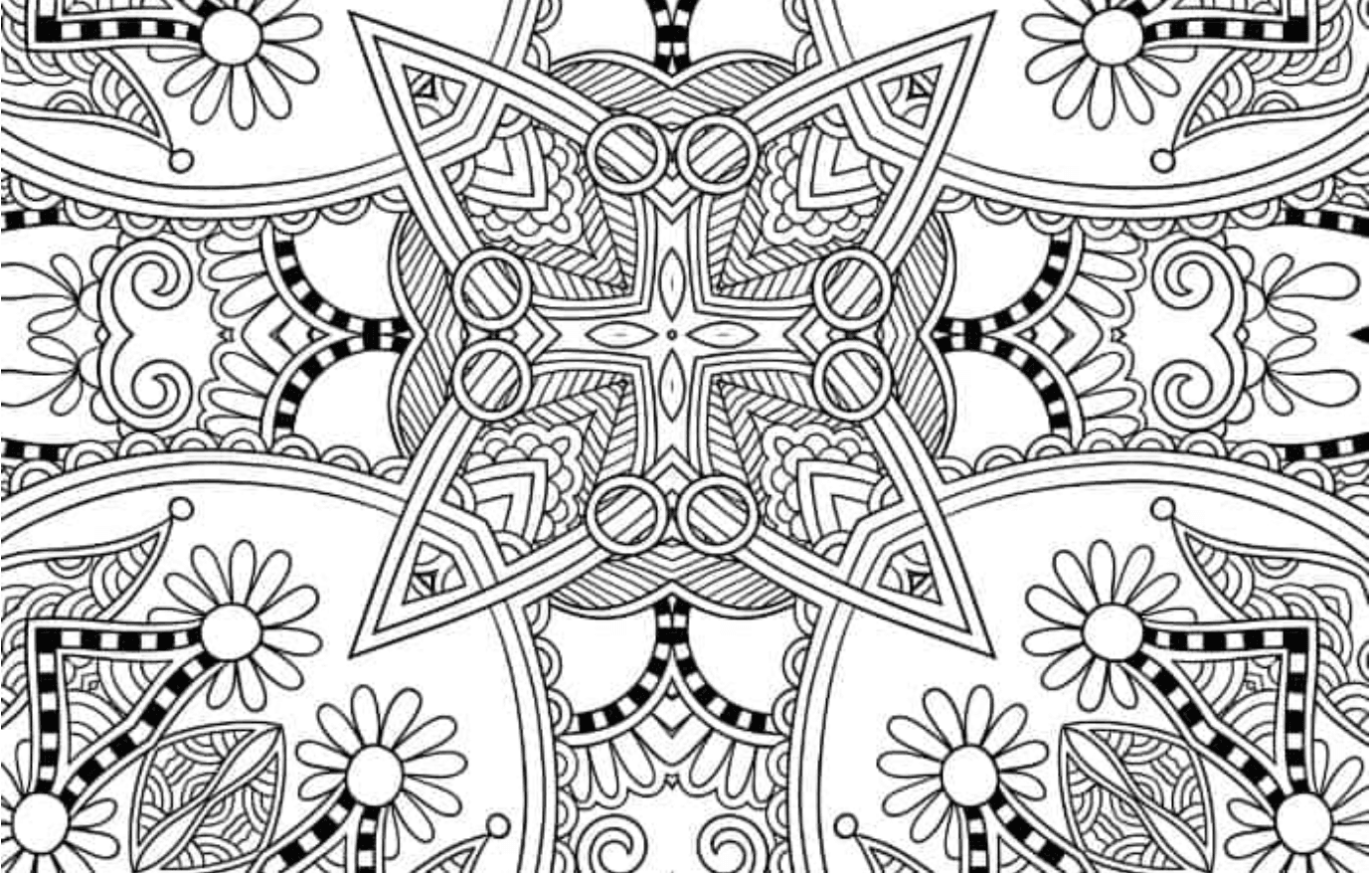 Well, we've got plenty of ideas on why you might need to convert a photo to a coloring page:
To make a gift: Create personalized coloring pages for your friends or family using their photos or photos where you are all together. Add a touch of creativity and be amazed how they'll think you're thoughtful.

For your own creativity: Use these tools to show yourself how creative you are and make your favorite photo a cherished memory.

For educational purposes: If you are a teacher, try using a tool to turn your photos into coloring books. This way, your students will engage more, and you will have interactive lessons.

To engage your children more: It helps you turn your child from screens. Customize and print out those coloring pages and offer them to your children. You will see how they engage in it without thinking. Join them, too. Spend some quality time with coloring pages.

Use it for promoting your brand: This is an excellent way to be different from others. Make coloring pages a part of your marketing strategy. Adults will love it and become creative, remembering who gave them the opportunity to revive their inner child.

For therapeutic coloring: You probably accumulate a lot of stress daily, so why not try these coloring pages for stress relief? It is fun, and it takes away the stress. Try to customize it and have fun with it!
Okay, we gave you ideas, and now that you have a better understanding of how and why you need coloring pages, let's continue with the top tools to turn photos into coloring pages.
6. PicMonkey

Besides other editing features, PicMonkey also offers you a tool for turning photos into coloring pages.
Here are some Google Play reviews we think might help you to better understand it.
Beth Greenberg, June 2, 2023
"Great tools, easy to use, great customer support!"
Tiffany Alia, September 2, 2023
"I have been using picmonkey since it came out. It has improved drastically over time. It has helped my business with its free membership. Thank you."
Chantell Baptiste, September 11, 2023
"Love the desktop version. I've made some templates that I use for most social media...all I need to do is edit the text but I can't. Renders the app useless. Love the computer one though"
And now, here are our pros and cons:
Pros:
Regular updates
User-friendly interface
Cons:
Some elements are available only in the paid version
It depends on the internet connection
Some reviewers claim it has performance issues sometimes
How to turn a photo into a coloring page in PicMonkey: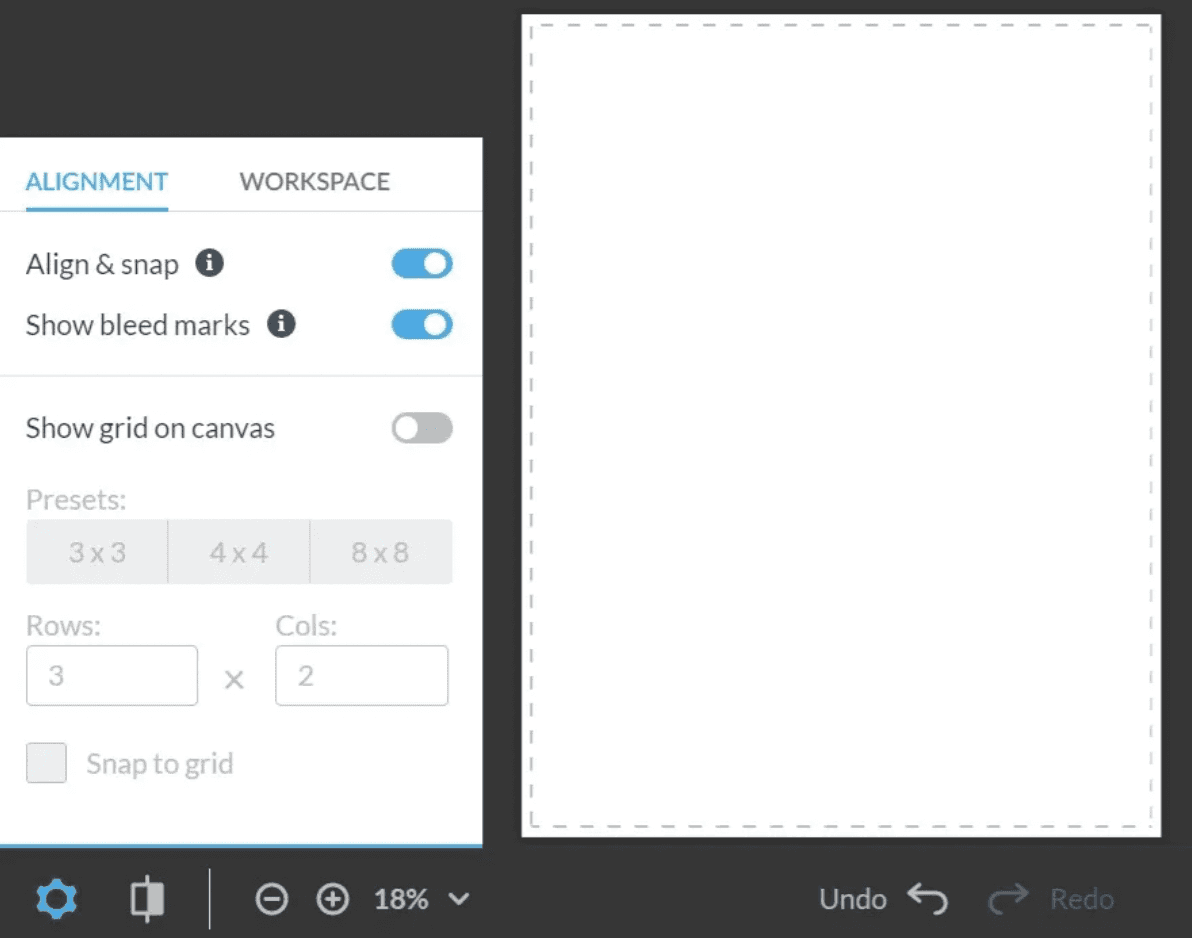 Visit the website and create an account.

Choose "Design" if you want to start from scratch, or select "Edit" if you want to upload your own photo.

Add effects or overlays.

Download it, and you're done.
7. VansPortrait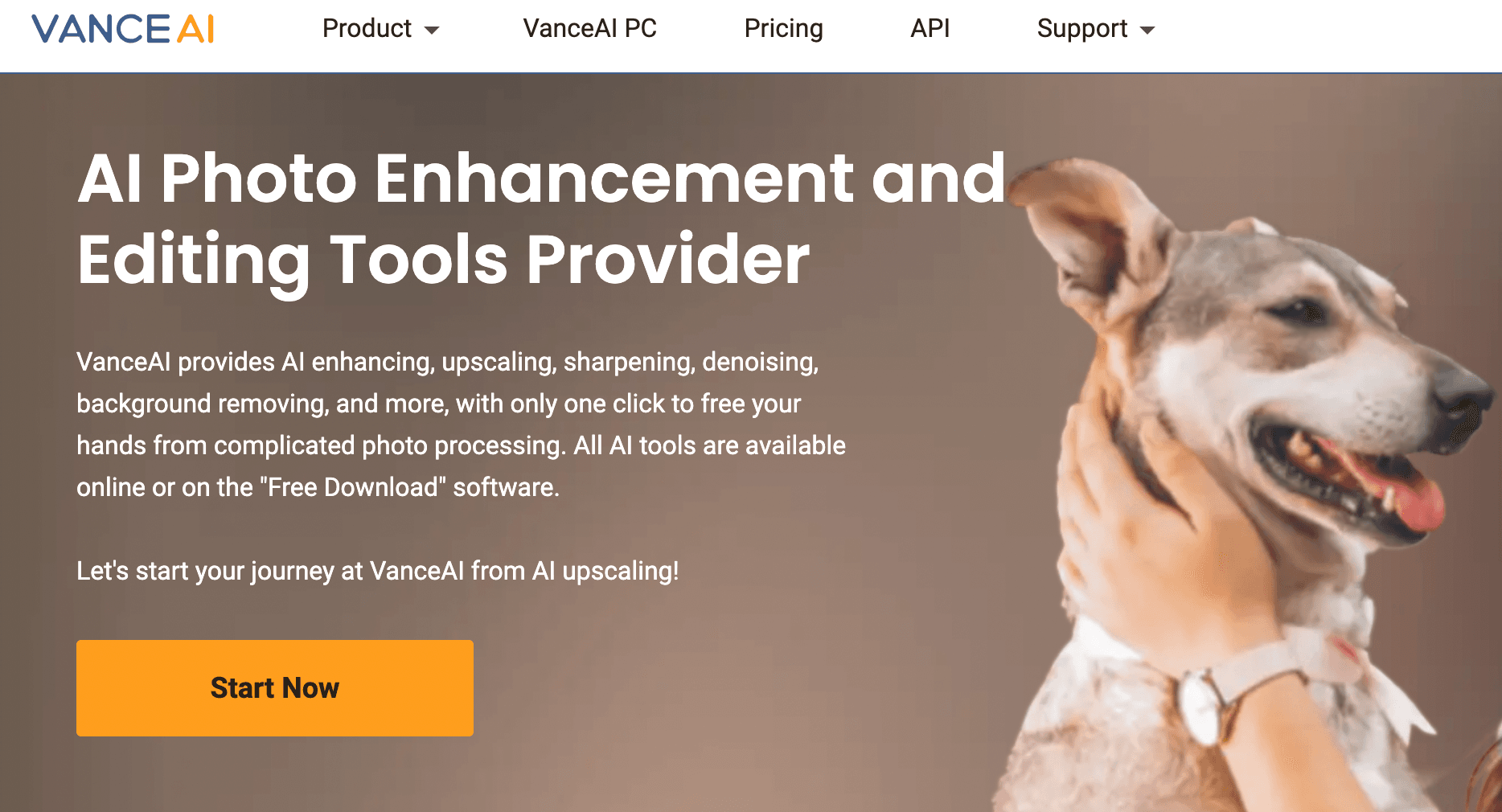 Also, VansPortrait is one of the AI platforms that provides a variety of image enhancement, including a tool to turn photos into coloring pages. As every tool mentioned before, this also has pros and cons. Let's list them for you:
Pros:
Easy interface
Batch processing
Cons:
Advanced features require payment
The online platform doesn't offer complete data protection
How to turn a photo into a coloring page in VansPortrait: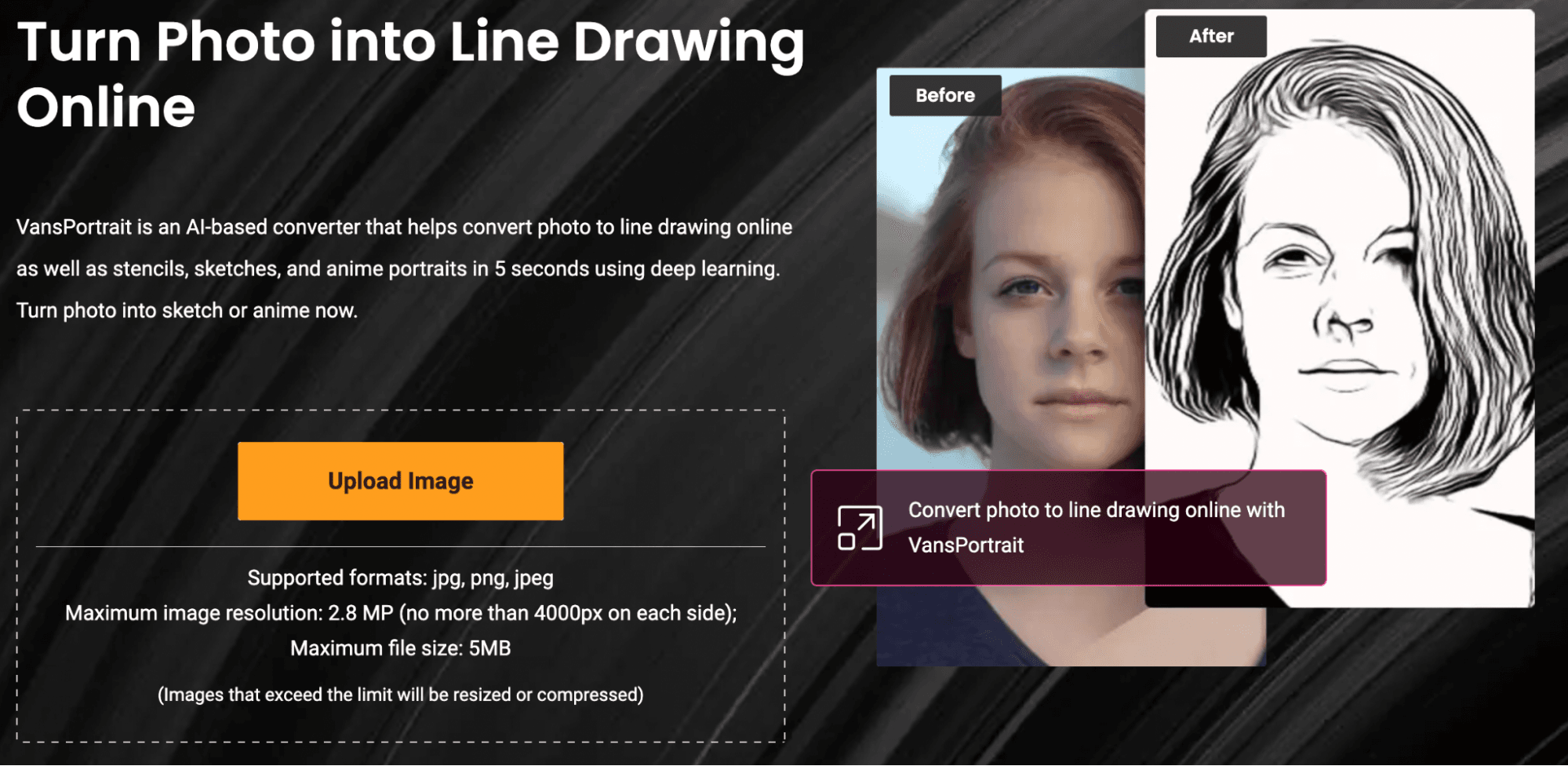 Open the VanceAI product page and upload an image you want to convert.

Select the feature "Sketch"

Click "Start to Process"

Save it for later, or choose to edit
8. ReallyColor

Really Color is yet another free coloring page generator allowing users to create coloring pages or coloring books.
You can sign into your account and purchase picture credits, which will allow you to make purchases throughout the website.
These picture credits can be used to preserve the HD version of the photo you just edited on the website. If you do not wish to purchase photo credits, each page is $1.49.
Pros:
The credits you purchase for photos to coloring pages can be used for other features on the website.
Very simple process.
Access to finished visuals via cloud storage or email.
Cons:
If you create a coloring book with ReallyColor.com, it will take at least a week for them to deliver it to you.
It is a little bit expensive
Watermarks projects in a free version
How to turn a photo into a coloring page in ReallyColor: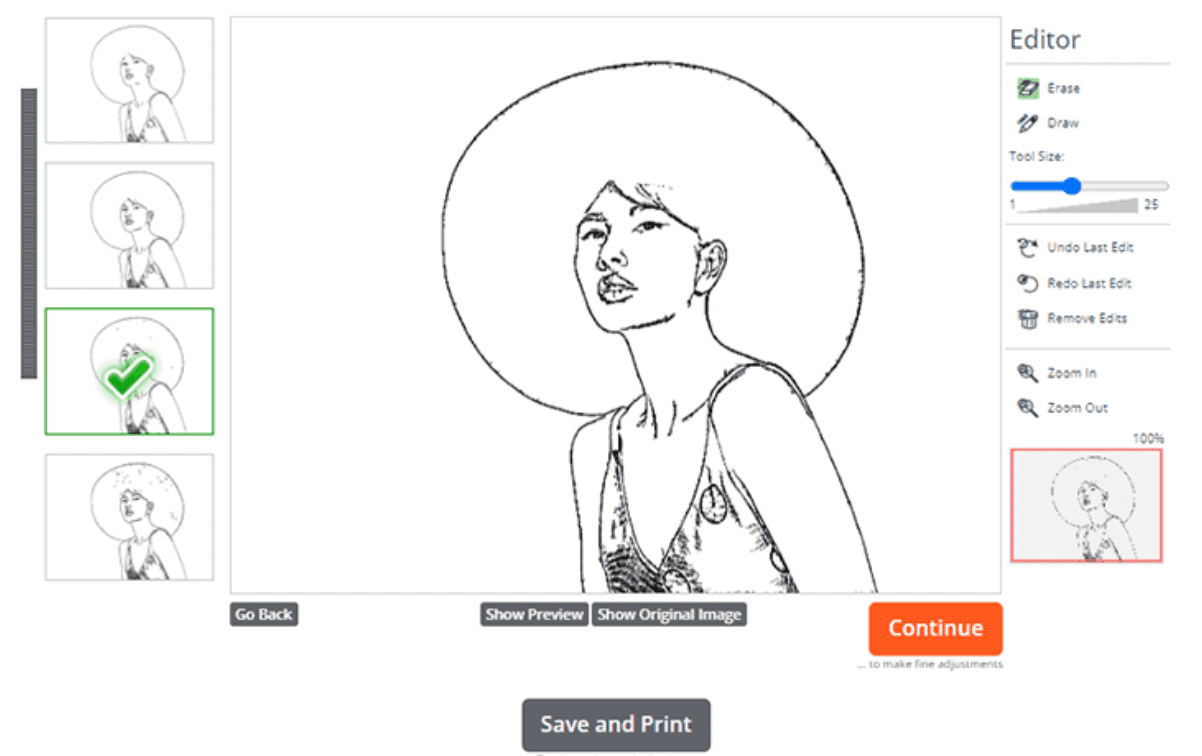 Go to the page.

Click "Create Your Coloring Page" or "Build Your Coloring Book."

The tools will do the rest, and you can download it or send it to your friends/family.

Then, you will be led to the payment page.
9. Photo to Coloring Book

Using this app, you can convert your photos to a coloring book. You can either take a photo with your camera or select an existing photo.
The app transforms your photo into a black-and-white drawing ready for you to add your colors using the painting tools. You can also open a new empty canvas and create your own illustration.
The premium version enables more paint colors and paint color opacity, enables creating and editing outlines, and removes all ads from the app.
Pros:
Work offline
Easy interface
Cons:
Advanced features available only with premium version
Let's see what some users have to say about this app:

Jan Lauren, July 24, 2023
"Absolutely fantastic app! Does not waist user's time with needless gimmicks. Thank you so very much for such wonderful access to artistic endeavours!! Have informed all my friends about this app, and they are impressed as well."
"It's very difficult to use and the conversion is not very clean. But in a pinch, and lots of patience, this could work."
How to turn a photo into a coloring page in Photo to Coloring Book:

Download the app.

Upload your photo or use black canvas.

Click Create My Book.
10. Canva

Canva is a very well-known tool for all designers, both amateurs and professionals. Besides a lot of enhancing features, it has a tool to convert photos to coloring book pages.
You can choose to use some free templates, or you can add your own photo or picture you like.
Pros:
User-friendly
Wide range of elements, fonts, and shapes for customization
Canva offers many free templates, which saves you time and effort
Cons:
It will take you a bit more time to turn your photos into a coloring page
You can't work offline
Advanced features need a paid subscription
How to turn a photo into a coloring page in Canva: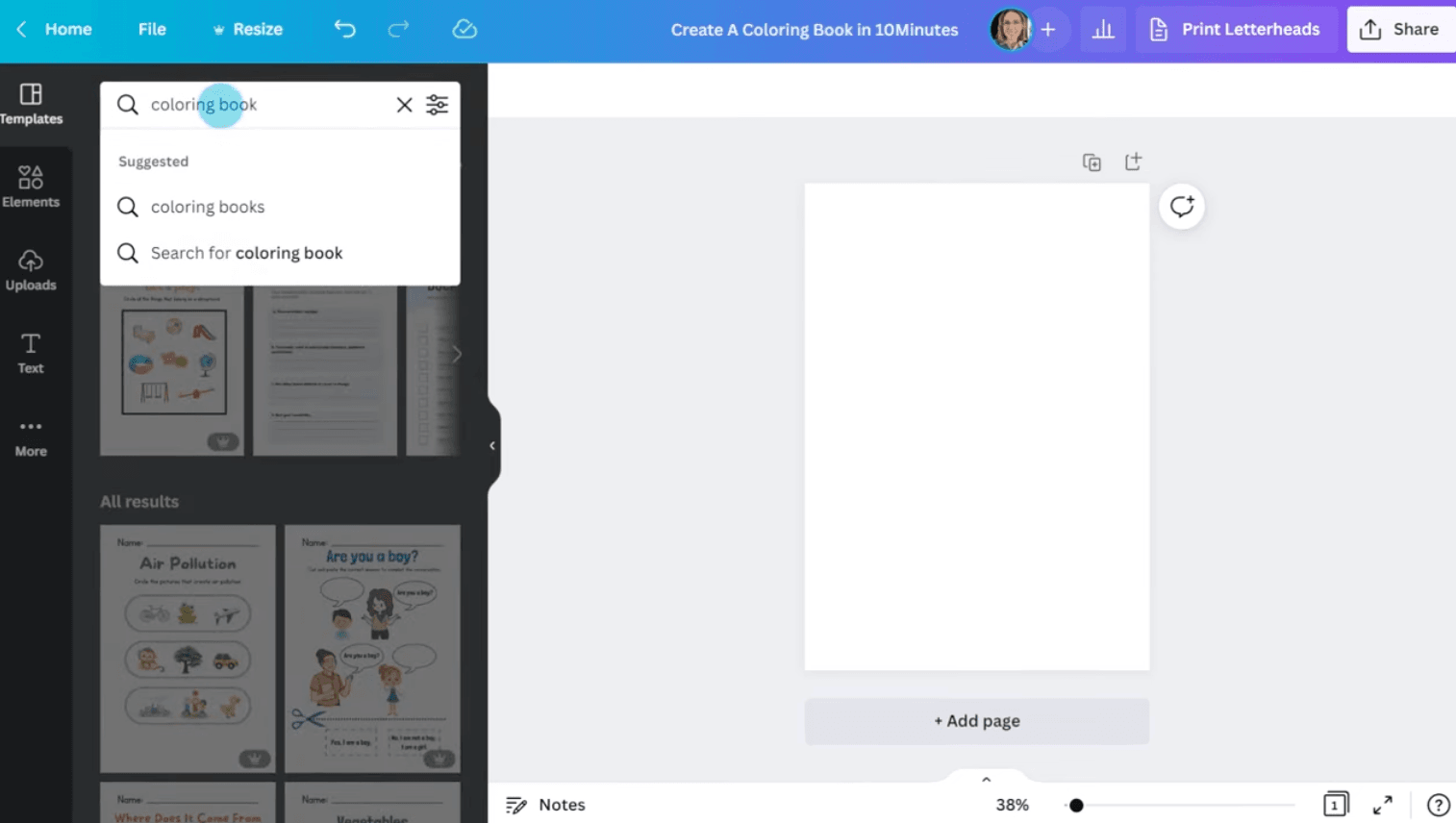 Go to the Canva website and sign up for a free account.

Click "Create a Design".

Upload your photo.

Edit as you wish using all the elements you want and download.
Imagewith.AI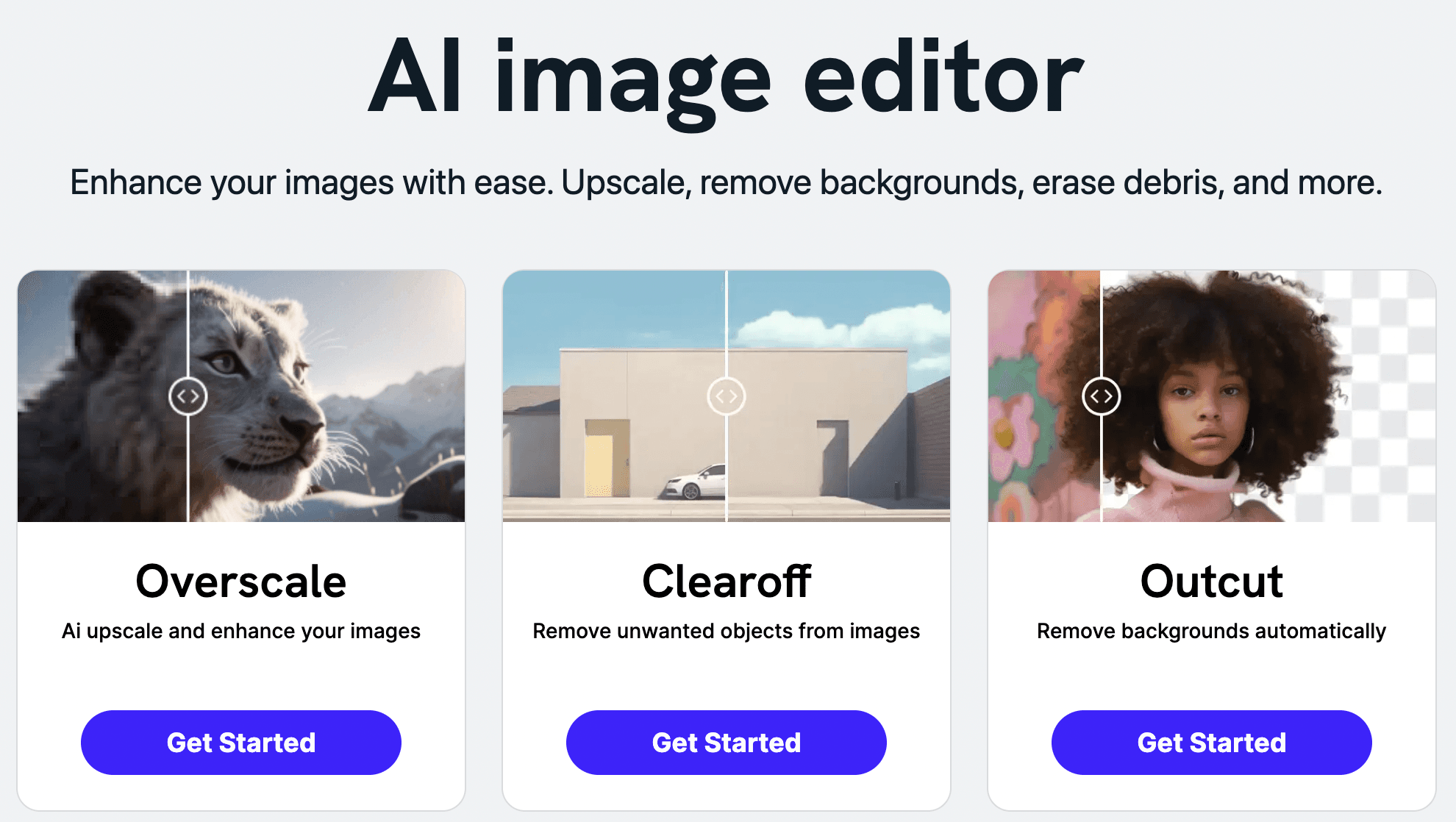 After you create the coloring pages or coloring book, you might need some improvements or detailing. Maybe you made a mistake you want to repair.
Imagewith.AI is a free photo editor tool. There is no need to download, register, or give out any of your details. It is an online-based editor. It uses Al methods to enhance and transform digital images.
It leverages machine learning algorithms to automate and streamline multiple image editing operations, making the process faster, more efficient, and often more precise than traditional manual editing strategies.
It has 3 AI photo enhancer tools:
Imagewith.ai Overscale- high-quality upscaling, noise reduction, and artifact removal capabilities
Imagewith.ai Clearoff- seamlessly removes unwanted objects, people, defects, and watermarks from photos.
Imagewith.ai Outcut - easily removes background from family portraits, travel photos, or product images.
Final Thoughts
In conclusion, coloring page tools provide a creative way to transform photos or images into personalized coloring pages.
These tools offer you the opportunity to add a unique touch to your coloring experiences, turning memories, snapshots, or educational content into engaging and customizable coloring pages.
From user-friendly platforms like Canva to specialized tools like ImagewithAI, these tools cater to a variety of needs, allowing for artistic expression, thoughtful gift-giving, and interactive educational engagement.
While the pros of coloring page tools include their creativity, personalization, and potential for educational use, you should be mindful of certain cons, such as tool dependency, quality limitations, and the learning curve associated with some platforms.
Privacy considerations are also important, especially when using online platforms that require the upload of personal images.
Ultimately, the choice of a coloring page tool depends on individual preferences, the desired level of customization, and the specific features offered by each platform.
Whether creating a coloring page for relaxation, crafting a memorable gift, or enhancing educational materials, these tools open up a world of possibilities for transforming images into artistic and enjoyable coloring experiences.