Imagine this: You've captured a perfect moment on your camera, but the image is marred by unwanted noise, blurring the beauty you intended to capture.
But there is no need to worry, because we have the solution you have been looking for. In the digital age, AI image denoisers have revolutionized how photos are restored to their original clarity and brilliance. A good image can be elevated to one that is extraordinary with the help of these tools.
In this article, we will present the top 10 artificial intelligence image denoisers, each demonstrating the power of artificial intelligence to enhance and preserve your precious memories.
10 Best Ai IMAGE Denoiser
We pick the best sites that Explore the world of cutting-edge technology that redefines your perception of photo perfection.
Imagewith.ai (Our Top Pick )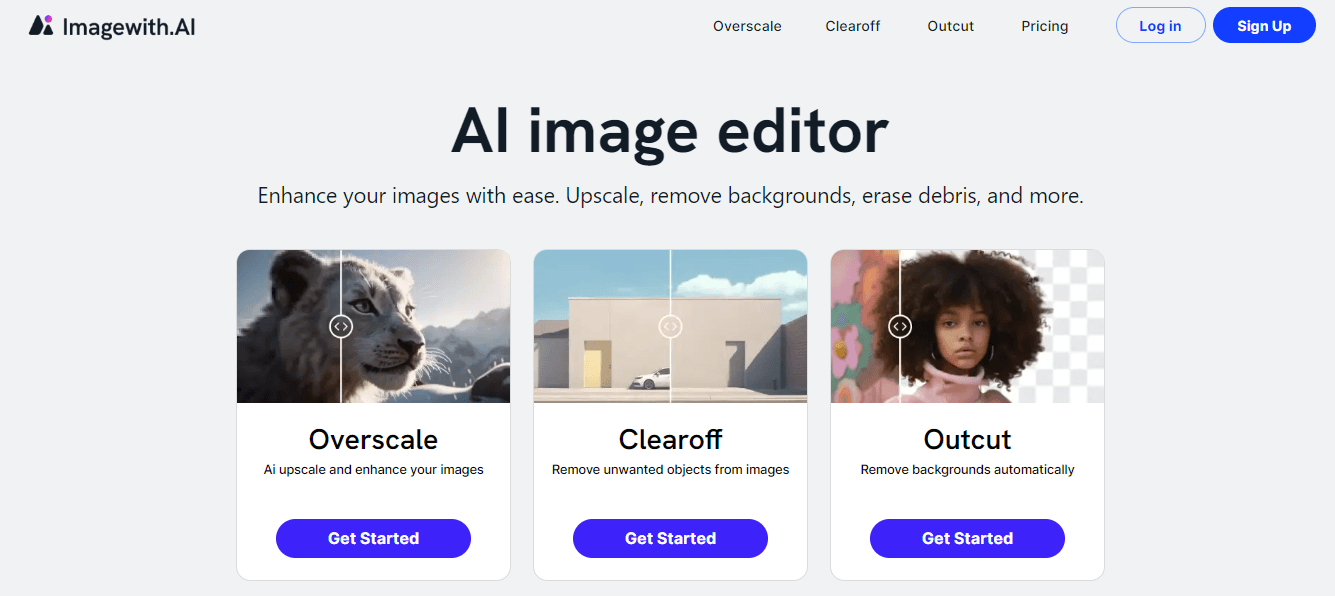 Images with Imagewith.ai can be transformed into stunning works of art by utilizing its cutting-edge denoiser. With its artificial intelligence algorithms, this denoising tool performs outstandingly in understanding images as well as enhancing them while preserving every detail. Whether it's photographs of animals, iconic landmarks, or complex scenes, Imagewith.ai Image Denoiser excels in delivering high-quality, precise results.
It provides a seamless denoising experience due to its user-friendly interface, smart AI technology, and commitment to privacy. Whether you're a professional photographer or an image enthusiast, Imagewith.ai Image Denoiser is the tool that elevates image clarity with ease.
Main Features:
●User-friendly navigation for hassle-free denoising. ●Employs advanced AI algorithms to detect and reduce noise, preserving image details. ●Ensures images maintain their quality after noise reduction. ●Supports batch denoising for multiple images at once. ●Provides a fine-tuning option for noise reduction. ●Secures user data by deleting uploaded images after a certain period.
Pros: ●Effortless Noise Reduction ●Preserves Image Details ●Efficiently denoise multiple images at once. ●Privacy of users
Cons: ●We didn't find any
Luminar 4's image denoiser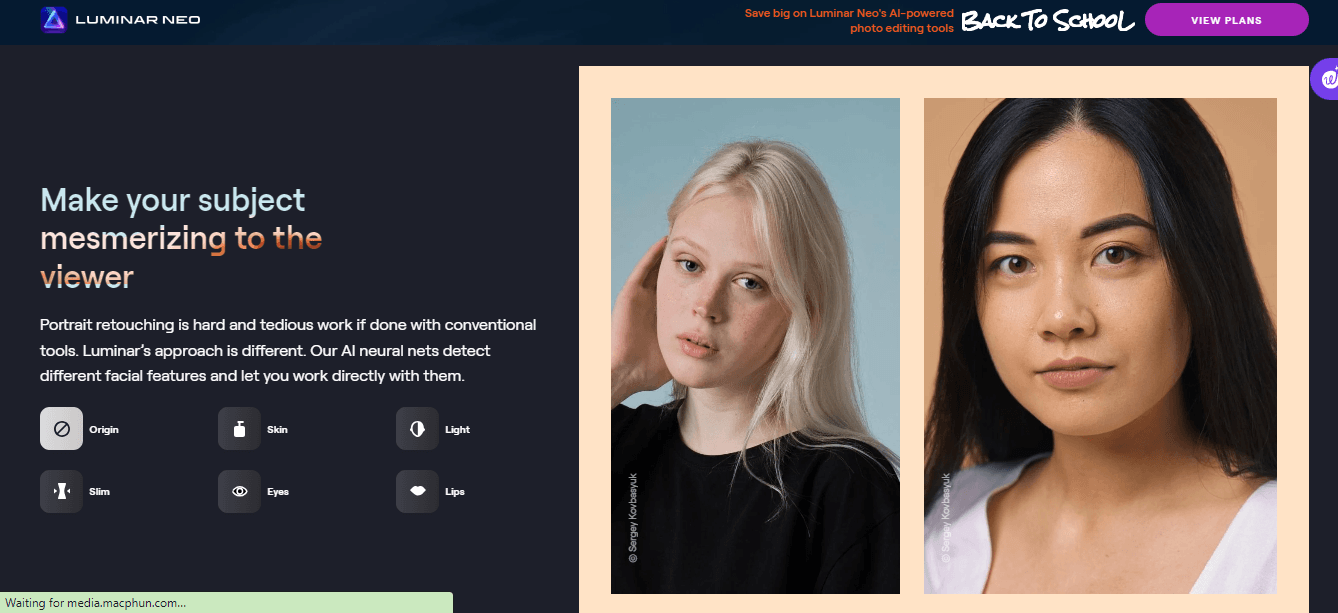 With its reputation for excellence, Luminar 4, a program developed by Skylum, has earned a place among the most popular image editing programs. While its successor, Luminar AI, has taken center stage, Luminar 4 still shines with its powerful image denoising capabilities. You can customize the image denoiser in this software to meet your needs.
Whether you're a seasoned photographer looking for advanced editing options or simply seeking a reliable denoising tool, Luminar 4 has you covered.
Main Features:
●Effectively removes noise from images while preserving detail. ●Automated image enhancement with artificial intelligence, saving time and effort. ●Skin smoothing and facial enhancement tools are included in the software. ●Creative filters and effects are available in Luminar 4 for transforming images artistically. ●Both beginners and experienced photographers can use its intuitive interface.
Pros: ●Powerful Denoising ●Versatile Editing Suite ●User-Friendly Interface
Cons: ●Limited Updates ●Steep Learning Curve ●Pricey Plans
DXO Photolab 4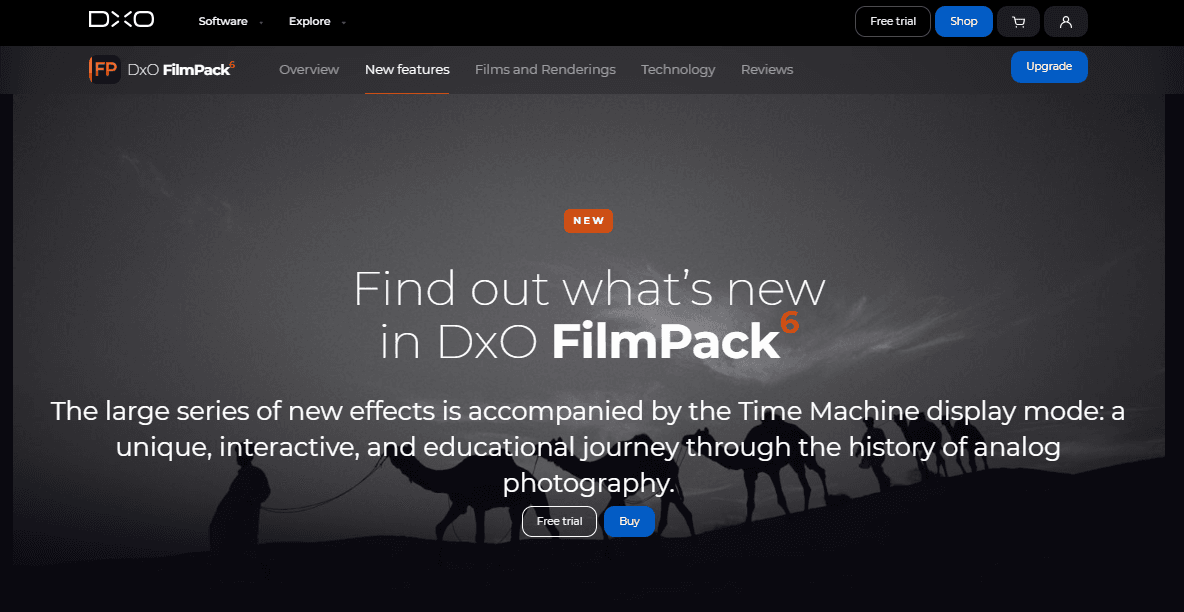 DXO Photolab 4 is a comprehensive image editing suite renowned for its exceptional image denoising capabilities. The software offers more than just noise reduction, including watermarking, exposure adjusting, batch renaming, and more. Demosaicing is another advanced feature that enables reconstructed full-color images from incomplete color samples.
Professionals value the software's high-level functionality, but beginners could find it challenging because of its complexity.
Main Features: ●Powerful noise reduction capabilities. ●Efficient management of image collections. ●Reconstruction of incomplete color data. ●Tailor the interface to your preferences. ●Easily add watermarks to your images. ●Adjust exposure levels for perfect lighting.
Pros: ●Feature-rich toolbox. ●Efficient organization. ●Full-color reconstruction.
Cons: ●Steep for beginners. ●Higher cost. ●Restricted usage.
TopazLabs Denoise AI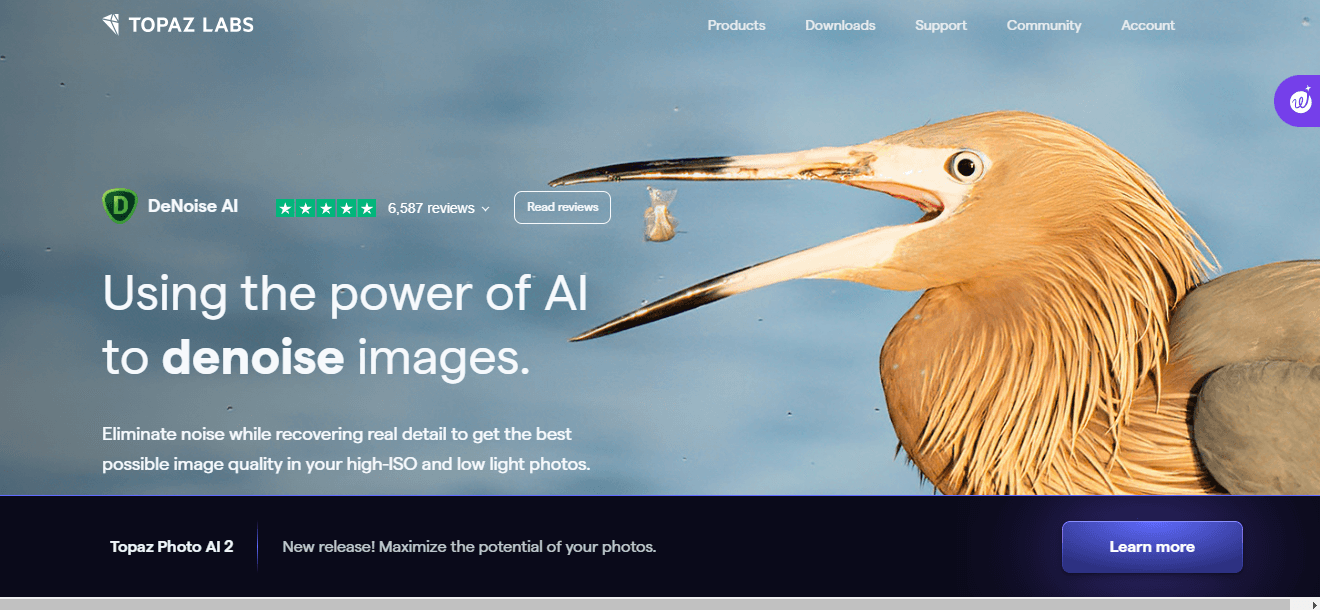 TopazLabs Denoise AI is a cutting-edge solution in the realm of image denoising. Developed by the highly regarded TopazLabs, this software embodies the pinnacle of noise reduction technology. With the power of advanced artificial intelligence algorithms, it excels at eliminating noise from images while preserving the finest details.
Denoise AI is a go-to tool for improving image quality for photographers, graphic designers, and image enthusiasts. Its ability to produce exceptional results makes it a standout choice when it comes to image enhancement.
Main Features: ●Precision noise reduction with detail preservation. ●Automatically enhances image details. ●Comprehensive editing features for professional results. ●Efficiently denoise multiple images at once. ●An intuitive interface for accessible use.
Pros: ●Impressive Noise Reduction ●Detail Preservation ●Advanced Editing Options
Cons: ●Complex for Beginners ●Higher Price Point ●Limited Trial Version
SoftOrbits Easy Photo Denoise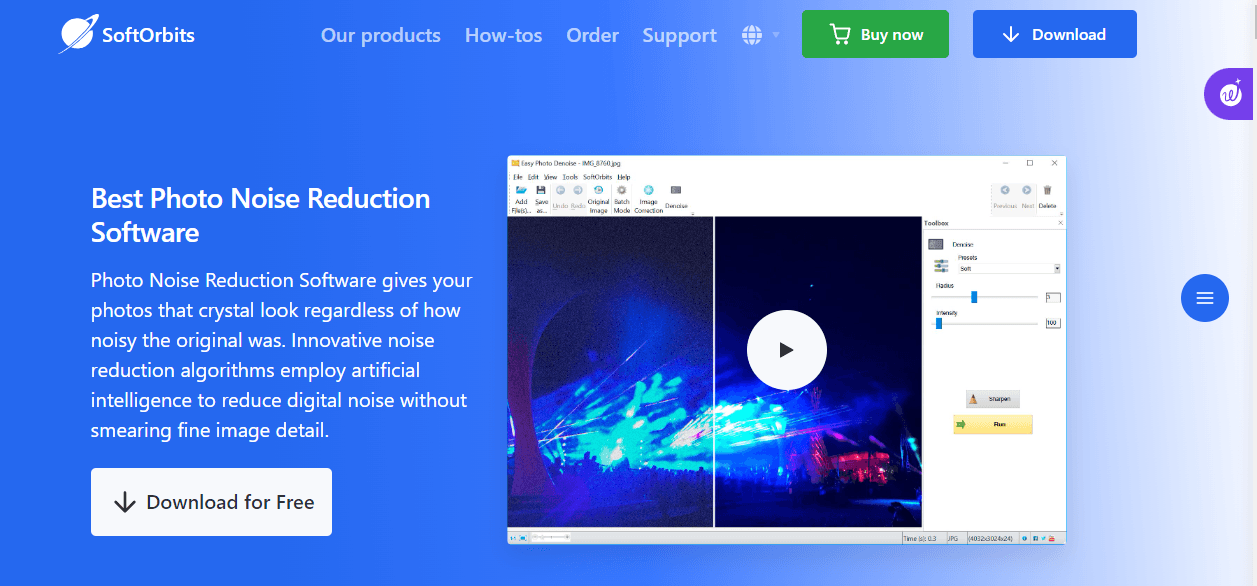 SoftOrbits Easy Photo Denoise lives up to its name, providing a hassle-free solution for removing noise from images. This user-friendly software simplifies the denoising process, allowing users to upload images and select from available presets. Manual adjustments for parameters like radius and intensity, along with image sharpening, provide additional control.
While it may lack some advanced features, it's an accessible choice for those seeking straightforward noise reduction. However, users must purchase a license to save processed images.
Main Features: ●An easy-to-use interface that is user-friendly. ●Batch Processing helps Efficiently process multiple images at once. ●Correct imperfections and enhance image quality. ●Manual Adjustments helps Fine-tune denoising with adjustable parameters. ●Improve image clarity and sharpness.
Pros: ●Designed for ease of use. ●Supports efficient noise reduction for multiple images. ●Image Correction
Cons: ●Limited Features ●Preset Limitations ●Trial Restrictions
Movavi Photo Editor (Movavi Picverse)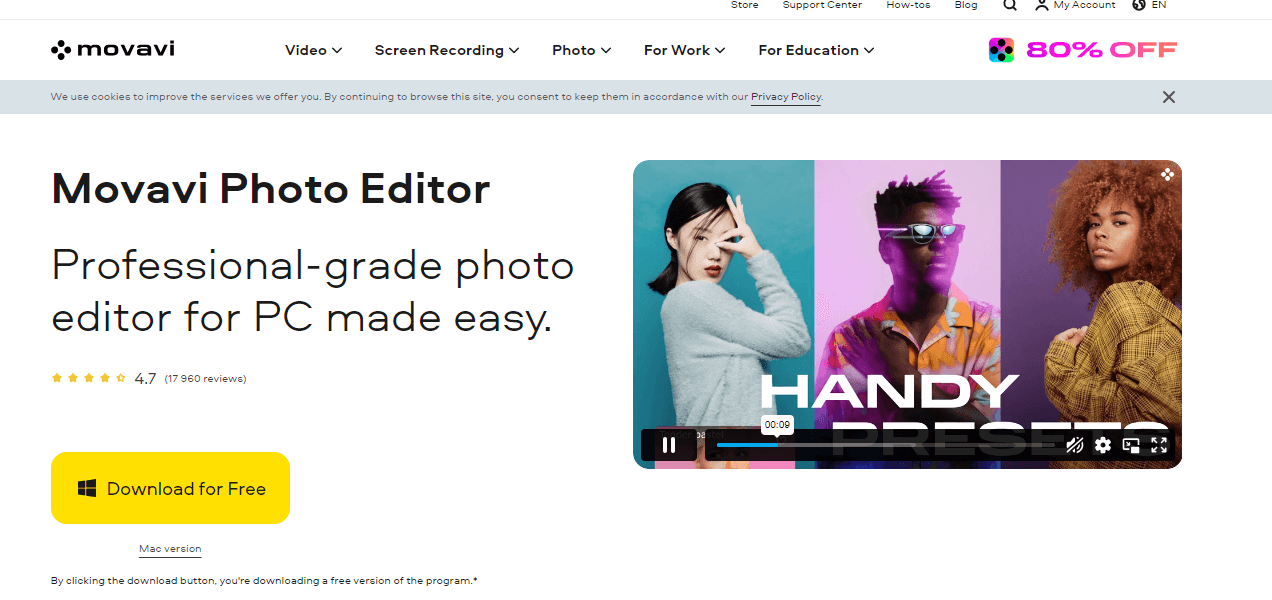 Movavi Photo Editor, also known as Movavi Picverse, is a user-friendly yet powerful photo editing tool. It offers a noise reduction feature with both automatic and manual adjustment modes for precise control over noise reduction. Alongside noise reduction, you can expect features like image colorization, background removal, and a variety of editing options.
While it comes at a price and features watermarks in its trial version, Movavi Photo Editor upholds the company's high standards of quality and ease of use.
Main Features: ●All skill levels will find the interface intuitive and user-friendly ●Offers precise control over noise reduction with both automatic and manual adjustment modes ●Allows for adding color to black and white photos, providing a creative touch to your images. ●Provides tools for removing and replacing backgrounds in images
Pros: ●User-Friendly. ●Noise Reduction Contro ●Offers a range of useful editing features.
Cons: ●Pricier Side ●Watermarked Trial. ●UI Improvements Needed.
Some other additional Softwares:
Lightroom Noise Reduction: Enhancing Image Clarity
Lightroom Noise Reduction, an integral part of Adobe's photography software suite, empowers photographers to eliminate noise effectively from their images. The service is available on Windows and macOS platforms at a monthly cost of $9.99, making it affordable for most users. With this tool, users can apply noise reduction to RAW files, ensuring optimal image quality. Moreover, Lightroom's extensible architecture allows for third-party plugins, expanding noise reduction options and enabling advanced local adjustments for noise reduction.
While its subscription cost and learning curve may pose challenges, it delivers extensive catalog and editing functionality to enhance image clarity.
Main Features: ●Noise reduction can be applied to RAW image files for maximum flexibility. ●Supports third-party plugins for diverse noise reduction options and advanced local adjustments. ●Efficiently organize and manage your image library. ●Luminance and Chromatic Noise Reduction which Provides tools for reducing both types of noise. ●Offers a wide range of editing capabilities beyond noise reduction.
Pros: ●Seamless image management. ●Cleaner and more vibrant images.
Cons: ●may be less intuitive for beginners. ●Pricier
Blender Denoise
Blender Denoise, equipped with the NVIDIA OptiX AI-Accelerated Denoiser, is a remarkable addition to the Blender view layer system. This powerful denoising tool harnesses the potential of machine learning, enabling you to effortlessly craft noise-free images within mere seconds, even with a minimal number of samples. Leveraging AI technology, Blender Denoise stands as a game-changer in noise reduction, offering remarkable results.
To utilize this feature, you will need an NVIDIA RTX GPU and a driver version of at least 441.87 (for Windows) or 440.59 (for Linux).
Main Features: ●Utilizes cutting-edge AI technology for noise reduction. ●Significantly reduces noise in rendered images. ●Achieves noise reduction even with a low number of samples. ●Provides flexibility to fine-tune denoising parameters. ●Supports Windows, Mac, and Linux operating systems.
Pros: ●Effortless Noise Reduction ●Speedy rendering. ●Customizable to suit your specific needs.
Cons: ●Not User-Friendly
Waifu2x Image Denoiser
Waifu2x Image Denoiser is an AI-powered online tool designed to excel in noise reduction, particularly suited for enhancing anime character images. This tool automates the noise reduction process by using deep convolutional neural networks, allowing it to be performed independently without requiring manual intervention from the user. As well as this, it has the unique ability to enlarge images without compromising the quality of the image, which makes it a very versatile solution for anime lovers.
Waifu2x Image Denoiser offers a simple yet effective solution for reducing noise in anime character images, with the added benefit of image enlargement.
Main Features: ●Utilizes AI Deep Convolutional Neural Networks for automated noise reduction. ●Enlarges images while preserving quality. ●Allows users to fine-tune the degree of noise reduction. ●Being an online tool, it is accessible from various platforms. ●Specifically designed to enhance anime character images.
Pros: ●Customizable Noise Reduction ●Cost-Free ●Straightforward interface ensures ease of use.
Cons: ●Not Professional-Grade
Imglarger.com: AI Image Denoiser
Imglarger.com offers an online AI image denoiser, promising photo noise reduction with the convenience of online accessibility. This tool distinguishes itself by enabling users to process multiple noisy images simultaneously, potentially streamlining workflows. While it markets itself as a solution for recovering image details, real-world testing has revealed mixed results in noise reduction effectiveness.
Imglarger.com presents a no-cost, accessible solution for online photo noise reduction, making it suitable for users seeking quick and uncomplicated noise reduction, despite potential limitations in noise reduction effectiveness.
Main Features: ●An internet connection is required to access the site. ●Allows simultaneous processing of multiple noisy images. ●Utilizes AI technology for automated noise reduction. ●Markets itself as a tool for recovering image details, although results may vary.
Pros: ●Free-to-use too ●User-Friendly with ease of use ●AI-Powered Noise Reduction
Cons: ●Limited Noise Reduction Effectivenes ●Lack of Customization
Why AI Image Denoiser are becoming popular each day?
AI image denoisers are gaining popularity for several compelling reasons:
Efficiency: AI denoisers can quickly and automatically remove noise from images, reducing the need for manual, time-consuming adjustments. When time is of the essence, this efficiency is particularly valuable.
Consistency: Unlike manual denoising, AI algorithms provide consistent results across all images. This uniformity ensures that the quality of image denoising remains high, regardless of the volume of images processed.
Advanced Algorithms: AI denoisers leverage sophisticated machine learning and deep learning algorithms, allowing them to detect and reduce noise while preserving image details. This level of precision is challenging to achieve through manual methods.
Ease of Use: Many AI denoising tools come with intuitive user interfaces that individuals of varying levels of expertise can use. They are popular among a wide range of users because of their ease of use.
Accessibility: With the proliferation of online and software-based AI denoising tools, anyone with an internet connection can access these services, eliminating the need for specialized hardware or software.
Continuous Improvement: AI denoisers can be continuously improved through updates and training on larger and more diverse datasets. This means that as AI technology advances, denoising capabilities will also improve.
Versatility: AI denoisers are not limited to a specific type of noise or image. They can handle various noise types and image categories, from photographs to medical scans, making them versatile for a wide range of applications.
Cost-Effectiveness: Many AI denoising tools offer free or affordable solutions, reducing the financial barrier to accessing advanced noise reduction technology.
The growing popularity of AI image denoisers can be attributed to their efficiency, consistency, advanced algorithms, ease of use, accessibility, continuous improvement, versatility, and cost-effectiveness.
Benefits of Using AI Image Denoiser over manual methods
AI Image Denoiser offers several advantages over manual methods for removing noise from images.
The following are some of these benefits in more detail:
Reliable and Efficient:
AI Image Denoiser tools leverage artificial intelligence technology to automate the noise removal process. This ensures a reliable and highly efficient method for enhancing your images. Unlike manual methods, which can be time-consuming and require significant effort, AI-powered denoising is performed in real-time, saving you valuable time and resources.
Users can achieve remarkable noise reduction without the need for extensive manual input, making it a hassle-free solution.
Faster Adaptability:
Traditional manual image denoising methods rely on predefined algorithms and techniques. In contrast, AI denoisers feature advanced mechanisms that have been trained on diverse datasets, encompassing both clean and noisy images. This enables AI denoising tools to adapt quickly to various patterns, textures, and noise levels present in your images.
As a result, they can accurately and consistently perform image denoising, regardless of the specific noise characteristics.
Consistent Results:
Manual noise removal methods are susceptible to human errors, leading to inconsistent outcomes. AI Image Denoiser eliminates this variability by applying denoising algorithms consistently across all images. As a result, every image receives the same high-quality noise reduction, creating a more appealing and clear image.
Users can rely on consistent, professional-grade results without the risk of human-induced inconsistencies.
Continuous Improvement:
AI denoisers have the advantage of continuous improvement and innovation. As new technologies and more data are incorporated into AI models, they will be able to refine and enhance their features. As AI denoisers develop continuously, they become more effective at removing noise and enhancing images as noise patterns and image enhancement needs evolve.
Alternatively, manual noise removal methods may require significant effort if they are to introduce innovative techniques and respond to the ever-changing requirements of image enhancement.
Frequently Asked Questions
Why is image denoising needed?
In order to improve the overall quality of an image and its visual appeal, denoising is used to remove unwanted noise and artifacts. Noise can cause grainy or distorted images, and it can be caused by various factors, such as low light conditions and high ISO settings.
Using denoising, images become clearer, sharper, and more detailed, improving the appeal of photos, graphics, and medical images. It plays an important role in maintaining image quality and conveying images' intended message effectively.
What is the best way to denoise an image?
The best way to denoise an image, especially with the power of AI, is to use specialized denoising software like Imagewith.ai. AI-based denoising tools employ advanced deep learning algorithms to analyze and remove noise while preserving image details.
Imagewith.ai, in particular, excels in this regard, as it offers an intuitive interface, smart AI technology, and customizable noise reduction levels. Professionals and enthusiasts seeking to enhance image clarity can benefit from its high-quality results by understanding the image content.
What does denoise do in editing?
An important part of image editing is denoising, which removes unwanted noise and artifacts. By using this process, we are able to enhance the quality of our images, by reducing the visual distractions that are caused by noise, resulting in photos that are cleaner, more pleasing on the eye.
It is possible to restore the sharpness and clarity of an image by means of denoising while minimizing the distracting elements that may detract from the overall impact of the image. It is an essential part of the editing process that ensures the final image meets the desired quality standards as a result of the processes involved.
How do you denoise an image in deep learning?
Denoising an image using deep learning involves training a neural network, typically a convolutional neural network (CNN), to recognize and remove noise from images. The process typically consists of the following steps: