In the fast-paced digital world and in an era where first impressions matter the most, the visuals on your website and social media play a pivotal role. Displaying eye-catching images will attract and engage more visitors. It will also evoke emotions and create a unique user experience for every visitor. However, it is not always possible to capture a perfect shot. That's where image enhancement comes into play. An AI image enlarger will elevate the visuals of your website and enhance your social media profile to leave a lasting impact on your audience.
Powered by AI, image enlargers use machine learning algorithms to analyze low-resolution images and generate high-resolution versions. This process automates image enlargement, allowing even people with no professional experience to automatically enhance the quality of their photos. The enlarged looks better with all the details from the original low-resolution version. However, the quality of the final output will depend on the AI image enlarger used. Some of the factors you need to consider before choosing an AI image enlarger: 1.Quality of the output 2.Speed of processing 3.Cost efficiency 4.Range of available features 5.Quality of the support services
In this comprehensive blog, we explore image enlargement in detail, including the factors to consider when choosing an image enlarger and how to use one.
The Need for Image Enlargement
Have you taken a photo recently only to realize when you look at it later that it's just not quite right? Maybe your face is a bit blurry, or a beam of light is obscuring the subject. This is quite common when taking photos for personal or business purposes. For most people without professional photo editing skills, this can mean that this image will be a write-off. However, AI has changed all this with image enlarger tools giving such images a second chance. Using machine learning and AI, these tools can improve the quality of your picture without losing any information. They can also create a bigger version of the original photo without losing the quality or any important details.
Image enlargement can improve how you or your brand is perceived both online and offline. Essentially, high-quality images can establish your website credibility, and leave a lasting impression on visitors. In an era where visual content dominates the online space, enlarging your images becomes vital in capturing the attention of your audience amidst the sea of competitors. Your visitors are more likely to engage with visually appealing content, which can result in increased customer conversions and reduced bounce rates. On a more personal note, AI photo enlargers take care of literally everything you would have hired a professional editor to do. You can upscale your image, touch it up, and even do some smart enhancement.
The impact of AI image enlargers in all industries cannot be overlooked. We all know how important images are to marketing and businesses. When visitors encounter low-resolution or grainy images, it reflects poorly on your website's professionalism. Poor-looking images may also deter potential customers, resulting in a loss of business. In contrast, enlarged images have more details and vibrant colors that create a positive user experience. With the reduced noise and grainy appearance, enlarged images are effective in fostering trust and confidence in your brand. Even in the print industry, high-quality images can significantly drive engagement with customers.
AI-based enlargement improves the quality and details of your image by analyzing and enhancing it based on various categories. This transformative image enhancement will automatically analyze the image content and context to enlarge it for more details and clarity. The AI will adjust the colors and lighting and even generate realistic backgrounds and faces to give a higher-quality image. As you continue using AI-powered image enlargers, they will learn from your preferences and suggest edits that are likely to match your style and vision.
An AI image enlarger is a tool that uses artificial intelligence to make an image larger without sacrificing its quality. Also known as an AI image upscaler, the tool will make the same image usable in larger formats. You may find the need to enlarge your image if you want to logo bigger for a poster or making a piece of digital art stretch over a twenty-foot canvas. With the right image enlarger, your image will be magnified without losing its beauty or appearing heavily edited. You can increase the size of your image by 200% or eve up to 800% depending on your settings. And all this happens without sacrificing the quality.
Image enlargement is an intricate process that involves improving the sharpness, clarity, and colors of photos. This is made possible by deep learning. The AI model that runs the image enlarger learns from vast datasets of high-quality images to understand the components that make an improved image. Using this data that it has been trained on, the model can recognize various elements of an image and optimize them to achieve higher quality.
AI image upscalers utilize various technologies such as advanced neural networks and diffusion models to enhance photos while attaining their character. Depending on the outcome to be attained, the technology behind an AI image enlarger may be:
Super-resolution: The AI learns the relationship between low-resolution and high-resolution images, and uses the knowledge to upgrade images.
Neural networks: Neural networks are machine learning algorithms that AI uses to learn complex patterns, such as features of an image.
Deep learning: Deep learning is a type of machine learning that uses artificial neural networks to learn from data, and use it for image upscaling.
Generative adversarial networks (GANs): GANs are a type of deep learning algorithm that can be used to generate realistic images similar to the original one.
Factors to Consider When Choosing an AI Image Enlarger
When choosing an image enlarger, keep the following aspects in mind:
1.Image Quality Improvements
The AI image upscaler should produce clear, sharp, and authentic-looking images. You can confirm this by comparing the results of the tool with the original image or other AI image enlargers to assess the quality. Preserving image authenticity while enlarging is critical to ensuring your image portrays the same image. Some AI enlargers tend to be more aggressive while others are conservative in image enhancement. Therefore, your choice should be informed by the results that you want. For instance, if you are enlarging a damaged or old photo, you may choose an AI image enlarger that can clear noise.
Ease of use and user interface
AI image upscalers can range in complexity, and it is important to choose a tool you are comfortable using. If you are new to AI image enlargers, you may find automatic tools more ideal. They allow you to enlarge your image with a single click. On the other hand, those familiar with AI image enlargement can choose more interactive tools such as enlargers with drag-and-drop functionalities and options to edit the mage manually. Choosing an intuitive and accessible interface will give you more control over the image enhancement process.
3.Speed and efficiency
When choosing an AI image enlarger, go for a tool that can process images swiftly without compromising quality. Make sure you measure the processing time for individual and batches of images so you can accurately evaluate the speed. The more efficient the image enlarger is, the easier your work as a professional will be. You also need to look at the range of options or features provided for upscaling the image. This could include scaling factors, enhancement modes, smoothing modes, and format options.
4.Supported formats and resolutions
Before choosing an AI image enlarger, make sure it is compatible with your image format. Not all AI image enlargers support all image formats and resolutions. And in any case, you will want a tool that makes your work easier and produces the desired outcome. With flexibility in mind, choose a tool that will support your specific image. For instance, you may already have a high-resolution image. Can the AI image enlarger handle it? Will it be able to enlarger it further for your specific needs? Such questions will help you choose a tool that resonate with the exact needs.
5.Additional features
Some AI image enlargers offer additional features to the basic image enhancements. Common functionalities include batch processing, denoising, and style transfer. These features can add value to the enlarger tool, giving you more value in your editing projects. For instance, batch processes allow you to enlarge multiple images at once while denoising removes noise and grain from images. On the other hand, style transfer allows you to automatically apply the style on one image to another.
6.Pricing and accessibility
Price and accessibility are major concerns as the cost of using AI image enlargers can vary widely. You will find a choice of many free-to-use enlarger tools, but others can be quite expensive. If you are on a budget, you may consider some of the affordable options such as Imagewith.AI. However, professional tools will usually require a subscription to advanced tools.
Top AI Image Enlargers in the Market
1.ImageWith.AI
ImageWith.AI is an AI-powered image editor that enhances our images with ease. With this tool, you can seamlessly upscale your images, erase debris, remove background, and more.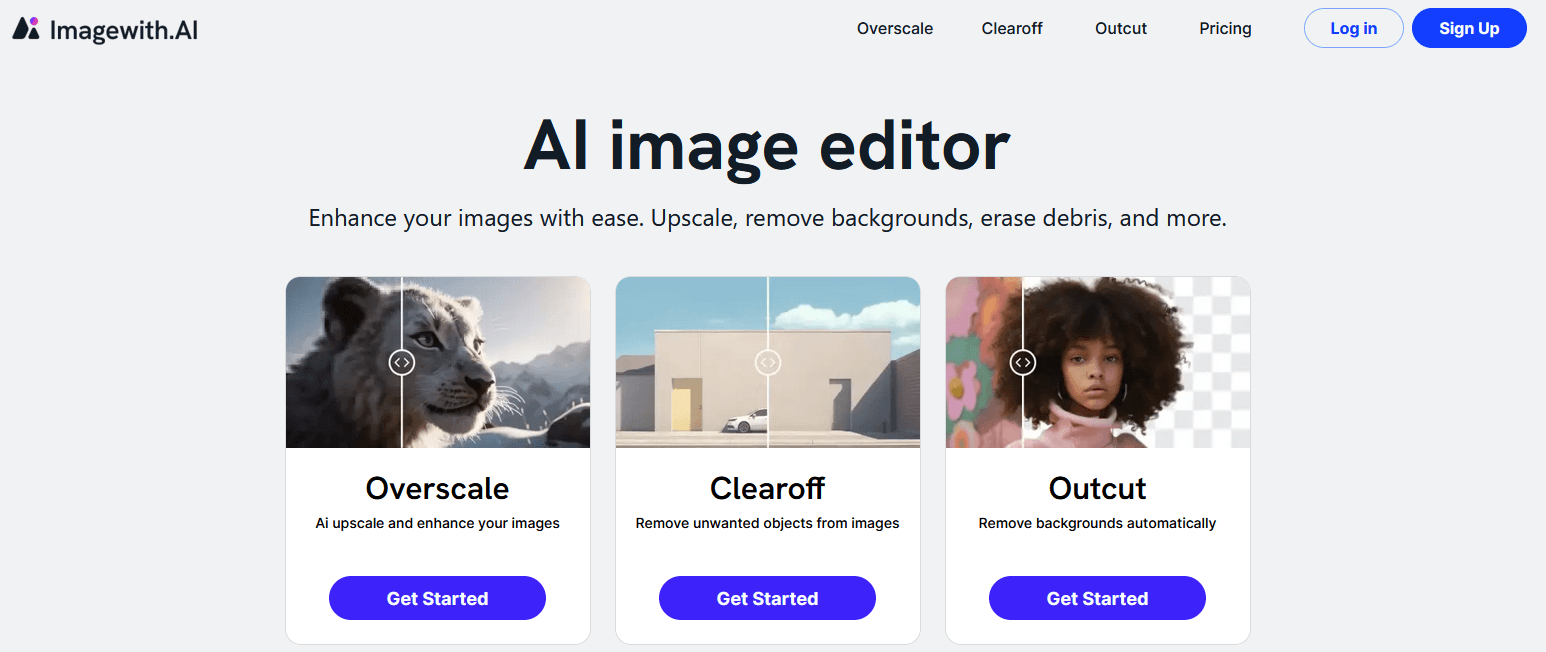 Key Features and Capabilities -Sharpens blurry images -Increases the resolution of low-quality images -Removes noise -Colorizes old black-and-white photos -Remove backgrounds from images -Batch processing of images
Unique Selling Points
ImageWith.AI is powered by AI, allowing the tool to automatically enhance your images without any manual intervention.
The easy-to-use is friendly to beginners and results are processed quickly
ImageWith.AI is relatively affordable compared to other advanced AI photo upscalers Potential Limitations
ImageWith.AI may not completely restore heavily damaged or pixelated images.
The tool may not perfectly replicate the original colors of old black-and-white photos
It may introduce some artifacts or distortions to the images ImageWith.ai is a powerful AI photo enlarger that can be used by both beginners and professional editors. You can use the tool's features to improve the quality of your images in just a few clicks.
2.Vance AI
Vance AI is an AI-powered image enlarger that upscales your images and enhances the intricate details. The tools also reduce noise to produce crisp and clear visuals that captivate the audience.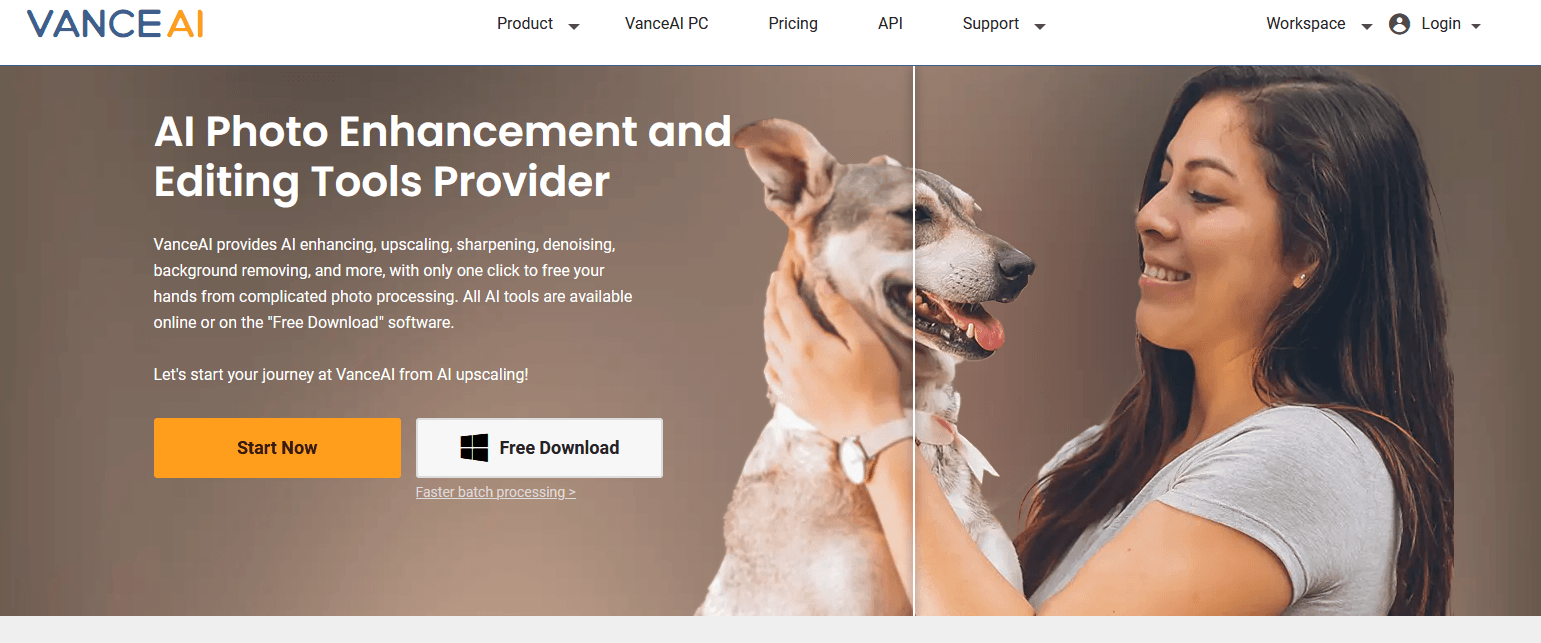 Key features and capabilities
AI upscaling: Upscale images by up to 40x without sacrificing quality
Image sharpening: Sharpen images to improve clarity and detail
Image noise removal: Remove noise from images to improve clarity and reduce graininess
Image color correction: Adjust the colors in images to improve balance and contrast
Background removal: Remove the background from images to use in collages or other projects
Unique selling points
Vance AI uses AI to provide high-quality image editing and enhancement results.
Its wide range of features and capabilities can be used to improve the quality of images for a variety of purposes.
The free plan makes Vance AI a good option for those who are starting out with AI-powered photo editing.
Potential limitations
Vance AI algorithms may not handle all types of images equally well.
The platform's paid plans can be expensive for some users. Vance AI is ideal for website owners and professional designers who want their images to stand out among the competition. The software comes with a range of tools to enlarge and enhance your images for various uses.
3.Media.io
With Media.io, you can optimize your images instantly to achieve a more visually appealing look. The free online platform offers a variety of tools for editing and enlarging images and converting them to desired formats.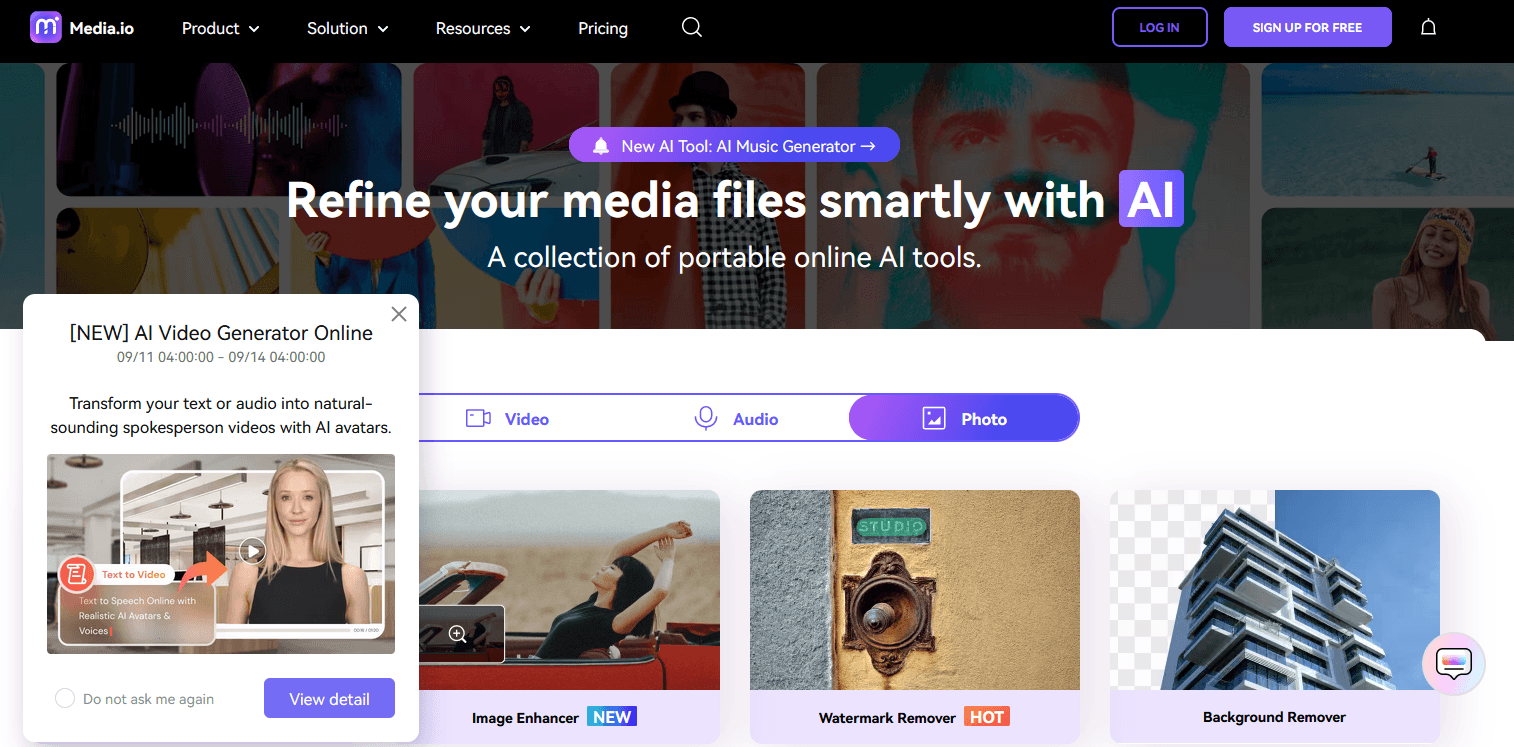 Key features and capabilities
Image editing: Enhance and resize your images
Video and Audio conversion: Convert videos and audio to different formats
Image conversion: Convert images to different formats and sizes
File compression: Compress image files without losing quality.
Unique selling points
Media.io is a free online service with no registration required.
It supports a wide range of file formats, and offers a variety of editing tools.
The platform is easy to use and does not require any technical knowledge to produce high-quality results.
Potential limitations
The file size limit for some tools is 2GB
Some features are not available in the free version.
The conversion and compression speeds may be slow for large files
Media.io is lauded for its efficient compression algorithm that can reduce image file sizes without compromising image quality. This means that your website will load quality while offering the same high-quality in visual appeal to improve user experience and search engine rankings.
4.Cutout.pro
Cutout.pro is a powerful image enlarger that is designed to seamlessly remove backgrounds from images. The tool is useful when creating eye-catching graphics and making your photos stand out.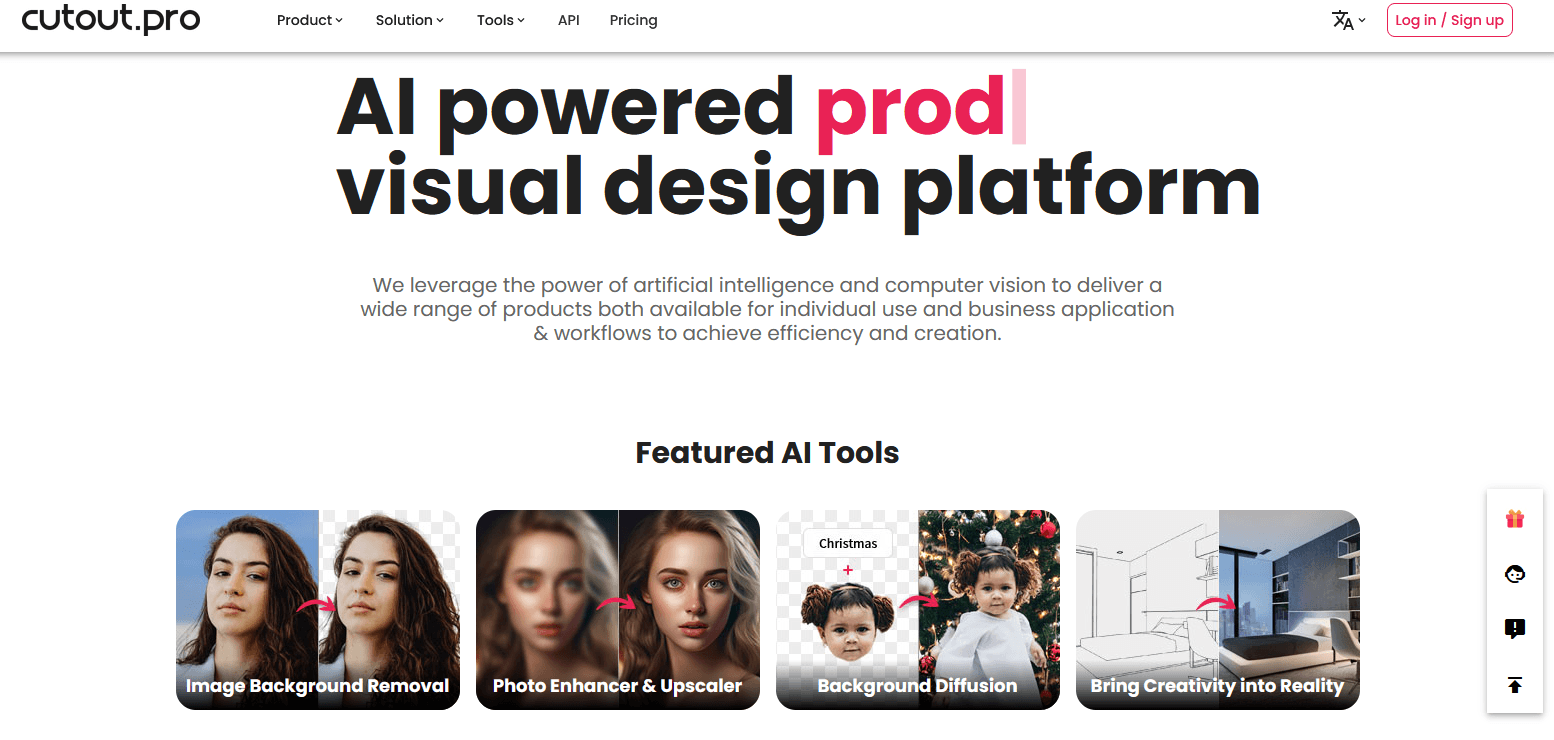 Key features and capabilities
Photo enhancer: Improve the quality of images by increasing their sharpness and contrast
Background remover: Automatically remove the background from photos to leave only the subject
Face cutout: Automatically cut out faces from photos to leave only the hair and shoulders
Image upscaler: Increase the resolution of photos to make them look sharper and clearer
Photo colorizer: Colorize black and white photos
Photo animer: Turn photos into animated GIFs
Unique selling points
Cutout.pro uses AI technology to automatically remove backgrounds and cut out objects from photos.
The platform produces high-quality results, with smooth edges and accurate cutouts.
Cutout.pro is easy to use, even for beginners. You only need to upload your photo, select the desired tool, and click "Apply."
You get access to a wide range of features to achieve the desired photo quality. Potential limitations
Not suitable for complex editing, such as manual background removal or object removal.
May not work well with all photos, especially those with complex backgrounds or objects.
May require manual adjustments for complex images.
Cutout.pro has an advanced algorithm that enables it to produce some of the best quality images. The tool delivers accurate and precise cutouts, giving its users the flexibility to create stunning visuals with ease.
5.Picart
Picart is a versatile image enlarger. It offers users a wide range of photo editing and design tools, including fine-tuning images and applying filters.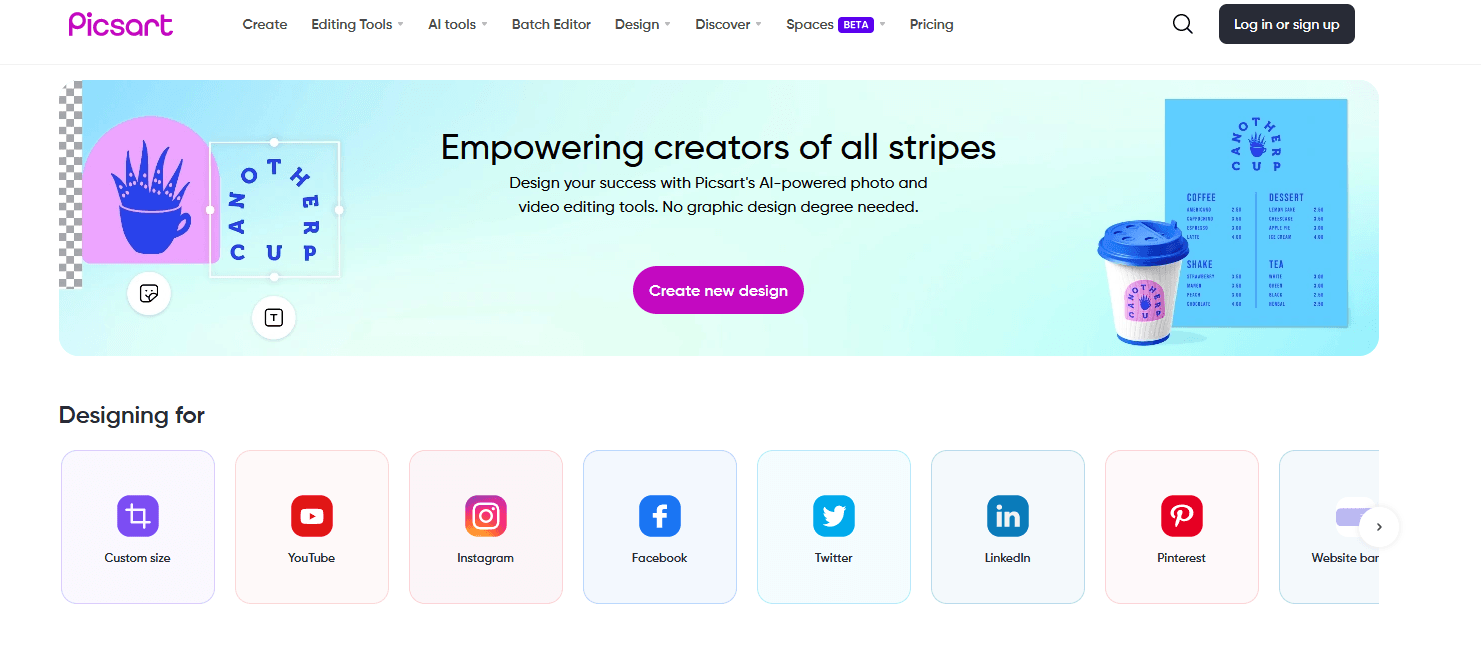 Key features and capabilities
Photo editing tools: Crop and resize your images with a few clicks
Filters and effects: Add filters and other effects to your photos
Collage maker: Create collages of your images
Drawing tools: Draw and paint on your photos
Background remover: Remove the background of your photos
Meme maker: Create memes from your images
Unique selling points
PicsArt is a versatile photo editing tool that offers beginners and experienced users a wide range of features
The easy-to-use interface makes PicsArt user-friendly
PicsArt has a freemium pricing model where it is free to download and use the software, but some features require a subscription
Potential limitations
The free version of PicsArt contains ads that can be distracting and can sometimes interrupt your workflow.
Some of the features are complex and require some time to learn how to use them.
Files created by PicsArt are usually large, which can limit their usability. Picart will produce visually stunning graphics that enhance the overall appeal of your images. The freemium mobile and web-based photo editor offers a wide range of features that make the whole process easier.
6.Letsenhance.io Lestenhance.io is a unique photo enlarger that upscales your images to higher resolutions while retaining the original quality.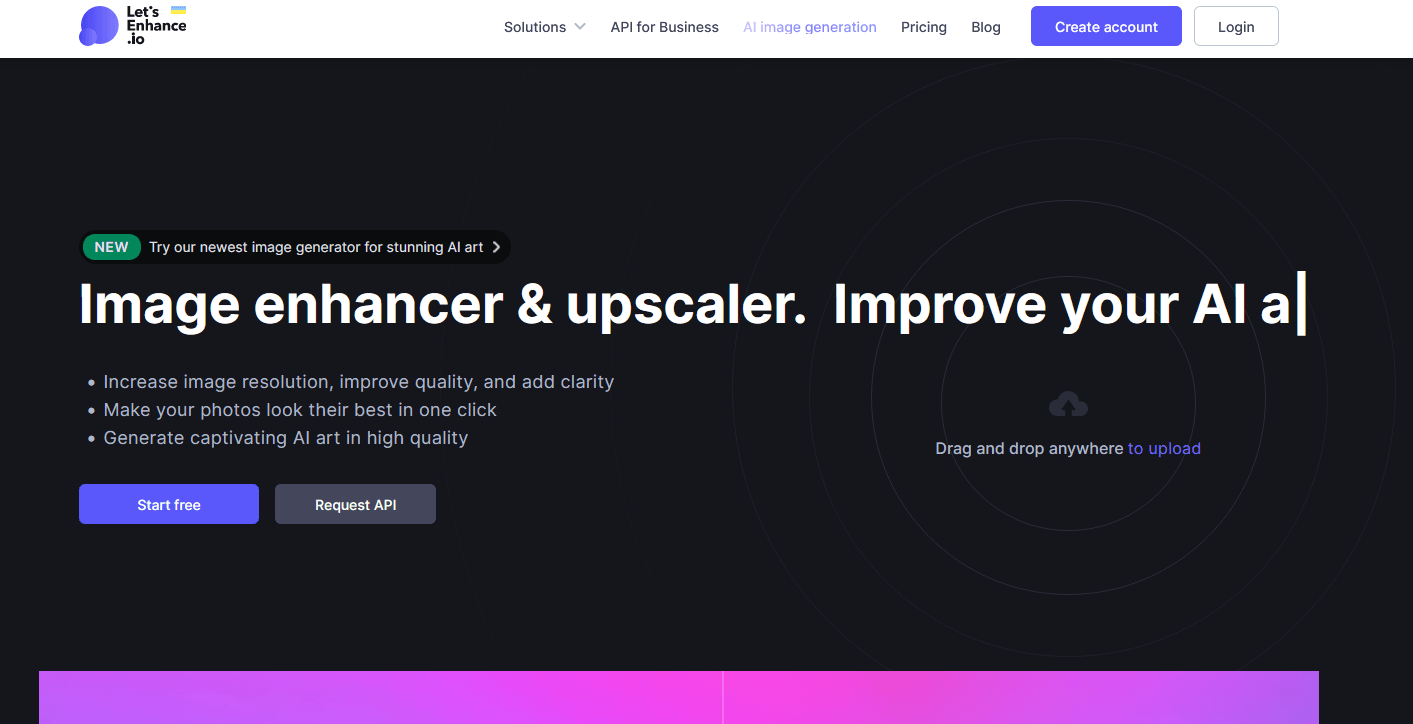 Key features and capabilities
Upscaling: Upscale low-resolution images by up to 16 times, which allows you to take a small, blurry photo and make it large and clear
Noise removal: Remove noise from photos, including graininess and blurriness to make them look sharper
Detail enhancement: Sharpen details in photos, including edges and textures to make them look more realistic
Color correction: Correct the colors in photos, including brightness and contrast for a more vibrant look.
Watermark removal: Remove watermarks from photos, especially for commercial purposes.
Unique selling points
Uses AI to automatically enhance photos, eliminating the need to manually adjust every setting
An easy-to-use platform that requires you to only upload your photo and select the desired enhancements
Relatively affordable compared to other image enlargers
Potential limitations
Can't enhance all photos, especially those that are too blurry or damaged
May introduce artifacts such as noise or blurriness to the enhanced photo.
Not as powerful as desktop software, such as Adobe Photoshop
Letsenhance.io is ideal for website owners who are interested in displaying high-quality images. The tool will retain the same clarity and sharpness in your visuals, and enhance the overall aesthetics of your website.
Case Studies and Real-World Examples
AI photo enlargers have been used in various real-world cases to enhance the appearance of images. This includes improving the quality or removing blurriness to precisely upscale to higher resolutions. Here are a few real-world examples where AI image upscalers have been used:
1)Restoring Old Photos AI image enlargers have been used to restore old photos that have been degraded or damaged over time. This is achieved by removing noise or grain from the images and repairing tears or any scratches to sharpen it.
2)Enlarging Low-Resolution Images AI image enlargers are effective in enlarging low-resolution images without losing quality. They generate new details and textures that are consistent with the original image.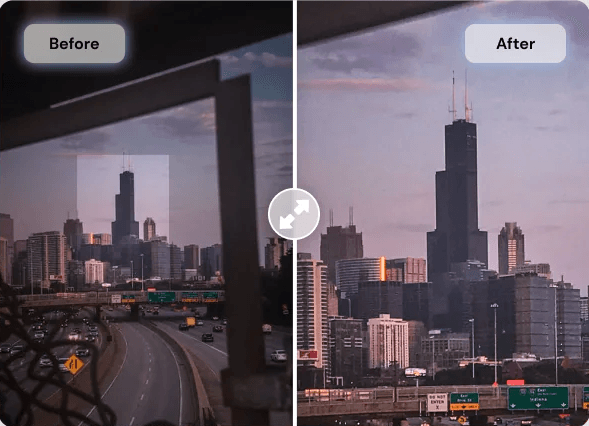 3)Upscaling Images for Printing AI image enlargers quickly upscale images for printing by increasing the resolution of the image so that it can be printed at a larger size without losing quality.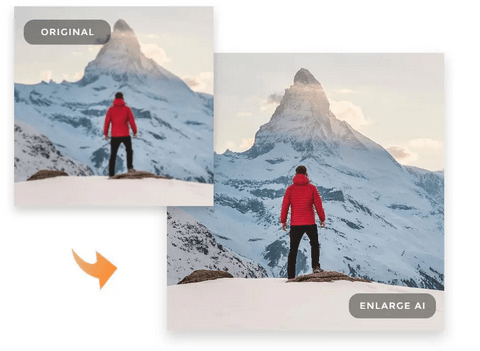 4)Creating high-quality images for websites and social media AI image enlargers automatically create high-quality images for websites and social media. They improve the overall quality, giving audiences a more visual appeal.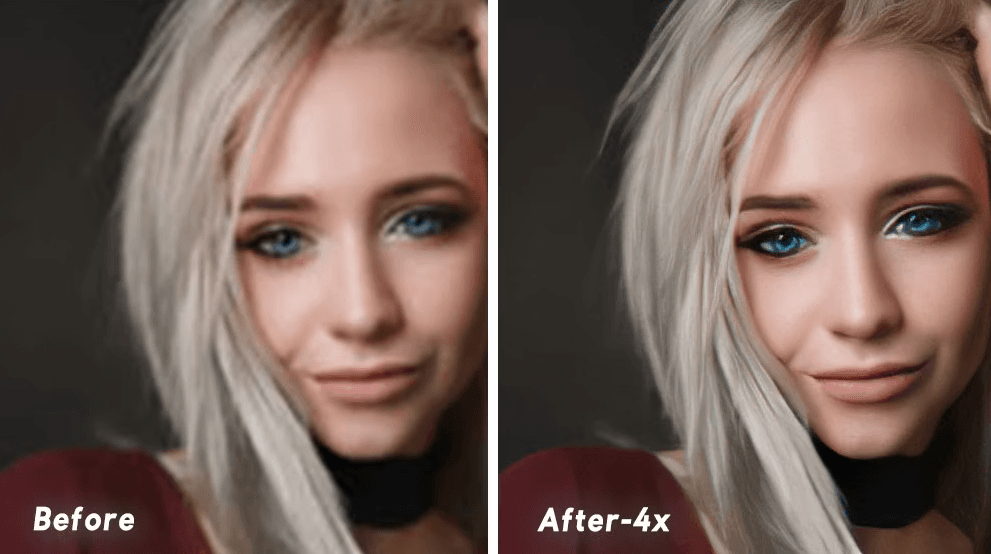 Choosing the right AI image enlarger is critical to getting the results you want with your photos:
Step 1: Consider your specific needs and image enlargement goals The first thing you need to consider is the purpose of using an AI enlargement tool. What are you using the AI image enlarger for? Are you interested in old photos or perhaps you want to enlarge low-resolution images? Probably, you only want to upscale images that you can print for advertising or posting on your website. Being clear with your goals will help you shortlist the tools to work with.
Step 2: Read reviews and compare different AI enlargers With so many AI image enlargers available, it can be confusing which is the best one for your needs. To ease your struggles, do your research and compare different options. Read reviews from other users to get an idea of the pros and cons of each enlarger before choosing any.
Step 3: Test and evaluate different AI enlargers With a short list of the possible tools to use, it is not time to test and see how each performs. Start by uploading your images on these tools and process for results. You should be able to clearly see how far or close the results of each are toward to desired goals.
Step 4: Check the Price and Feature AI image enlargers range significantly in price. Check the price of each and the features of each to find out which fits your budget ad purpose.
Step 5: Choose an AI Image Enlarger with a good user interface The AI image enlarger you choose should have an easy-to-use and understandable interface. You should be able to easily upload your images and seamlessly generate results.
Tips for Testing and Evaluating Different AI Enlargers
Before settling on an AI image enlarger, make you to test and evaluate it for usability. Your choice should be able to give you the results that you want and provide multiple features for different projects. Consider the four tips:
1.Test the AI image enlarger with several images. This will give you a good sense of how the enlarger performs. Be sure to include images with different resolutions and subjects.
2.Set a specific goal for each test. You may improve the image quality and enlarge it in another. This will help you determine whether the tool is giving you the results you want. It could also be to remove noise or retouch the overall look.
3.Compare the results side-by-side. Before settling for any tool compare it with others to see the differences in the outcomes, and only choose the best.
4.Test speed and efficiency of the enlarger. If you are going to enlarge a large number of images, consider choosing an AI image enlarger that is fast and efficient
Conclusion
Image enlargement is a game-change whenever you want to use your photos. With advanced AI photo enlargers at your disposal, you can automatically elevate your images to leave your audience captivated and eager for more. Embrace the power of image enlargement and witness the transformation of your business or website into a visual masterpiece. Among the highlighted AI image enlargers, ImageWith.AI stands out as an affordable and advanced tool. You can use the enlarger to enhance your images and get quality results almost instantly.