Have you ever needed to remove an annoying watermark from a video or a photo? It's common to end up with watermarks slapped on your own videos just because you used an online editing tool or because of another issue.
Thankfully, there are plenty of ways to remove watermarks from videos, even when you're using a phone. The real problem is trying to figure out which mobile app is going to give you the best results.
We will list the top 8 best mobile apps for watermark removal in this guide, and give reasons why you might want to use each one. Every app has its own benefits and drawbacks. To get the results you want, you need to understand what those pros and cons are!
Top 8 Best Mobile Apps to Remove Watermark from Videos and Photos in 2023
1. Picsart Studio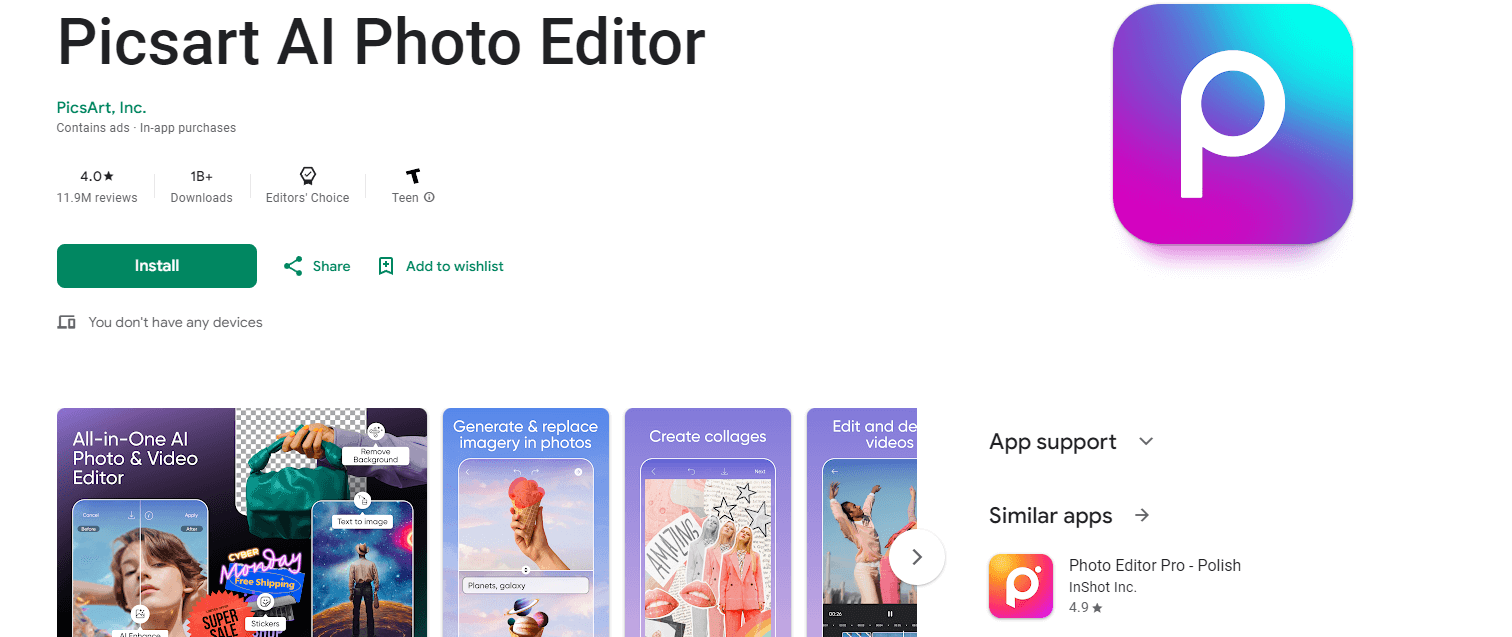 Picsart Studio isn't just a great choice for removing a watermark from a video or photo, but it's a viable option for graphic design. It has a full suite of editing options, including background removal, adding text, image transformation, and filters. You can even draw within Picsart.
However, it doesn't have some higher-end features like transitions or VFX. You can use the Picsart Object Remover tool to get rid of the watermark if that's all you want to do, and it works well. It's an AI tool and is well-trained to remove the watermark seamlessly.
The free version of Picsart has advertisements, but they aren't very intrusive. You will also be barred from using certain tools. To get the pro version of Picsart, you can pay either $11.99 monthly or $4.66 monthly if you buy a yearly subscription.
2. Remove & Add Watermark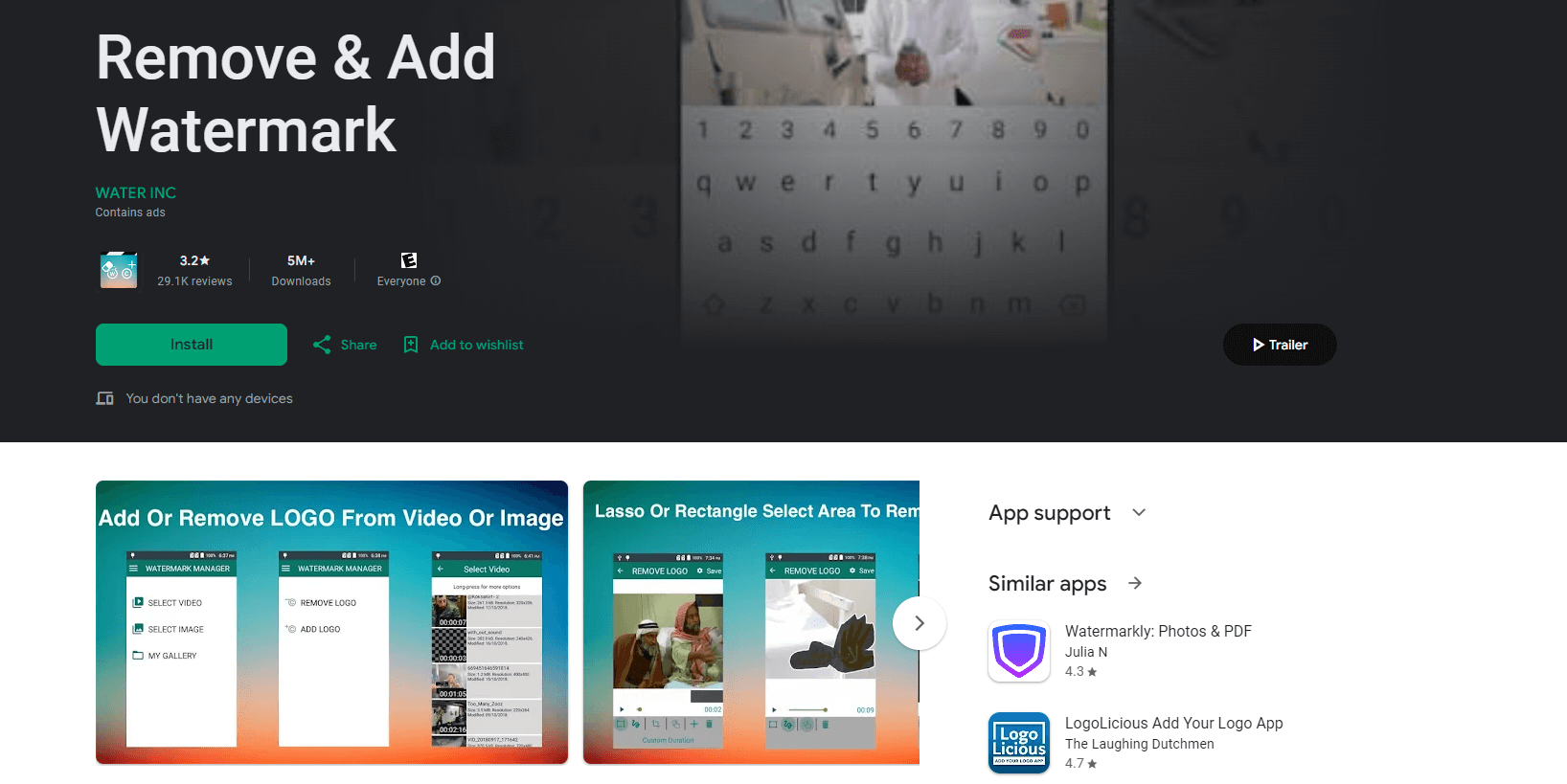 For a quick fix, the Remove & Add Watermark app is worth the download. You can add watermarks to your own videos or remove unwanted watermarks, text, and other markings from your video.
The main limitation with this app is that you should ideally use a shorter file. The longer the file, the harder it is for the app to process watermark removal throughout the video. For a free app, the ads are mostly unobtrusive and you have full access to the tools without payment. That's a great benefit considering how well the app works!
Remove & Add Watermark works best over certain backgrounds, like solid colors, skies and clouds, or other non-detailed objects. It will have a difficult time removing the watermark when placed over text– but that's pretty common amongst watermark removers anyway.
3. Watermark Remover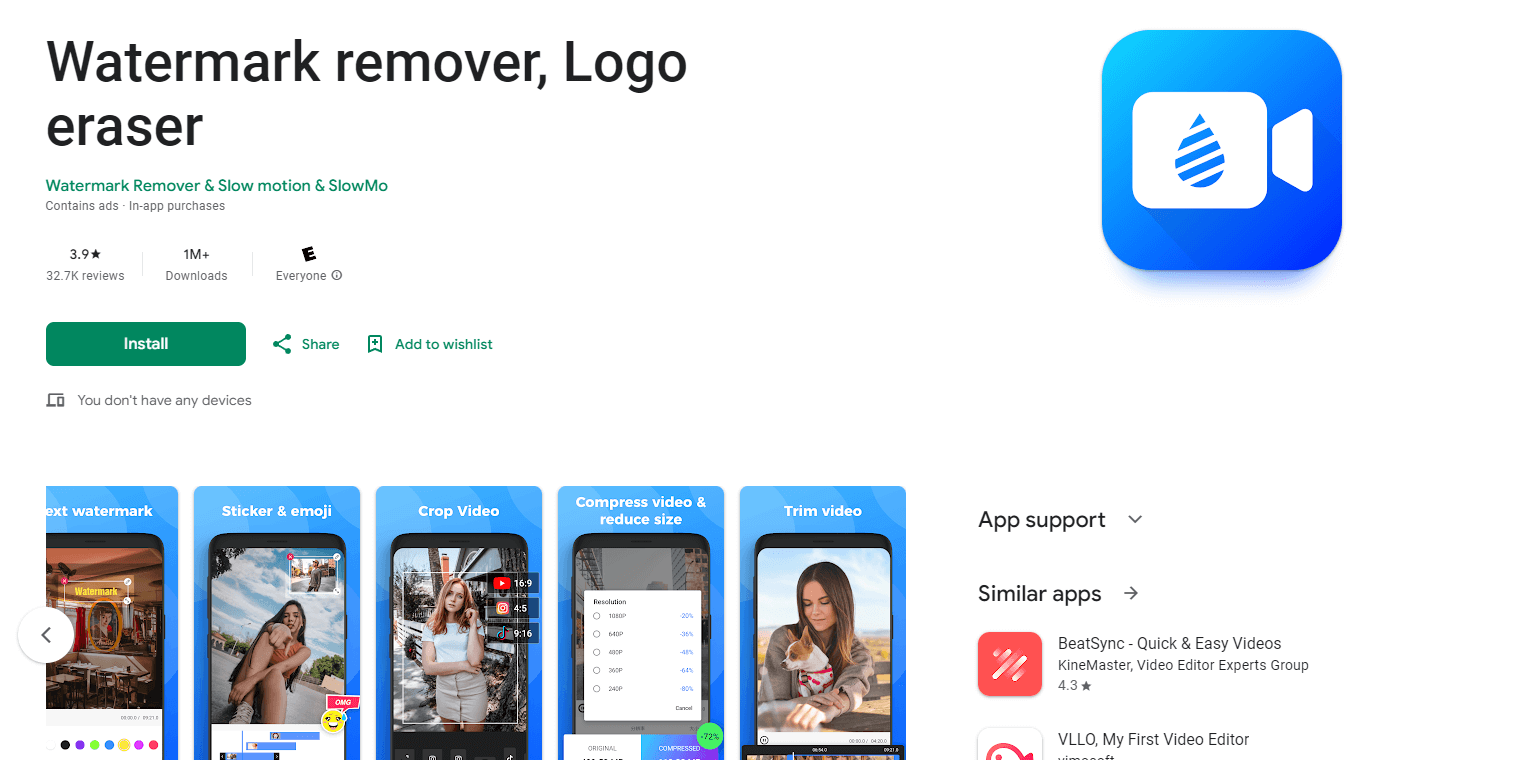 Watermark Remover has one job, and that's to remove watermarks from either videos and photos. It works fast, unlike some other apps that take their sweet time processing the video and getting rid of the watermarks fully.
You can remove 3 watermarks for free per video, which is quite lenient. There is a video quality limit of 720p unless you pay. That's part of the reason why the app works so fast for those quick videos you took for TikTok or YouTube. If you want to remove those limitations, you will need to pay a subscription fee.
To use it, you just need to draw a rectangle around the watermark in your video. There's no lengthy process, and it doesn't force you to wait to watch an ad. Overall, you can probably finish your watermark removal plans within a minute.
4. Watermark Remover.io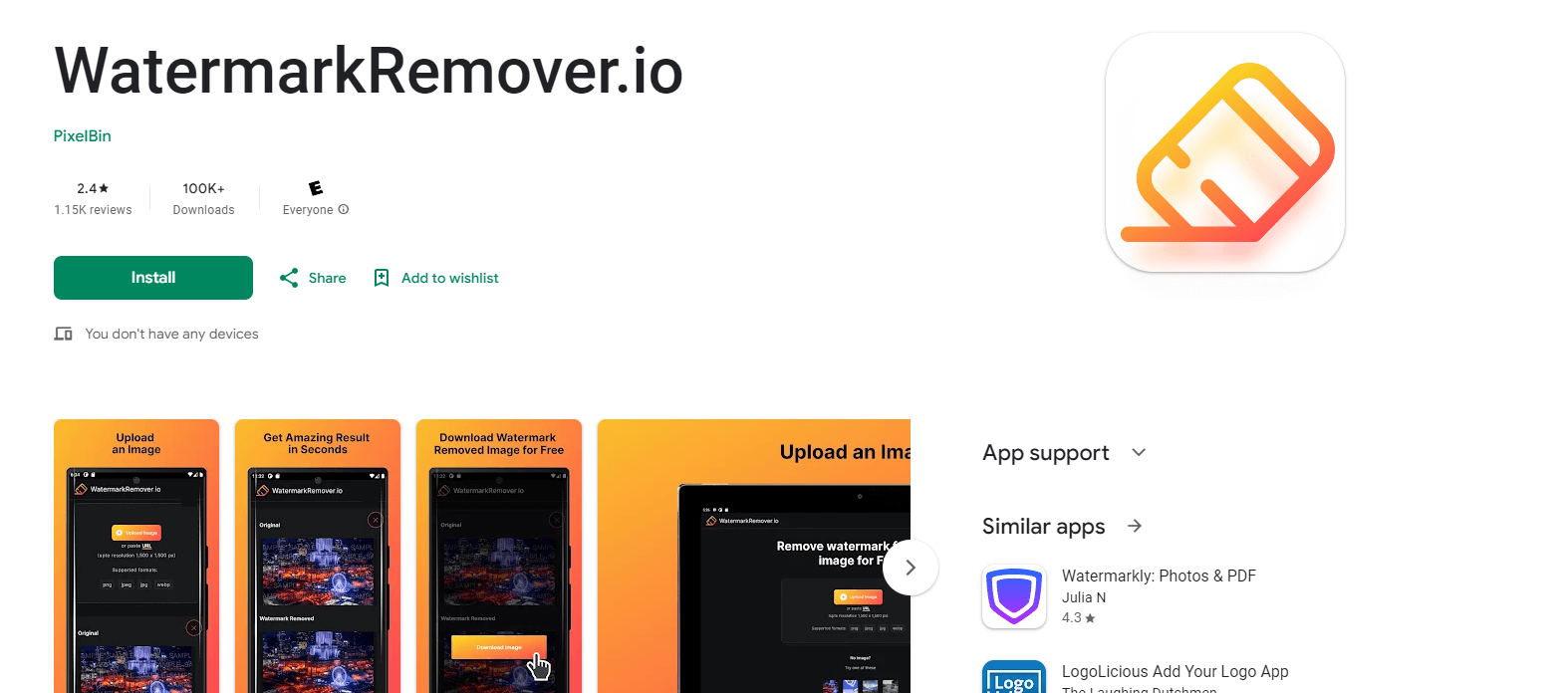 As far as clean, seamless watermark removal goes, Watermark Remover.io is a winner. It can remove watermarks even from complicated backgrounds, like the roller coaster in the theme park photo you want to de-watermark.
Just like every watermark remover, some extremely complicated backgrounds can slip through the cracks. Still, Watermark Remover.io will work just fine– especially for personal use. The only issue is that there might be stray marks or a slight wobble effect, but it's not very noticeable and is rare.
For a tool this good, you can expect stronger limitations on how much you can use it without paying. There is a daily quota of 2 pictures or videos every day.
5. Video Saver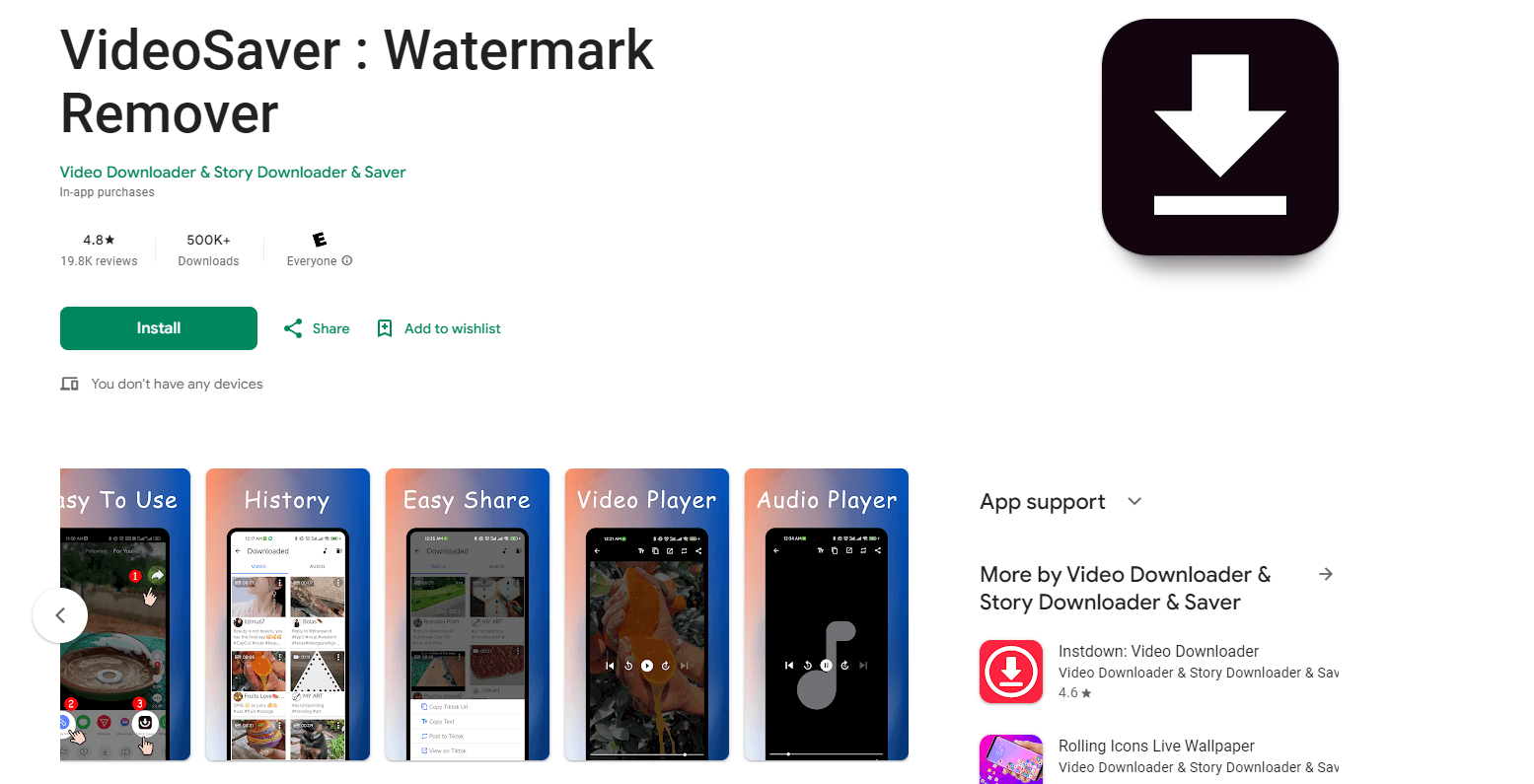 Video Saver does exactly what its name implies: saves your videos from unwanted watermarks or text. In addition to removing watermarks, you can also convert video to audio.
You have full access to all of Video Saver's tools without paying anything. The caveat is that there will be some ads, but it's not a severe issue. Plus, you can pay just $1.99 monthly to remove ads.
A major highlight of Video Saver is that it can be used with TikTok to watch videos without having an account. Since the TikTok watermark will be removed, the videos can be watched comfortably and easily.
As a result, Video Saver doesn't work too well with longer videos. It's designed for use with short form videos only.
6. Video Object Watermark Remover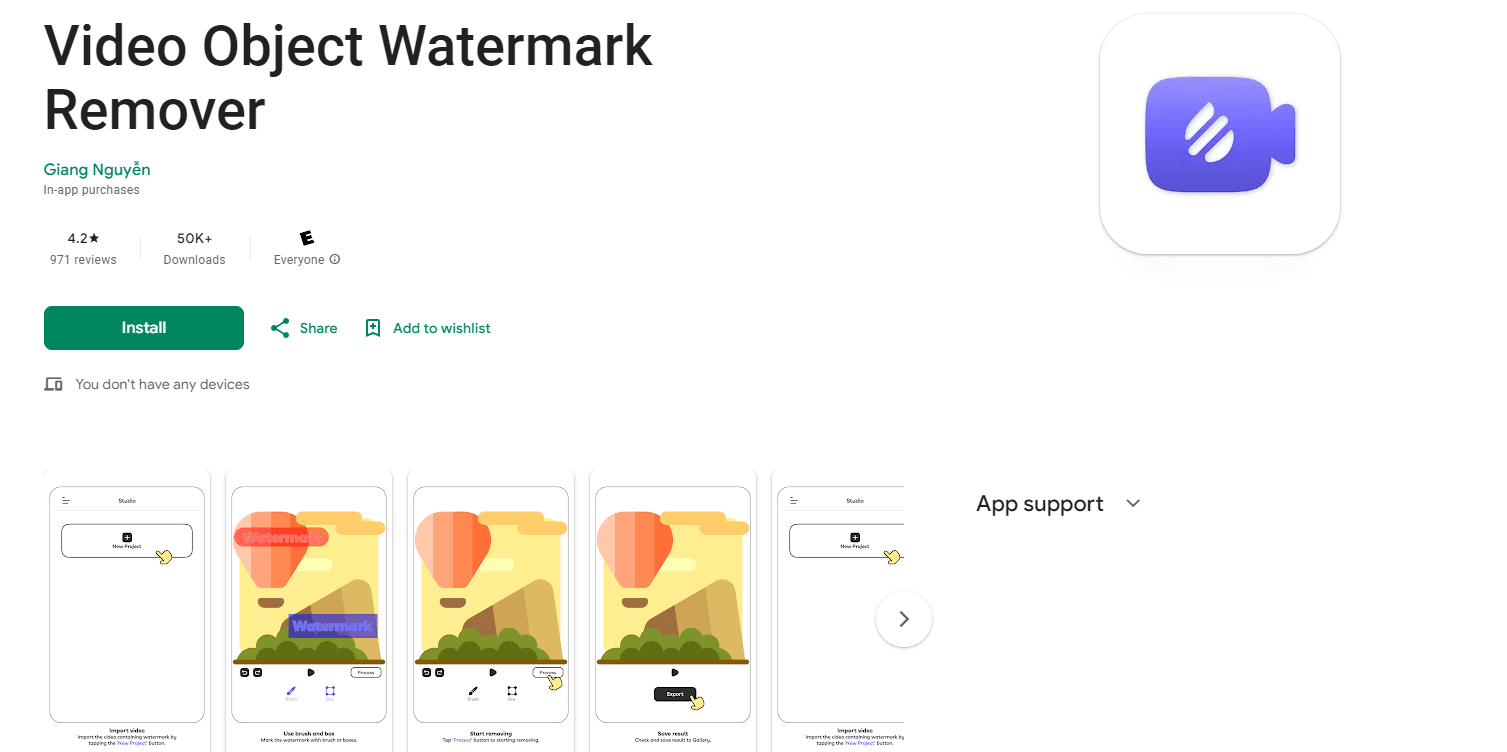 Video Object Watermark Remover might have a basic sounding name, but it's far from basic in how well it can remove watermarks. It's one of the few apps that will result in absolutely no blur or desaturation, even when the watermark is over a complex background.
After using the Video Object Watermark Remover, it will seem like the watermark was never there at all. If you want, you can also use it to remove unwanted objects or people in your video.
The main downside is that it will cost you money to get full access to this amazing tool. There is a brief free trial, but it only works for very short videos. You can only edit 5 minutes of a clip for $1. As you can imagine, it can add up if you are trying to edit a longer video.
7. Photoroom App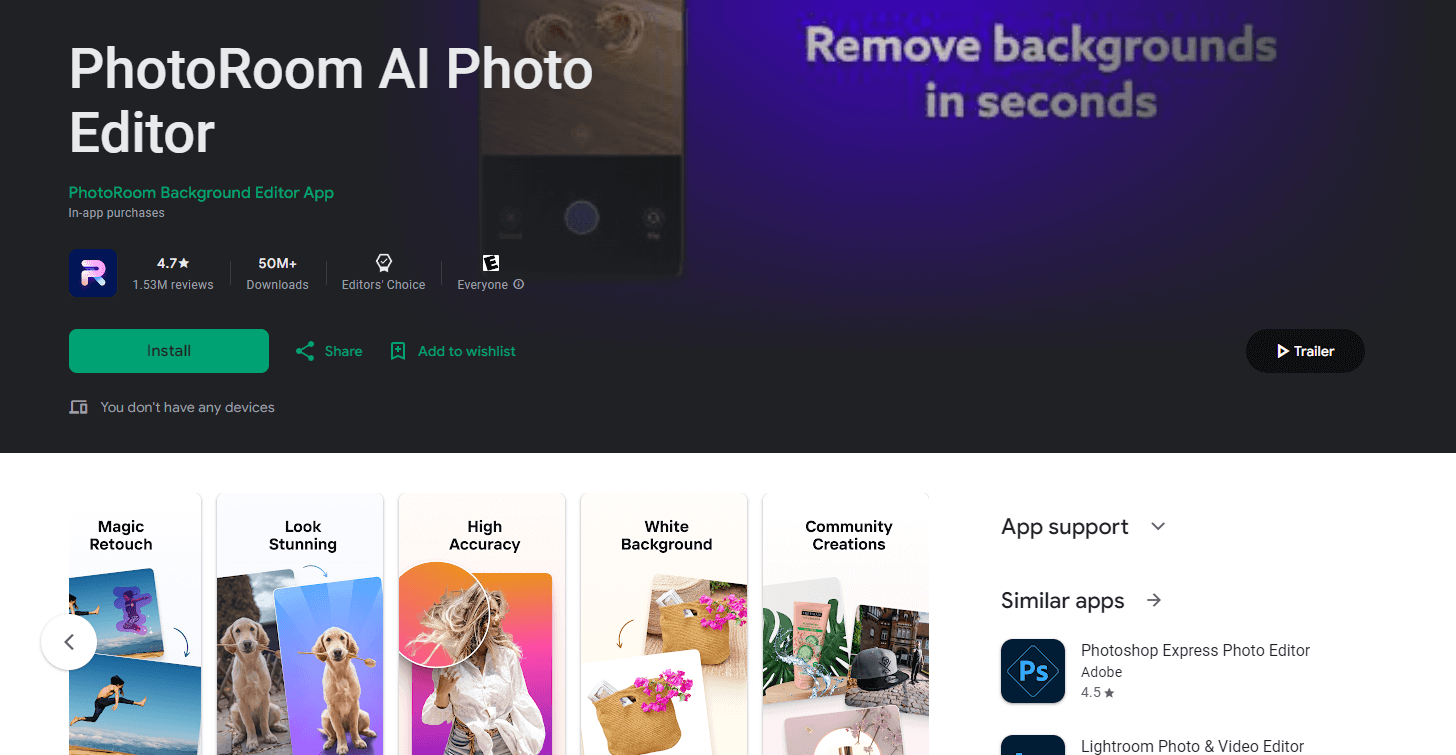 Photoroom App is by far the most complete editing suite on this list. You can remove watermarks, but you can also remove backgrounds, change them around, cut out main subjects, add text or graphics, and so much more. If you're creating graphics, you can complete them from start to finish within the Photoroom App.
It's a very popular option amongst small business owners who can't afford hiring a professional photographer. It makes sense, since you can do a lot more than remove watermarks! In fact, you can add them, too.
As a full editing app, you will need to pay the price. Photoroom App costs almost $100 annually for a subscription. We suggest trying out the app and exploring all of its tools. If you like what you see and you plan on using it a lot, then it might be worth it to you.
As an extra bonus, the developers are always adding new features to make it worthwhile. Recently, they've expanded how many AI tools and options are available in the app.
8. Remove Watermark, Easy Retouch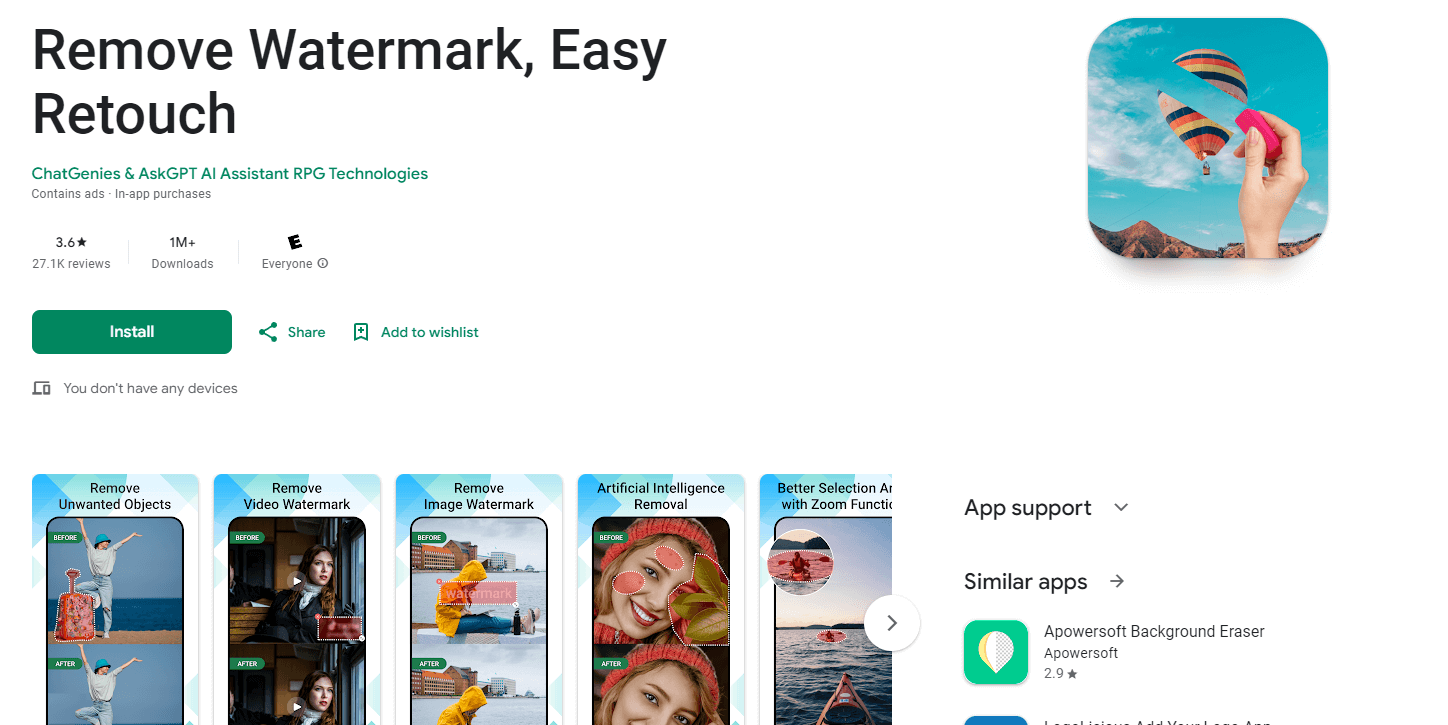 You can use Remove Watermark, Easy Retouch to get rid of watermarks fast, and clean up your video at the same time. It works for both photo and video, which is a major benefit if you have multiple projects to edit.
If you are using the free version, you will need to watch ads twice to edit one photo. They are relatively short ads, but it can quickly get out of hand if you are trying to use the app more seriously. At that point, you should opt for buying the Pro Plan.
The watermark remover and retouching works by applying a soft blur effect to the area over the watermark. To minimize the "messy" effect this can have over a large watermark, you should erase the watermarks in small pieces. With a little finesse, you can get as much value out of this free app as you can get out of expensive premium apps.
Frequently Asked Questions
Is there an app to remove watermarks from videos?
There are lots of apps you can use to remove watermarks from videos, for both iPhone and Android devices. Many apps will actually allow you to remove watermarks from photos and videos as well as do simple editing.
What is the best app to remove watermarks from video?
The best app for removing watermarks from a video is Video Object Watermark Remover. It can remove watermarks the most seamlessly, without a lengthy process or long loading times.
However, the best app for removing watermarks and completing other edits is Picsart Studio. It has significantly more editing tools, but with an easy to use UI. Video Object Watermark Remover has no editing tools aside from removing objects.
How do I remove a watermark from a video?
You can remove a watermark from a video using either online software or a mobile app. Most of these tools work with AI, allowing you to simply select, draw, or tap the watermark you want to remove. Then, you can sit back and let AI do the rest.
How can I remove a watermark on mobile?
You can remove a watermark on mobile by downloading an app such as Video Object Watermark Remover. These apps will use their own algorithms to quickly get rid of a watermark, ideally without leaving any artifacts behind.
Conclusion
It can be difficult to find AI that just works, but that's exactly what Imagewith.AI's collection of AI tools do. Whether you want to remove objects or watermarks from a photo with the Clearoff toolor remove a background with the Outcut tool, Imagewith.AI can get the job done.
You can even try the Overscale tool to bump up the size of your photo so that you can easily use it in graphic designs elsewhere.