Professional photographers do not just shoot photos; they also edit photos during post-production. Let's face it — editing photos is time-consuming work.
Wouldn't you rather spend that time doing what you do best, like covering more photoshoots with your clients? Or maybe spending your days off with your friends and family?
Good thing you can outsource these photo editing services to service providers!
Through outsourcing, you give your clients the best collaboration experience, from the seamless photoshoot to the quick turnaround time of pro-quality edited photos.
In this article, you'll find the best photo editing services to which you can outsource your post-production work. What you're searching for is all here — their industry experience, pricing, and the list of services available.
Here's a snapshot of the 10 best photo editing services we're going to explore:
Company

Pricing

Available Photo Editing Services

Clipping Path India

$0.49 - $27.99 per image

Clipping path
Image masking
Image retouching
Ghost mannequin effects
E-commerce photo retouching
Photo manipulation
Wedding photo editing
Raster to vector
Logo design services

FixthePhoto

$2.50 - $30 per image

Portrait and body photo retouching
Wedding photos
Newborn photos
Product photos
Jewellery photos
Real estate photos
Photo manipulation
Photo restoration

WeEdit.Photos

$0.06 - $12 per image

Photo retouching
Wedding photo editing
Photo correction
Photo culling
Glamour retouching
Background removal
Photo post-production

ProGlobalBusinessSolutions

$0.06 - $25 per image

Clipping path services
Photo retouching
Photo restoration
Real estate photo editing

Color Experts International, Inc.

$0.49 - $24.99 per image

Background Removal
Professional photo retouching 
Photography post-production
Creative editing
Vector illustration and conversion

Pixelz

$0.95 per image / $95- per month

Background removal
Retouching
Clipping paths
Color match
Invisible mannequin
Shadows

Ephotovn

$0.30 - $8 per image

Photo retouching
E-commerce photo editing
Jewellery photos
Real estate photos
Wedding photos

Fotofigo

$20.29 - $200.19 pricing package

Portrait retouching
Photo enhancement
Event photo editing
Real estate photo editing
E-commerce photo editing
Photo manipulation

SmartPHOTOEditors

$0.5 - $1.50 per image

Real estate image enhancement
Portrait photo retouching
E-commerce image enhancement
Fashion photo retouching

Wedding Retouching

$0.06 - $12 per image

Color fixing
Background removal
Full body retouch
B&W photo editing
Family retouching
Photo montage
Ready to outsource your photo editing projects? Let's look at each of your options.

Location: U.S., UAE, Bangladesh
Pricing: starts at $0.49 per image
Best Offers: free trial, money-back guarantee, unlimited revisions, 24/7 customer support
Clipping Path India has an impressive 30-year legacy in image editing and photo retouching business. Beyond their ability to handle a staggering 5000 images daily, they are the creative minds responsible for crafting logos that grace the products of iconic brands like Vogue and Nike.
From basic background removal to logo design, their expansive repertoire of services caters to the diverse needs of photographers and businesses alike, making them a reliable partner in transforming images into captivating visual stories.
Pricing starts at 49 cents per image for a basic clipping path service and may go up to $27.99 for photo restoration services. They also offer a 50% discount for bulk orders. First-time customers can also take advantage of their free trial offer — send a maximum order of 2 photos for any photo editing service for free.

Location: U.S.
Pricing: starts at $2.50 up to $30 per image
Best offers: 24-hour turnaround time, bulk order discounts
With roots going back to 2003, Fixthephoto is a trusted agency for its fast, affordable, secure, and high-quality photo retouching services. Their team of over 90 experts has provided a reliable haven for both beginners finding their footing and seasoned photographers looking to outsource their editing workload.
Their extensive portfolio covers everything from timeless portraits capturing raw emotions to meticulously edited product photography that leaps off the screen. Prices start at $2.50 per photo with a 15% discount for bulk orders exceeding $600. Loyal customers are generously rewarded with a discount of up to 30%.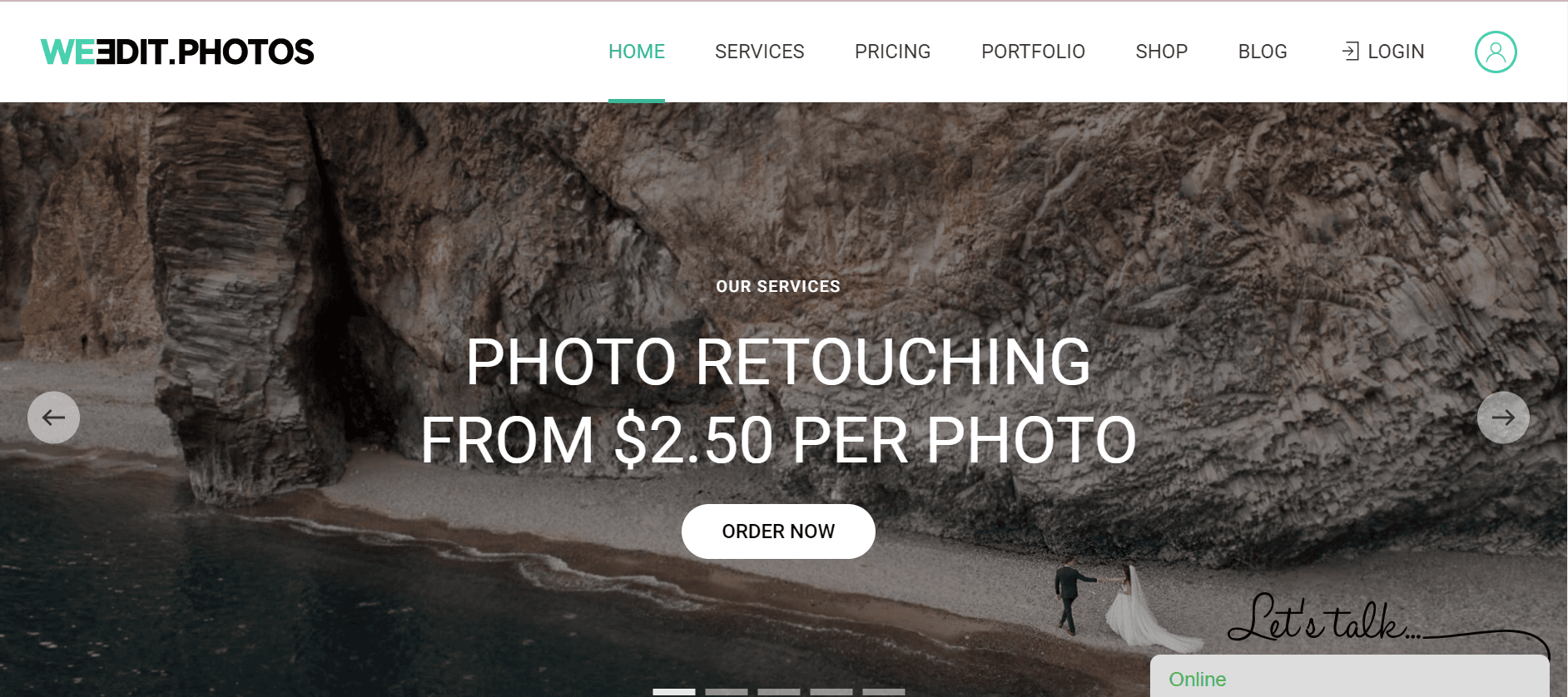 Location: Offshore/Remote
Pricing: starts at $0.06 up to $12 per image
Best offers: 24-hour turnaround time for rush orders, 24/7 client support
The mantra at WeEdit.Photos are simple yet powerful: "You shoot, we edit photos."
Since 2003, this dedicated team has been delivering edited photos promptly, specializing in the artistry of wedding and portrait photography. With a standard 48-hour turnaround time and an option for a faster 24-hour delivery at a slight premium, they're the dependable wingmen for photographers navigating the intricate post-production process.
Pricing packages start from $0.06 for photo culling services to $12 per image for more high-end photo editing. They also offer special wedding post-production packages for up to 700 edited images, ranging from $119 to $199.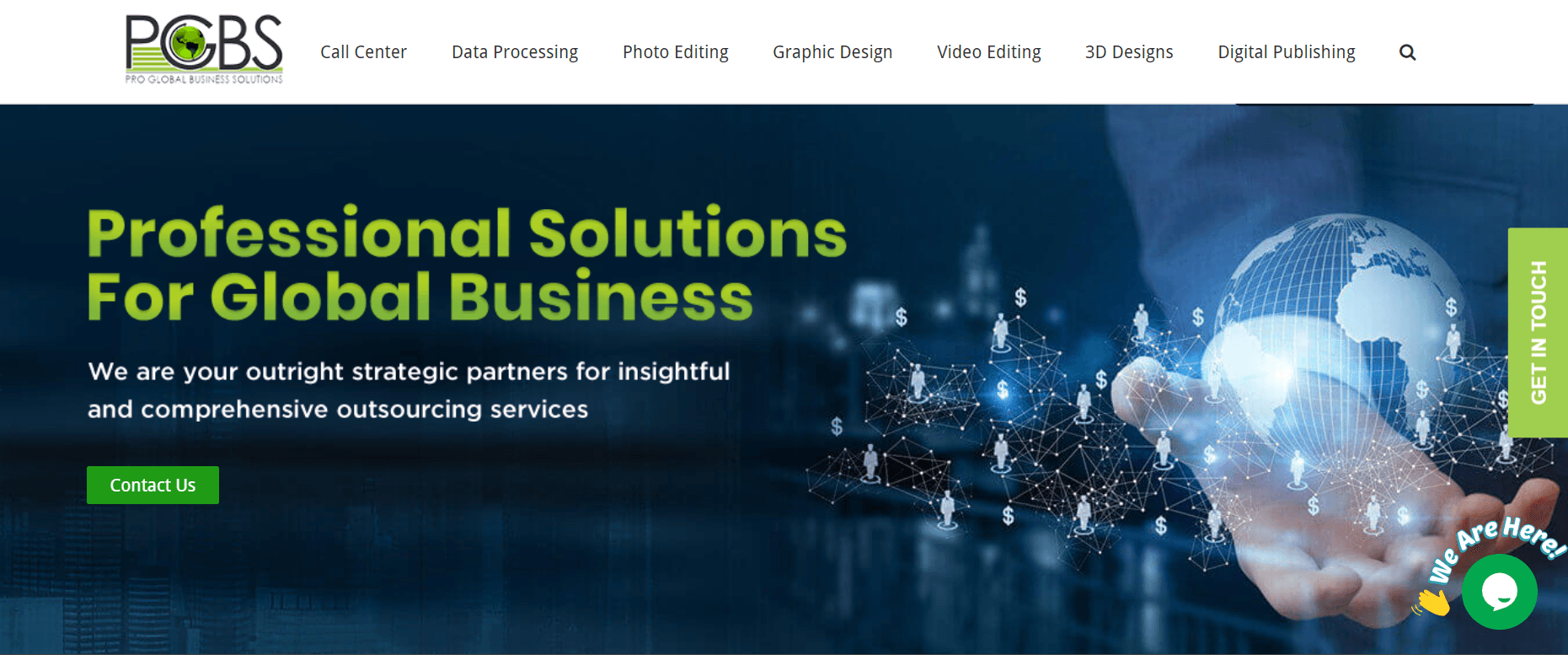 Location: India, U.S.A, U.K
Pricing: starting at $0.06 up to $25 per image
Best offers: 12 to 24-hour turnaround time, 24/7 customer support
PGBS has been a business process outsourcing company in India since 2013. With over 50 adept photo editors and dedicated project managers across more than six global delivery centers, they seamlessly handle everything from basic edits like photo culling and color correction to high-end retouching that transforms images into visual masterpieces.
Their expertise extends beyond photo editing, covering video editing, graphic design, 2D & 3D graphics, digital publishing, and call center services. If you're seeking a one-stop solution for your creative needs, PGBS is a versatile ally.
Their pricing packages are affordable, ranging from $0.06 for image clipping and product photo editing up to $25 for image restoration. If you want to take advantage of their free trial offer, you can also request photo editing services for the first time at no cost.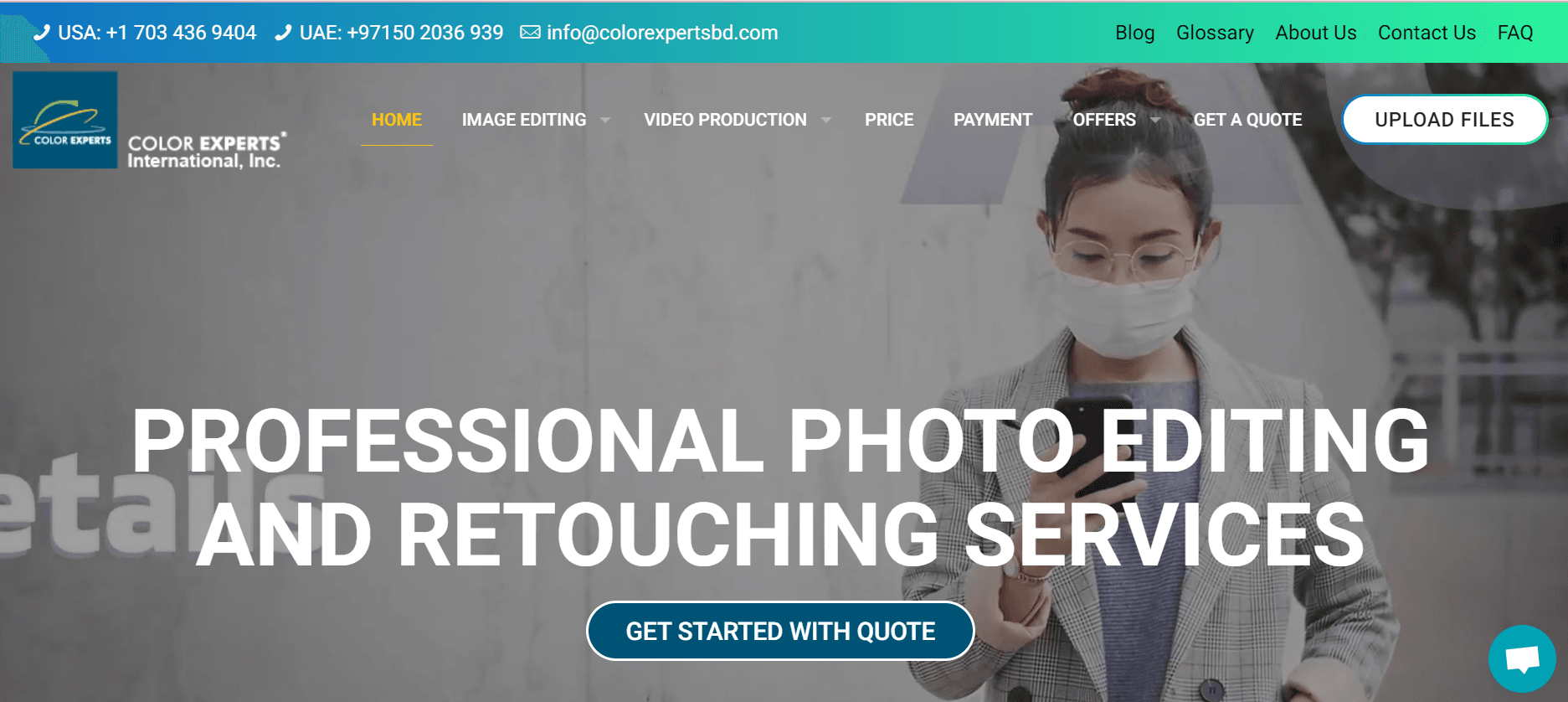 Location: U.S.A
Pricing: starting at $0.49 up to $24.99 per image
Best offers: 40% bulk order discounts, first order free for e-commerce photos
Color Experts International, Inc. is a BBB-accredited company serving top global brands like Adidas, Nike, Apple, Samsung, Tommy Hilfiger, and Hugo Boss. They offer an extensive range of services that span the spectrum of image editing. From basic background removal using clipping path techniques to advanced 3D modeling, they bring a wealth of experience and versatility.
Their added bonus? Up to 40% bulk discounts for substantial projects making them the perfect assistant for large-scale endeavors that demand precision and creativity. Pricing starts at $0.49 for product retouching and color correction. Complex photo editing techniques like photo restoration may cost up to $24.99.
Most of their clients are e-commerce companies and online marketplace sellers (e.g., Amazon and eBay). That's why they have a First Order Free offer applicable to up to 5 e-commerce photos for new customers. Plus, they have huge bulk order discounts of up to 40% for orders of up to 5,000 images daily.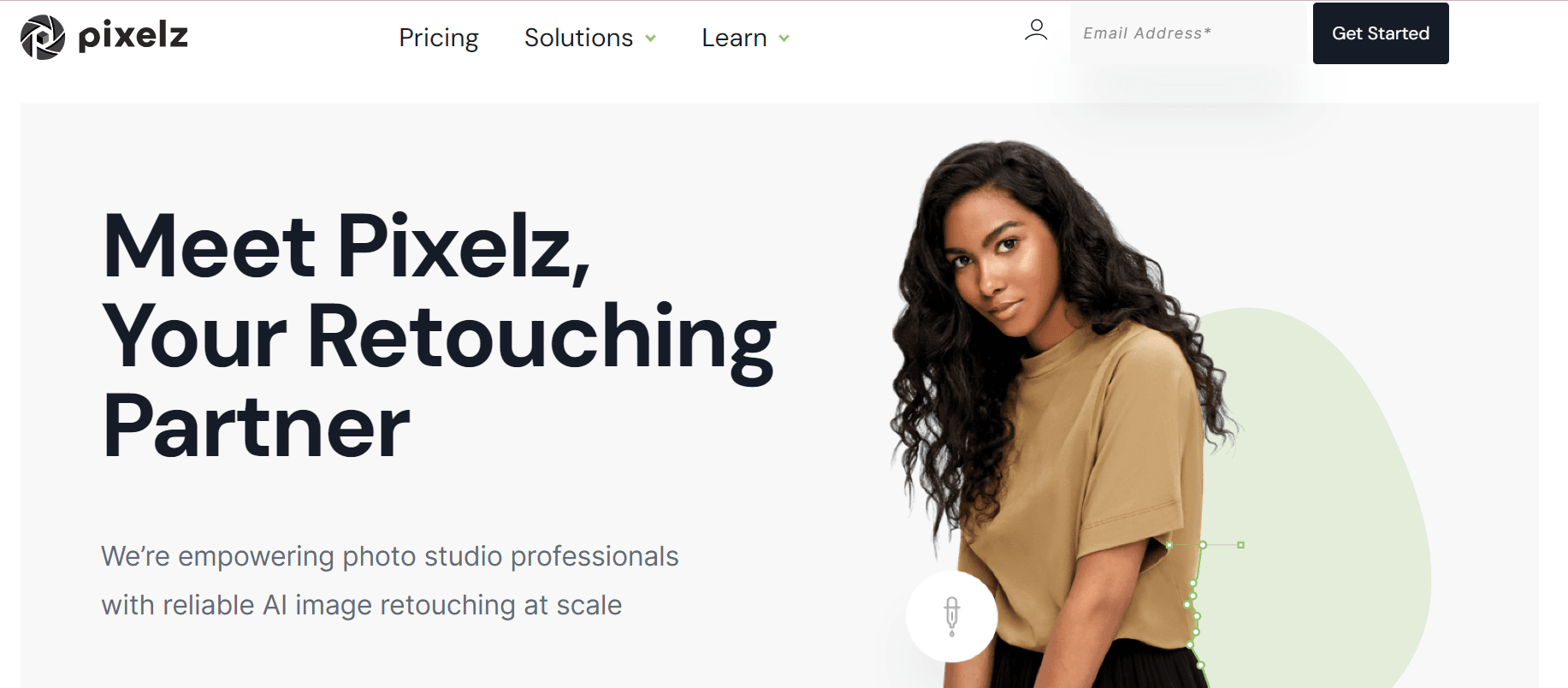 Location: U.S.A, Denmark, Germany, Vietnam
Pricing: starting at $0.95 per image and $95 to $1995 per month subscription
Best offers: real-time notification and tracking on Pixelz dashboard, fast turnaround time
Pixelz is a professional photo editing service specializing in e-commerce product photography using a combination of photo editing experts and AI workflow. They focus on "AI image retouching at scale" — providing high-quality, consistent edits for online retailers and brands.
Utilizing AI, Pixelz can process up to an impressive 40,000 images daily within 12 to 24 hours. Flow customers benefit from rapid download times, as fast as one hour. With Pixelz, clients have access to a fully transparent and real-time dashboard, ensuring clarity on photo editing timelines
They have two pricing systems — a per-image price and a subscription price. For example, the Professional pricing package costs $95 per month or $0.95 per image base price. There's an additional price depending on the specified photo editing techniques.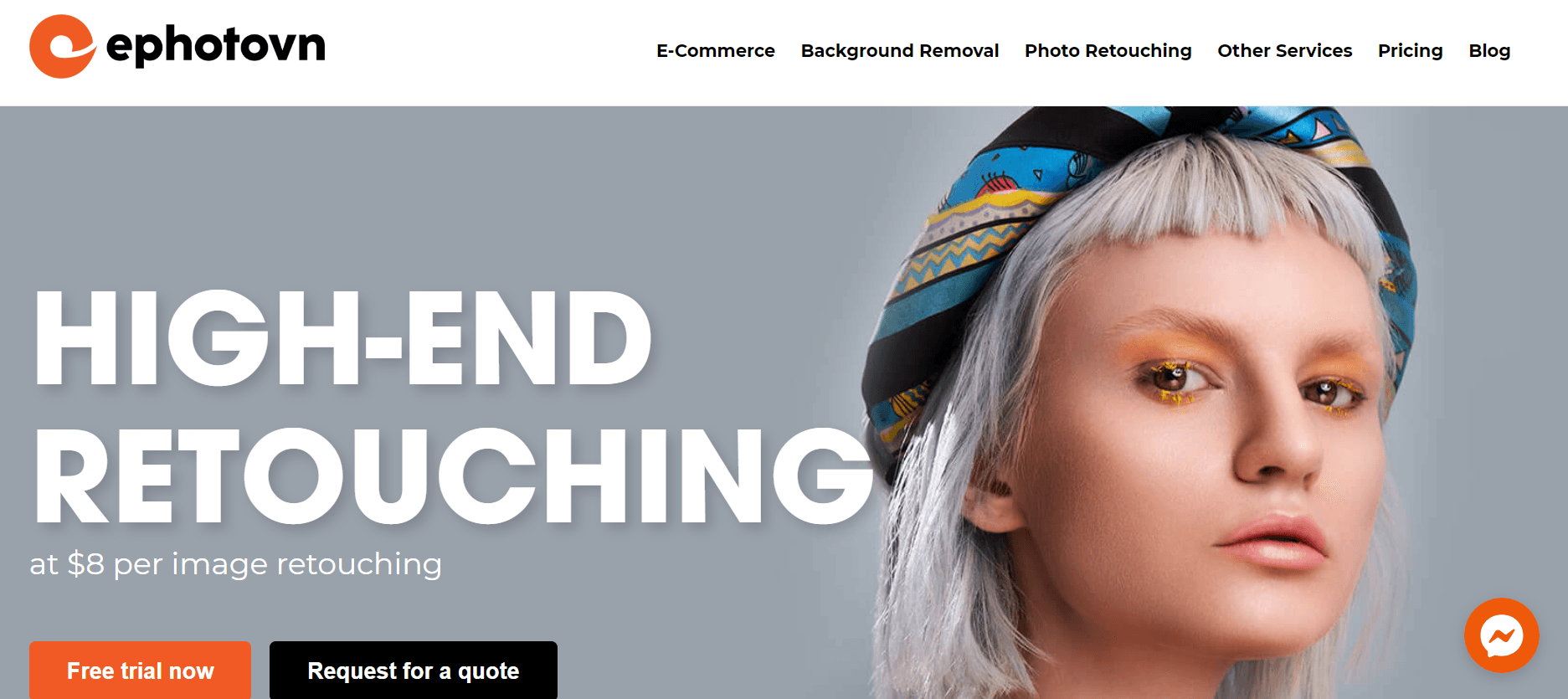 Location: Vietnam
Pricing: starting at $0.30 up to $8 per image
Best offers: 24-hour turnaround time, free trial offer, unlimited revisions
Ephotovn offers affordable and professional photo editing services tailored to photographers, e-commerce owners, and brand designers. Situated in Vietnam, their team of over 200 skilled editors excels in Adobe Photoshop for editing portraits, product photos, wedding shots, and real estate imagery.
Their extensive list of services encompasses photo retouching (including portraits, e-commerce, fashion, and real estate), making them versatile for various visual enhancement needs. With transparent pricing starting at just $0.30 for wedding photos and going up to $8 for high-end retouching, Ephotovn ensures affordability without compromising quality.

Location: Offshore/Remote
Pricing: packages starting at $20.29 up to $200.19
Best offers: 24-hour response time, free photos in case of delayed orders, unlimited revisions
Fotofigo offers a straightforward and efficient solution for hassle-free photo editing. Enjoy a quick 24-hour response time, complimentary photos in case of delays, and unlimited revisions. Explore their four pricing plans, beginning with the Figo Ten at $20.29 for 10 images with a 90-day validity.
Their list of photo editing services covers portrait retouching, photo enhancement, event photo editing, real estate photo editing, e-commerce photo editing, and photo manipulation.
Whether you're looking for subtle touch-ups or dramatic transformations, Fotofigo provides a user-friendly platform for seamless uploads and efficient order tracking. The registration process takes less than 30 seconds. With over a million registered users, Fotofigo is a reliable choice for services like portrait retouching and event photo editing.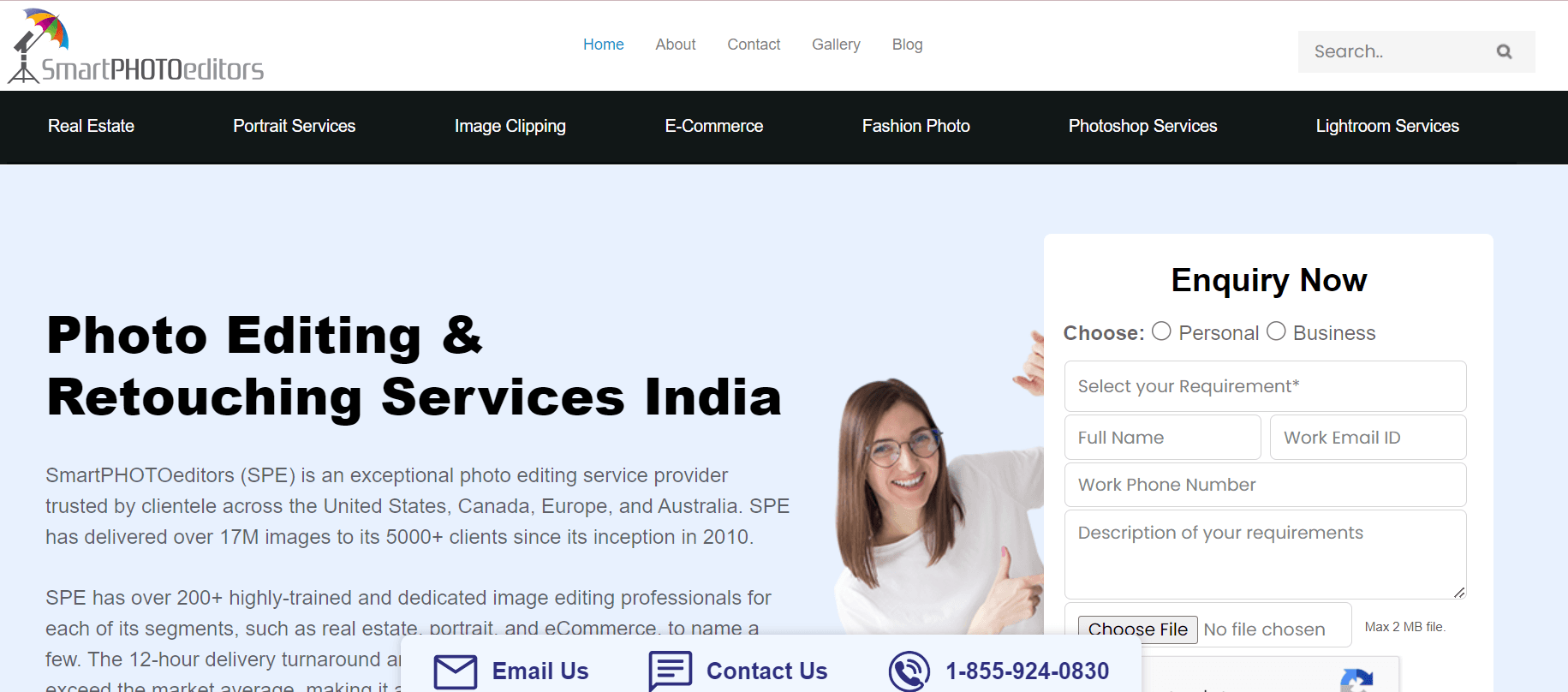 Location: India, U.S.A, Philippines
Pricing: packages starting at $0.50 up to $1.50
Best offers: 12-hour turnaround time, free trial offer
Smart Photo Editors offers a range of editing services, including portrait retouching, image enhancement, and real estate photo editing. Their team consists of expert Adobe photo editors from India, ready to take on outsourced projects globally. Their clients come from the U.S., Canada, Europe, and Australia.
With over 200 editors in the team, Smart Photo Editors can deliver photos in under 12 hours turnaround time. Their extensive list of services covers real estate image enhancement, portrait photo retouching, e-commerce image enhancement, and fashion photo retouching, ensuring a comprehensive approach to visual enhancement.
Pricing per image starts at $0.50 up to $1.50 for panoramic images or images needing complex editing work. High-volume special projects also have per-hour and per-project rates available upon quotation request.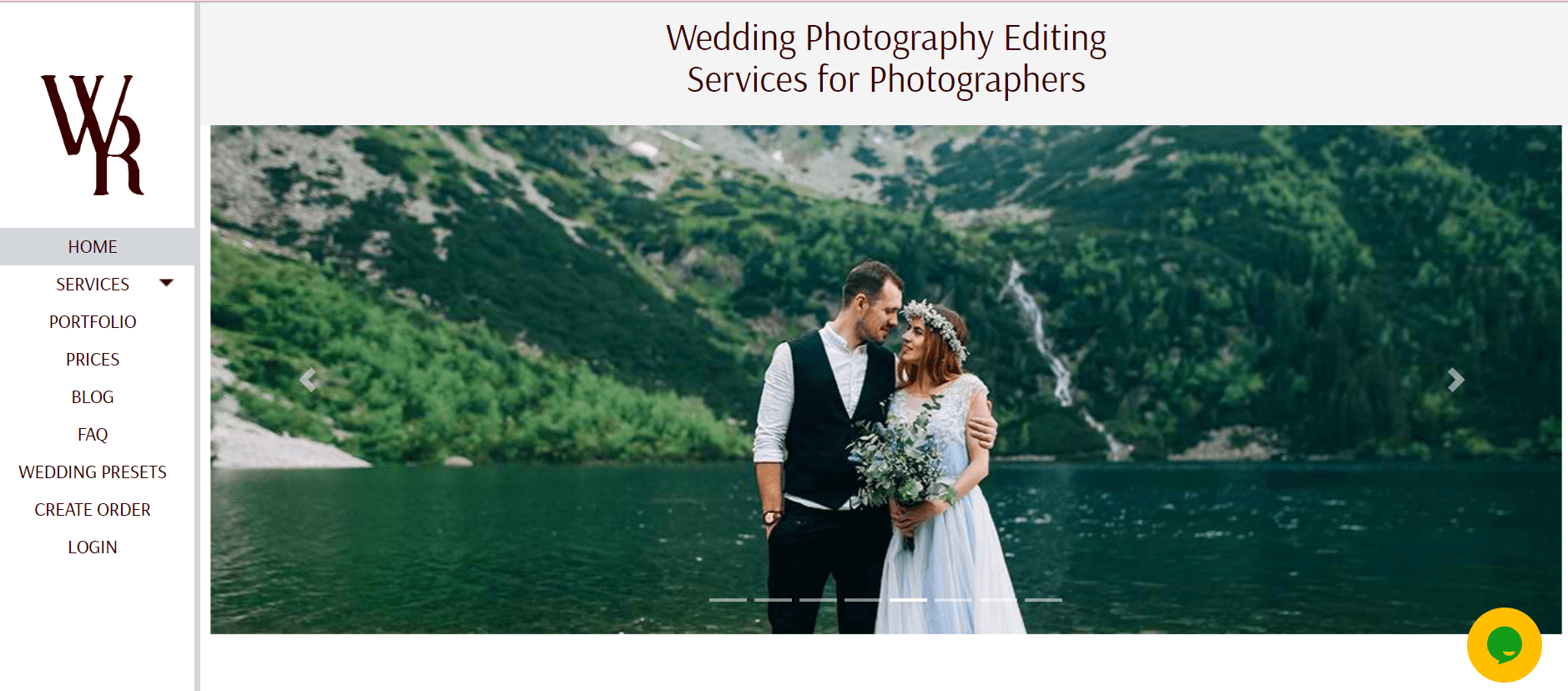 Location: U.S.
Pricing: packages starting at $0.06 up to $12 per image
Best offers: specializing in wedding post-production editing
Wedding Retouching specializes in wedding photo editing services since 2013 as part of FixThePhoto team. They are dedicated to providing professionally edited wedding photographs, enhancing each image's beauty and emotional impact.
Among the many perks of working with Wedding Retouching are quick assistance during peak wedding seasons, a customized approach to match your editing preferences, and a smooth registration process.
They have 5 professional wedding packages catering to different editing needs, from simple touch-ups to high-end stylization. Efficient, reliable, and tailored – it's a time-saving ally for photographers navigating the post-wedding editing process. Check them out to streamline your workflow and deliver impeccable wedding photo albums to your clients.
BONUS: Imagewith.AI — Free AI-Powered Photo Editor
We've covered the photo editing service providers and their pricing points for any possibility of outsourcing post-production projects.
Now, what about beginner photographers looking for budget-friendly photo editing services? Your best way to enhance photos would be through AI image apps — like Imagewith.AI, for example.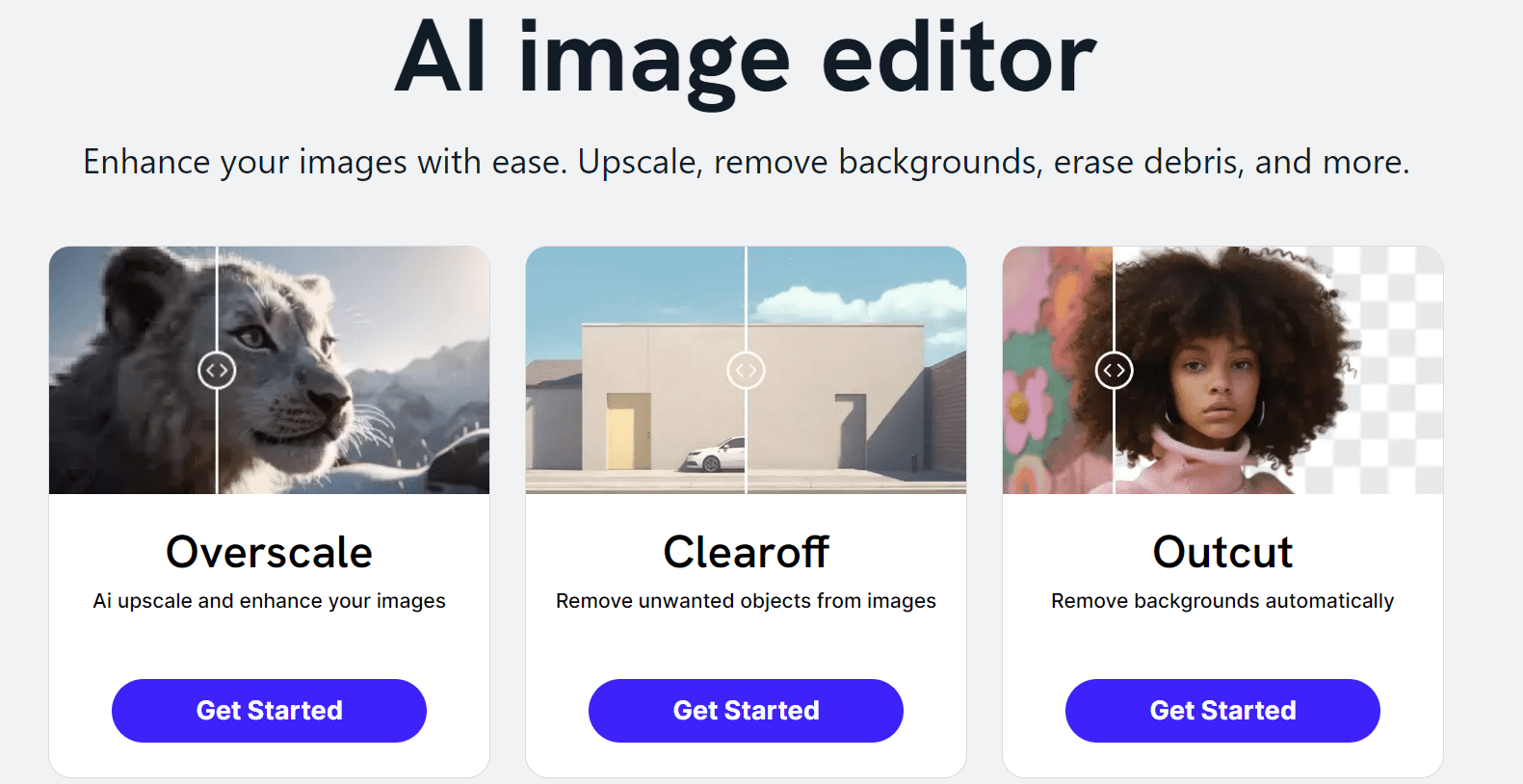 Free photo enhancers like Imagewith.AI offer five free image edits per day only. If you need more credits for bulk editing projects, Imagewith.AI's pricing starts at just $9 per month for 100 credits.
Final Thoughts
Ready to outsource your photo editing projects?
Ensure you outsource your work to companies with industry experience, a portfolio of sample works on their website, pricing plans, social proof, and a free trial offer. Explore these options we've listed, find the one that resonates with your needs, and elevate your visual storytelling effortlessly.
And for beginners, don't forget the bonus: Imagewith.AI, a free AI-powered photo editor. It's your go-to AI image editor for quick enhancements like upscaling images without degrading quality, removing unwanted objects, or automatically removing backgrounds.
So, whether you're a seasoned pro or just starting, there's a photo editing solution waiting for you. Enhance your images, tell your story, and spend more time doing what you love.